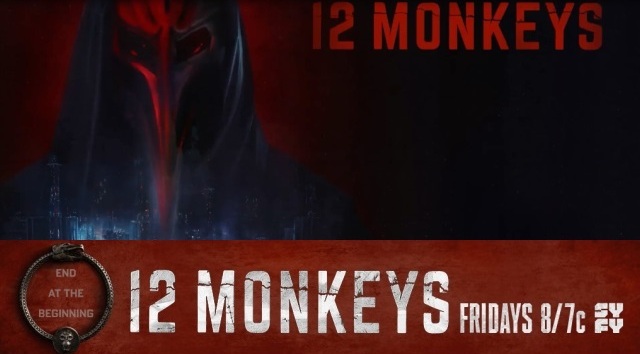 Welcome back WormholeRiders Ready for Terrific Time Travel Tales in 12 Monkeys!
To the absolute awesomeness of science fiction fans across the entire universe, the great team at SYFY is bringing #ItsAFanThing to all of us as season four of 12 Monkeys time travel adventures unfold over the next four weeks!
SYFY executives announced in March 2016 that the much loved 12 Monkeys series had been renewed in a dual season decision that delight admirers of the popular time travel science fiction. Rarely announced as two season renewals, we here at #TeamWHR were honored to be invited again to interview series creator Terry Matalas, and main cast stars Alisen Down, Aaron Stanford, Amanda Schull, Emily Hampshire, and Todd Stashwick at San Diego Comic-Con 2017!
As the series begins a terrific eleven episodes in the fourth and final fabulous season airing over the course of the next four weekends, season four of 12 Monkeys follows the successful binge watching festival in the United States with the entire third season airing on a single weekend May 19th to May 21st 2017!
Beginning tonight SYFY the answers the fans have been seeking about The Witness! Season four of 12 Monkeys will air three episodes each Friday night, culminating with a two episode series finale scheduled for July 06, 2018.

In Canada, 12 Monkeys fans and admirers will enjoy the science fictions series which will be aired on Showcase beginning on June 19, 2018 with a regular weekly schedule.
Within the United States television viewing environment, and gaining ground world-wide, binge watching, pioneered by Netflix is becoming the normal way to watch television. Additionally, Amazon has also deployed a strong presence in on-line television after acquiring The Expanse which was unexpectedly not renewed by SYFY. 
Binge watching is how television series are often watched in 2018. As Terry Matalas stated in an interview in 2017 with TV Line; "this is how people like to consume this show. More and more, people just want to get it all at once, and this is a story [where] it's great to have all the puzzle pieces fresh in your mind as you move on to the next episode."
In the "The End", 12 Monkeys first episode of a fourth season rejoice the return of this outstanding science fiction series, followed by the second episode of season four, "Ouroboros", many admirers will rejoice that their heroes have returned to save humanity from The Witness.
Nonetheless some, including this editor be sad that the series will end. However, after the fourth season, many wonder if 12 Monkeys could be picked up by Amazon or Netflix? Let's hope so!
Created by Terry Matalas and Travis Fickett, 12 Monkeys stars Aaron Stanford as James Cole, Amanda Schull as Doctor Cassandra Railly, Kirk Acevedo as Ramse, Barbara Sukowa as Jones, Emily Hampshire as Jennifer Goines, Todd Stashwick as Deacon, Demore Barnes as Whitley, Alisen Down as Olivia, originally known as the "striking woman" who we now know is The Witness, Brooke Williams as Jones daughter Hannah.
A new additions in season four is fine character actor Jennifer K Preston who appears as Jennifer Goines alter ego. What's up with that timetravelers?
All of these outstanding actors are joined once again in the fourth and final season by the third season regular, Faran Tahir as Mallick in 12 Monkeys.
Based upon the promotional videos, we at #TeamWHR also believe that a special guest star,  Christopher Lloyd of Back to the Future fame will return as The Missionary after his appearance in sixth episode of season three!
The fourth and final season of 12 Monkeys will answer many left unanswered questions at the end of season three cliff hanger "Witness", when The Witness escaped!
The 12 Monkeys series viewers are excited by the terrific time travel adventures to be revealed in season four with hundreds of thousands of views of the teaser reel and GIFS on Twitter!
Specifically, this editor and many 12 Monkeys admirers will want to know more details on the following aspects of the exciting story arc as discussed below!
Who and what is Jennifer Goines alter ego? Where did the alter ego come from?
Is the alter ego a manifestation of The Witness' attempt to change the timeline and destroy our heroes?
And, critically, will we see more of the darned plan of the Army of 12 Monkey's executed to alter the timeline to fit their perverted plans to destroy humankind?
How many times will Ramses help save our heroes, or will he be killed in 12 Monkeys season four?
These and other exciting 12 Monkeys developments are coming to our screens beginning tonight!
I for one will be joining the 12 Monkeys to binge watch all of season four in what can only be described as a feature length movie that is certain to eclipse the mini-series binge watching style event of season three.
Those of us who will witness The Witness in action (pun intended) give much thanks to the great team at SYFY for bringing this adventure to our lives!
So fellow Witness', sit back and enjoy the 12 Monkeys adventure the next four weekends my fellow time travelers!

I know that I and millions of others will be splintering along with our heroes in our time suits too! 
Please feel free to share this article with your friends, co-workers and or family by clicking one of the icons below. We thank you for visiting and express our sincere gratitude.
Feel free to visit #TeamWHR on Twitter, TeamWHR on Facebook or visit me on Twitter by clicking the text links or the image avatars in this news story. I and #TeamWHR look forward to Seeing You on The Other Side!
Thank you.
Best Regards,