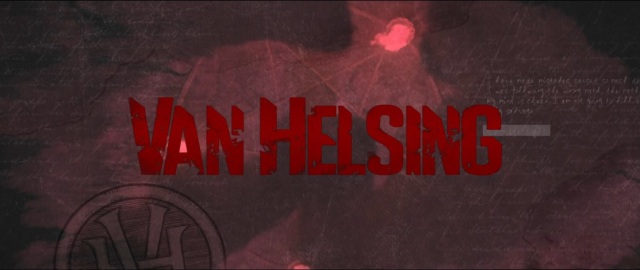 Welcome back Helsingers and WormholeRiders!
The sixth episode of season five, "Carpe Noctis" takes us on a wild ride with Julius (Aleks Paunovic) and Axel (Jonathan Scarfe) as they encounter a gorgeous young woman named Nina Morgan (Ali Liebert). Nina knows Julius knows from 1984 well before The Rising occurred.
This all happens after Julius and Axel spent some time with Doc (Rukiya Bernard) who went on to find Jolene (Caroline Cave) and retire from vampire hunting. Doc healed Julius and created an elixir that can temporarily restore his healing powers. However, if too much of the healing elixir is taken, it can kill Julius.
Doc also delivered a hefty batch of "vampire bullets" to Julius and Axel. These cartridges are bullets that are infused with the chemicals from the toxic orange cloud that took away Julius' power to heal in season four.
The "vampire bullets" given to Axel and Julius are expressly designed to kill Dracula's (Tricia Helfer) minions and perhaps Bathory The Oracle (Jesse Stanley). We cannot be certain, but they are unlikely to be effective on The Dark One herself.
The episode also takes places subsequent to Jack (Nicole Muñoz) being sent on a mission into the past by her mother Vanessa (Kelly Overton). Jack's mission was to kill Dracula. Unfortunately, The Dark One instead escaped to the present.
Currently posing as the President in the White House, and after Violet and Ivory successfully escaped the military facilities located near Fort Collins, defeating the Vanator in "Sisterhunt", Julius and Axel are planning on linking up with Violet (Keeya King) and Ivory (Jennifer Cheon Garcia) using the magic compass page from the Van Helsing book of secrets.
Before beginning our analysis of "Carpe Noctis", we would like to pay homage to one of the wonderful things about the fifth and final season of Van Helsing; that the creators at Echo Lake Entertainment, Dynamic Television and Nomadic Pictures have taken great efforts to nice wrap the story arc of characters that the fans of the series have come to love and admire along the perfect path of adventure, science fiction and fantasy. In this way, special thanks from Team WHR goes out to all the writers, creators, cast and crews of the Van Helsing series who are professionally tying the story arc together very neatly for the fandom.
"Carpe Noctis" was written by Gorman Lee and directed by Jonathan Scarfe in an episode that takes us back to a time before the 'Rising" to 1984 Chicago when Julius and Nina shared something together that no one has ever known about until now. Add all of this to the fact that Nina knows secrets about Julius' past, his family, and that she has some secrets of her own, this makes "Seize The Night" (Carpe Noctis) an absolutely awesome episode that will end up testing Axel and Julius to the core of their relationship!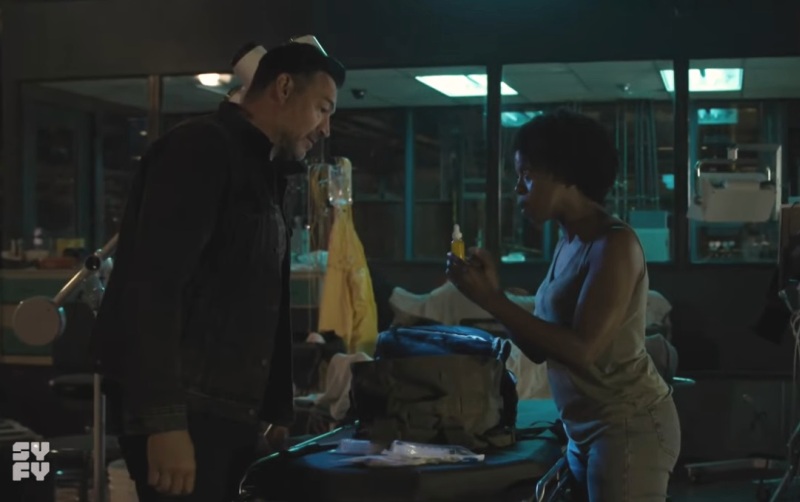 Carpe Noctis: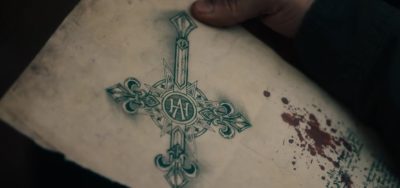 The episode opens with Axel and Julius in a black SUV stolen from load knows where. They are consulting the enchanted magic Van Helsing compass that Axel got from Vanessa in season four which indicates the direction to Violet's location. While doing inventory and getting their bearings, Julius and Axel spot a group of President Dracula's henchmen who have roped a what appears to be a victim who is fighting off the men!
Julius and Axel decide to help out, running over one of the masked menaces with their SUV while sharp shooter Axel kills the other. A nice visual effect sequence occurs as we witness the bullet in slow motion killing the troublemaker with healthy splashes of blood spurting when the last malcontents are dispatched by Axel, but not before Julius is stabbed and injured during the incident. Julius and takes a sip of the healing elixir glad they sent both of Dracula's evil minions to hell to wait for The Dark One who will also (hopefully) arrive in hell later in season five.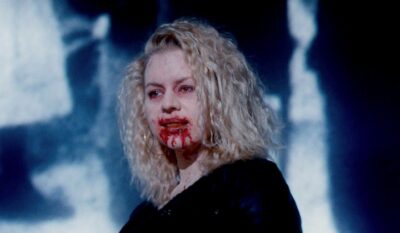 The scene switches focus to the person they saved. It is here that we meet Nina Morgan and learn that Julius knows Nina from a past life as a vampire! Axel wants to kill Nina, but Julius, happy to see Nina again, convinces Axel that Nina will not harm them.
Julius believes that Violet can convert Nina back to human form when they find her. Nina does not attack, instead she tells them she was being hunted because she had disrespected Dracula, The Dark One.
Nina also figures out that Vanessa must have converted Julius and Axel back to human form and promises Axel that she will not kill him so long as Axel is with "her baby" (Julius). Axel says "you had better know what you are doing" and the three head to a place that Nina says is safe.
In a nice touch to set the tone of the episode, we segue in a fantastic flashback scene to Chicago in the past, 1984 to be specific, where we find Julius sporting an 80's hair cut (or lack of one). We learn that Nina was a movie star many decades before in the 1920's.
Julius and Nina obviously became lovers in 1984 and we also learn how Julius met Nina, that Nina refers to Julius as a "Bottom Feeder". Nina shares her latest prey with Julius and takes a liking to the handsome fellow, recruiting him for her plan to setup a vampire empire.
Like many vampires before The Rising, Julius had been were merely surviving in the shadows and selectively feeding on humans when he could. Nina on the other hand is an apex predator who specializes in hunting human beings.
Julius and Nina are observed in a nearly empty movie theater watching her in a silent movie she is starring in while they feast on a the few patrons inside watching the silent film. Julius shares that his own pack of vampires turned against him.
Nina promises to return Julius to power as her king, with her as queen of the vampires to "Seize The Night" (Carpe Noctis). Of interest to trivia fans, there actually was a silent film star named Nina Morgan who appeared as herself in an episode of Groucho Marx' "You Bet Your Life" television series in 1957.
To further set the tone of the time period, we are treated to a song contemporary to 1984, the top ten single "The Killing Moon" by Echo and the Bunnymen from their album "Ocean Rain" released in January of that year. "The Killing Moon" is also featured as background music in other parts of the episode and at the end of the episode just before the episode end credits and is included below for your enjoyment.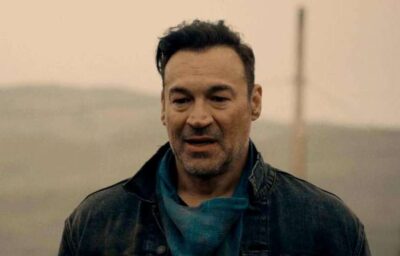 We also learn that Julius is living with his mother (Christina Jastrzembska) who we have seen before in Van Helsing as Mama dating back to 2016 when the series premiered. Mama does not trust Nina. Nina is trying to get Julius to leave his Mama and setup their vampire empire in Chicago.
All in all, the flashbacks fill in much of Julius's back story and are beautifully accomplished. As we know, Nina's and Julius' vampire empire never happened, but something else did that we will discuss shortly about what did that ultimately separated Nina and Julius in 1984 and forces Julius to make a decision about Nina in the present.
We move back to the present with Nina asking a lot of questions and Axel does not like it. Julius intervenes giving Axel an ultimatum stating "she stays, end of discussion". Nina reveals that she knows of a safe house shelter and that staying where they are is suicide since The Dark One and Bathory will figure out her troops have been killed. Nina provides some tactical information and Axel relents for the time being.
When they arrive at the so called safe house, Axel warns Julius "watch your back". Over confident of Nina's loyalty to him, Julius is stunned when Nina disappears to go feed on some people she has stashed at the location. Nina taunts Julius about his "Mama" in another flashback sequence when Nina claimed that Julius was merely a lapdog to a dying vampire.
It turns out the safe house location is a trap since The Dark One's troops with Bathroy's help find them there. Axel has had enough of this giving his friend Julius an ultimatum to get rid of Nina unless she provides some meaningful information about Dracula. Sensing that Axel is serious, Nina reveals what happened to her, and that The Dark One had been planning a large operation, When Nina refused to comply, Dracula had her and her clan of vampires hunted down and killed with Nina on the run ever since.
What is interesting about this revelation (that Nina refused an order) is that it reveals that Dracula does not have absolute power over her malcontent minions. Could this be as a result of Jack draining power from The Dark One in the past during the dark ages?
Nina, after providing some useful information to Julius and Axel, allows herself to be used as bait to draw Dracula's troops into a killing zone. Axel kills The Dark One's troops. Unfortunately, Bathory The Oracle locks in on the last trooper at the last second in time to identify their location.
In another excellent flashback just before the exciting episode concludes, we meet a young vampire hunter named Abby Van Helsing (Jen Araki) in 1984. This is Vanessa's biological mother. Abby had hunted down Nina, Julius and Mama to kill them in 1984. This is what caused Julius and Nina to lose track of each other until the present time since Nina fled for her own life to avoid Abby.
As the episode winds down, Nina tries to convert Julius back to being a vampire, but ends up barfing up the blood since Vanessa had made him immune to vampire bites. Julius realizes that Nina is beyond hope and leaves her to Axel to deal with.
Axel catches Nina trying to steal the enchanted magic Van Helsing compass and pulling out his knife, uses force to get the magic compass back. It is assumed that Nina was killed, but we do not actually witness Axel doing the deed so he may have let her live.
In the final sequence, Julius with a sad look on his face, and Axel with a determined look on his face, are observed driving away from the mess to link up with Violet and Ivory who are seeking clues about Jack. The tune of "The Killing Moon" is heard playing in the background.
As we proceed to episode seven of the fifth and final season, make sure to tune in to watch the entire series on SYFY or watch on Netflix. In the meantime, we also suggest that you tune to SYFY at 10p/9c each week to watch the exciting season five concluding episodes. You will not be disappointed and will hopefully enjoy Van Helsing as much as we do!
The Killing Moon – Copyright courtesy Echo and the Bunnymen: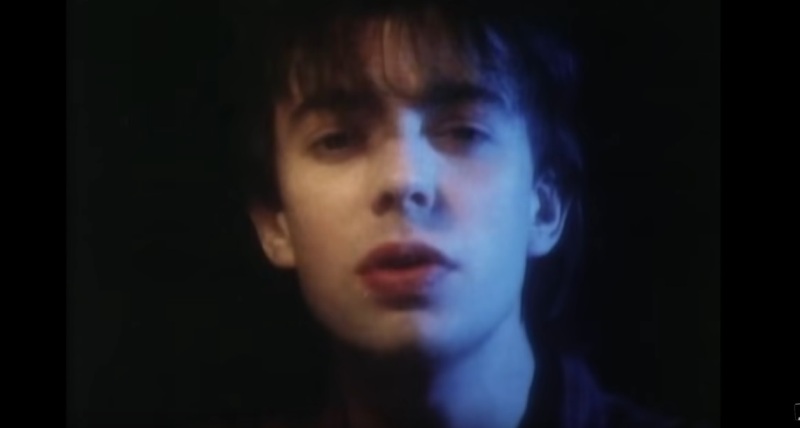 Please feel free to share this article with your friends, co-workers and or family by clicking one of the icons below. We thank you for visiting and express our sincere gratitude.

Feel free to visit TeamWHR on Twitter or visit me on Twitter by clicking the text links or images avatars in this news story. I and Team WHR look forward to Seeing You on The Other Side!

Thank you.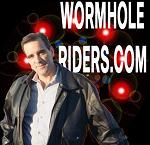 Best Regards,
Kenn of TeamWHR