Hello Fringe fans!

Rating analysis of Fringe episodes "The Firefly" and "Reciprocity" confirm that the series is more well poised at it's new home on Fringe Friday's!
In fact TV By The Numbe
rs has recently changed their opinion that Fringe is now likely to be renewed!
We have published our opinion previously and have been sharing for some tie that Fringe would fare much better in terms of ratings on Friday night's than the series has on Thursday evenings where the competition was stiff. We are pleased that TVBTN has chosen to alter their status for Fringe in a positive direction.

What is important to consider is that perhaps the most critical factor for broadcast networks is the "rating number" and "share" of the crucial 18-34 year old and 18-49 year old target groups.
As WHR has stated before, season four of Fringe is now a certainty as we have reported previously. Speaking of the ratings, lets review the facts shall we?
Ratings for season three episode eleven "Reciprocity" are included below. We note there is a .05 discrepancy by TVBTN that contributes to a .1 (point one) rating error in the half hour numbers. However, we believe this is a minor statistical mathematical rounding error by the analyst. Our analysis confirms  a 1.9 rating at the half hour mark, the same rating for the 9:00 PM to 9:30 PM time frame:
Ratings for "The FireFly":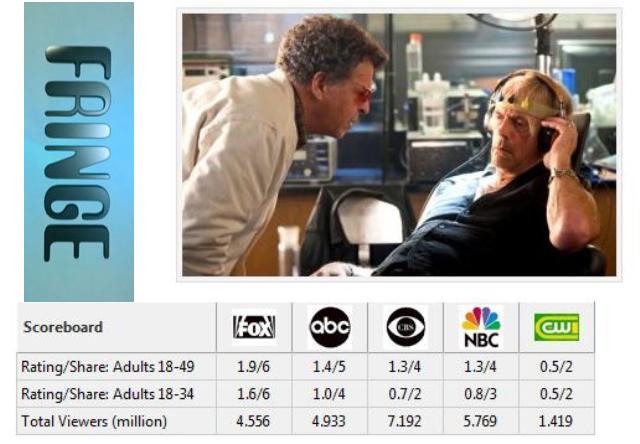 The facts are now more than crystal clear. Two weeks in a row Fringe captured the highest share in the critical target groups of 18 to 49 and 18 to 34. These factors are what advertisers and the studios value to a very high degree. The DVR numbers for "The FireFly" increased viewership to 6.82 million viewers, however the additional 42% is not weighted in the calculations in the same fashion as LIVE views. If you need to understand ratings please visit Nielsen and or TV By The Numbers.
This does not translate to you the fans of Fringe not watching LIVE for the remaining ten (10) episodes. Even with Leonard Nimoy now lined up for a return as Dr. William Bell to join Anna Torv, Blair Bown, Jasika Nichole, John Noble, Joshua Jackson, and Lance Reddick, it is important that we seek to push the LIVE viewing numbers beyond five (5) million in the weeks ahead. We suggest you please watch your favorite science fiction television programs LIVE so that the ratings and share increase! Thank you.
With Supernatural ending its six year run,

the next milestone of 5 million LIVE viewers should be easy to reach. Lastly, we would like remind viewers that other non science fiction genre programs should not be used as a comparison against Fringe. That is like comparing apples to oranges. While both may be fruit. a person who likes apples  may not like oranges!
As always we appreciate your visiting our news sites at WormholeRiders News Agency. Please feel free to leave a spam free comment or a question here. We will respond to your comment or question as soon as is possible.
If you prefer, click the social media icons below to share this news article or as many of our readers and visitors often do, visit the WHR on Facebook or me on Twitter by clicking the text links or images avatars in this news story and or on See You on The Other Side"! Thank you.
Best Regards,
Kenn