Hailing all you Sanctuary fans out there!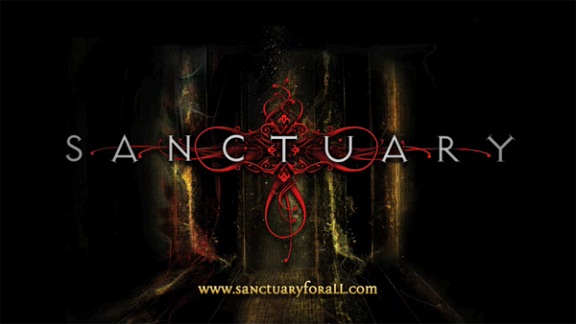 On this posterior side of the Gemini's 25th Anniversary Gala, welcome to yet another exciting Kate Freelander (played by Agam Darshi) episode! You know, considering that there was so much controversy raging in fandom when her character was introduced, I don't think anyone can possibly deny that she has blended beautifully not only into the Sanctuary team, but into the overall tone of the series.

We have been blessed with a thread of deliciously insightful revelations, and small glimpses of her journey from lone ranger, to a woman more comfortable with herself and with her beloved teammates. Altogether,' the Freelander' has grown to become more…sociable? Civilised? Loveable?
Okay, well so far it's been very touchy/feely with the Kate-centric narratives, but this week we saw her juxtaposed with the nostalgic return of everyone's favourite super-hero, THE ADJUSTERRRRRRR a.k.a Walter (an alias for the always refreshing Christopher Gauthier). Although it is a more-or-less stand alone episode, Hero II provides what could be described as the inevitable employment of Ms. Freelander's *aherm* "mad skills". I mean, c'mon really, Hero and Hero II: Broken Arrow are basically as geeky as the geekfest gets; we've got scifi, comic books, comic book heroes, comic book movies, San Diego Comic Con quips, corny catch-phrases, and (most importantly) spandex.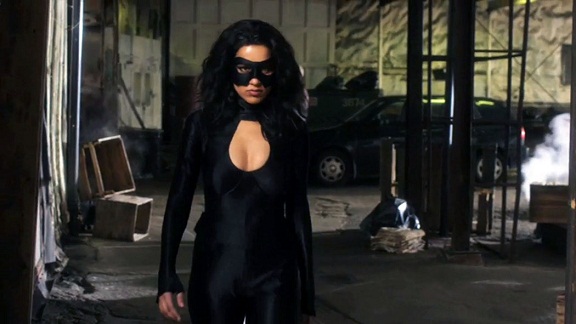 These episodes provide the meeting point between every corner of fandom; a blissful unity of nerds, geeks, dorks, and hot people.
While Hero II: Broken Arrow oozes coolness in every way possible, it is not merely a showcase for mindless sensationalism. This is a trait with which the Sanctuary team have gloriously comported themselves throughout every single episode of the whole series. Every narrative in the story arcs has contributed to a gorgeous harmony and balance between sensational 'wow-factor', reflective and shrewd thought, and the velvety richness of deep-seated human emotion. The series is intelligent; fans have even been known, having watched one episode or another, to go on the internet and research historical or scientific references from the show. Thank goodness for Google.
In contribution to this ying-yang balance of the show, Hero II: Broken Arrow is predominantly just plain cool. However it also drives home the earnest ethical and moral standards of the powerful Helen Magnus (Amanda Tapping), and reinforces the symbiotic relationship Kate Freelander now has with her fellow teammates.
The bantering bet between Henry Foss (Ryan Robbins) and Kate at the very opening of the episode sets the fun tone for the entire narrative, right down to Magnus' motherly reprimands. There are two wonderful character spotlights switched on in this episode, apart from the usual Magnus-centric plot of the series. The first, and obvious, is the demonstration of Kate's intergratedness with her teammates by the complete opposite means, separating her physically and mentally from their familiar base of operations.
This exile, as it were, from the team and family she has come to love and trust, serves to strengthen her bonds by placing her in the cold solitary confinement of a primal super-hero. It is interesting to watch the effect that the suit (which we mustn't forget, is a living abnormal; a symbiotic assembly of telepathic bacteria) has on Kate, reverting her social behaviour to the very primal instincts of a female predator.
She stalks her prey with a seductive and deadly grace, while her rational decision-making abilities and judgement are thrown to the wind. Her raw, feminine power is delicious to behold. The climax to her hunt is reached beautifully, as she grabs Magnus by the throat and shoves her up against a piece of iron (whilst deep inside, the hearts of all fans are melting down in horror).
Magnus makes a choked appeal to the humanity inside of Kate, and once again we are privy to the stripping away and the poignant exposure of her soul…it all pours out through her eyes. Magnus and Kate have shared many of these tender little moments where in the midst of chaos and violence, there's a little momentary cocoon of strength and calm between them. This trust and family bond is repeated at the end in the beautiful closing scene between the two of them.
The other spotlight, which also serves as a filler for goings-on since early Season 2, shines warmly on the endearing Walter. Not only has he now become a 'somebody' in the world, but we find that the outside pressure and attractive business ventures of the movie industry have changed him. In a nutshell, it's a return to the early days of comic book superheroes: the black-and-white division between good and evil, the journey of a normally insecure guy from the fringe of society, to fame, to self-compromise, followed by an epiphany and a redemption of sorts, followed by a fight for his own integrity with the studio bigwigs.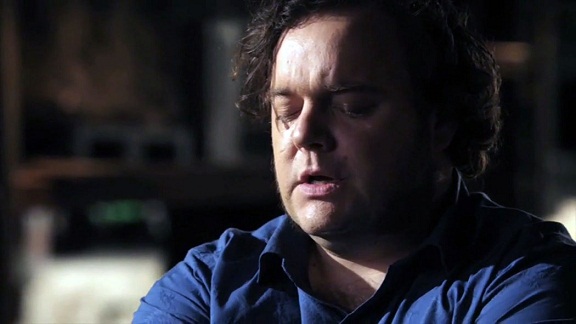 Like any geeky comic-book fan, he tries enthusiastically to turn his fantasy into a reality by continually ghosting the Sanctuary team's mission, but is ultimately ordered to stay put at the base of operations while the 'big cheeses' do their work. As usual. Watching the real action from a distance. Until they need his …erm…expertise, that is.
Obviously his slip leading up to the whole situation with Virgil St. Pierre (bless his parents for choosing that name), guested by Matty Finochio, makes him keen to redeem himself in both the Sanctuary team's, and his own, eyes. Ultimately, he protects his integrity and stands his ground against the power of the movie industry. The Adjuster indeed!
As for Virgil, well he's some character. It was interesting, his sneering superiority complex seemed a bit too pretentious at first, but then it turns out that most of his behaviour is pretty pretentious, being, as Magnus blandly puts it, a 'child with money' ("how mature!" he says). The way he goes about his business is in direct contrast to the way Magnus does, like a kid who has so much money and no boundaries. Even his tardy exit in pursuit of Kate just cries out as a somewhat foolish childish blunder. Not to mention that he also no sense of ethics of any sort. He's like a spoiled brat who's used to having his own way, short-tempered and patronising. Playing with his toys just because he can.
I LOVE the overall stylistics of this episode; the creators have carried the classic comic-book theme of the episode all the way, no holding back! It takes us right back to the good ol' days of the first comic book movies ever made. Many of the creative camera wipes are from a comic stylised freeze-frame, swiping to another, and then the action continues smoothly from the graphic image.
It makes you feel like you're reading a series of comic frames, except that they move: FANTASTIC! Even some of the visual effects, such as Kate's flying leaps and slinky scaling up sheer walls are reminiscent of the old Spiderman or Catwoman superhero movies. Like I said: here is an episode that brings nostalgia in so many forms! Right down to the final 'A' shape that the abnormal suit makes in homage to Walter, the comic-styled corniness is utterly ravishing; from the superhero spandex, to the catch phrases, Walter's adorable melodramatic shirt-ripping, to the stylised dialogue of super-Kate and super-Walter.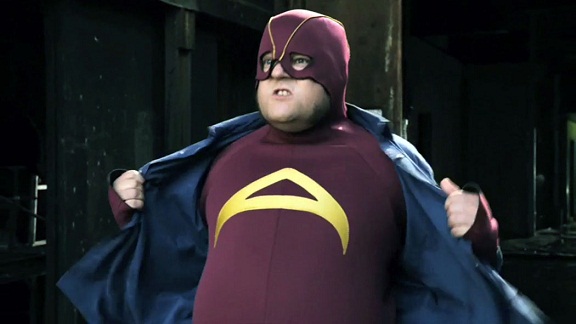 Even the grunty voice super-Walter speaks with is just tasty, especially when Virgil imitates it mockingly, and his butt is ultimately kicked. You know, Helen was right: It's better without the catch phrase. This week's episode was too much fun to be taken too seriously. A geektastic romp from start to finish, bringing back our favourite geeky memories, together with a sensational appeal all its own.
GEEKS UNITE! LONG LIVE SPANDEX!
Bring on Ani
mus. Every week ups the gasp notch just little. By the end of this spectacular season, nobody will be breathing…
Thanks for popping by WormholeRiders and reading. Please feel free to post constructive feedback or discussion down below. You can also click the Avatar/icons to talk to me on Twitter.
JandyraCJM.