Three cons in one? That's crazy! Yeah. Crazy awesome!
November 5-7, 2010 Creation Entertainment hosted its annual Stargate and Farscape conventions in Los Angeles,
CA, at the LAX Marriott. This year, added to the mix was a Firefly/Buffy/Angel/Dollhouse convention, which led to this mega-con being titled TriCon.
Unfortunately for me, I was gone on the Saturday of the convention and missed out on all of the amazing guests that day! Let's have a moment of silence for my loss – Joe Flanigan, Michael Shanks, Eliza Dushku, Morena Baccarin, just to name a few. Granted, I had a good reason, but I still would have loved to have been there! Next year, hopefully! I was there on Friday and Sunday, though, so I will tell you all about those two days – which were still fantastic!
Before I get too far, I would like to thank all of the people who made the weekend as amazing as it was! Thank you to Creation Entertainment for putting on these conventions and bringing everyone together! Thanks to the actors who came out and gave us their time. Finally, thank you to all the other Scapers (Gaters and Browncoats, too!) who were so much fun to hang out with! I miss you all!
Friday was mostly spent socializing during the day. MeaganSue (Meagan) and I went to Venice Beach in the morning and returned in the early afternoon for registration.
Upon our return to TriCon, we went to the vendors room to check out the merchandise and we found a lot of the people we had met last year at the same convention. We chatted with them as we shopped. By the way, my proudest purchase? A pulse pistol. I'm fairly stoked about it. Since Crichton named his (Wynona), I decided it only fitting I give mine a suitable name – Courtney. Now I really need that Aeryn coat. Christmas is coming!
Meagan and I left the convention for awhile to get some dinner at The Counter – which is pretty much my favorite restaurant. I'm just throwing that out there for anyone planning on visiting Los Angeles in the near future.
We returned in time for the Friday night Creation Entertainment Cabaret show, which was hosted by Dan Shea and featured the talents of Raylee Hill and David Franklin. Since anyone with a gold pass for any convention could attend, the seating for gold was not assigned, like it usually is. Thus, I was there about an hour early to wait and was second in line (after the VIP pass holders). The line was actually pretty fun. I met some fans I hadn't yet had the chance to chat with and got to hear some pretty cool stories!
Actually, it worked out really well not having assigned seating – at least for me. I got to sit in the front row, about eight seats in. The Cabaret was a lot of fun! Dan Shea was hilarious – as always!
Just as wonderful we also got to hear some amazing singing from Raelee Hill! (or click here for Ms. Hill on IMDB).
David Franklin continued his act from last year. Every year he builds upon a story of what became of Bracca after the end of Farscape. Well this year Scorpius had cheated on Bracca with Sikozu (the red-haired toaster) and Bracca left him. He pursued many unfortunate and ultimately failing endeavours, including taking on the role of a male gigolo. Scorpy later wanted him back, but he refused. Eventually, they did get back together and Bracca took over Vegas. It was pretty hilarious – plus we got to hear David's Elvis impersonation (which, in case you've never heard it, is pretty much dead on!).
Afterward was the karaoke party. I did not stay for all of that, as I knew I would have to get up painfully early the next morning. It was fun, though, while it lasted. Mostly I just chatted with a few people, then headed out.
As I said, I was gone from Creation Entertainment's TriCon on Saturday, but Sunday I was back, and it was a lot of fun!
The first thing I did on Sunday was head down to Francesca Buller's panel. Unfortunately, I didn't get to stay too long. Too bad, because she was actually very entertaining. I loved when she answered a question about what beer each of her characters would like best if they came to Earth – but being that I'm not a beer drinker, I cannot remember her answers.
After a few minutes at Francesca's panel, I hopped across the hall to see Elyse Levesque. All I can say is she's pretty much made entirely of awesome. Of course, I knew that from meeting her at Creation Entertainment's VanCon. I loved her panel – and before you ask, I don't recall any SGU spoilers being given out. Well, except one. She said her prosthetics have been minimal – the most she's had was a couple of weeks ago and it was nothing alien. She did not elaborate. I'm still thinking that one over.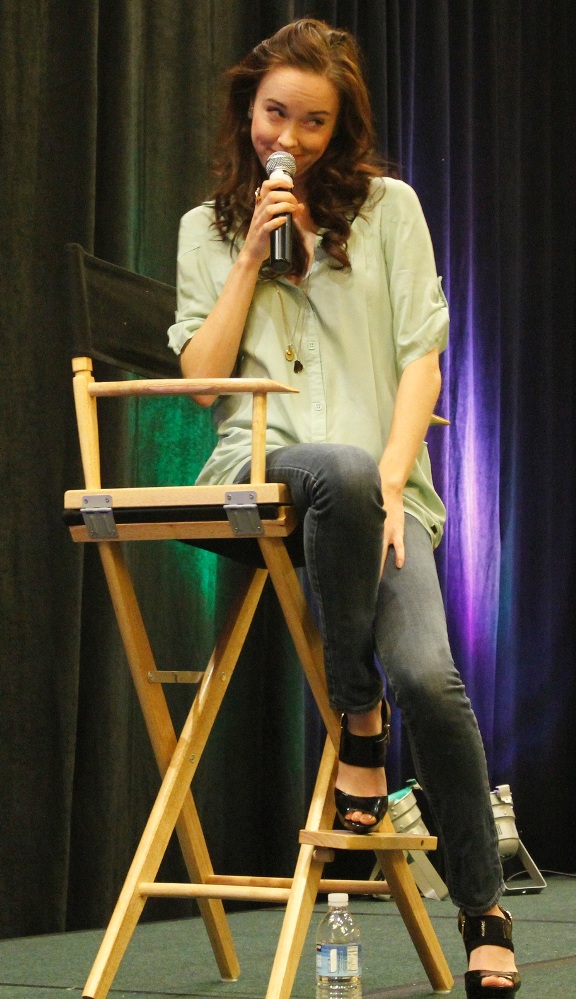 Elyse also told us some behind-the-scenes jokes, many of which had to do with fart jokes and gags. She also talked about her first roles, and said she's always been involved in the the science fiction genre. We also got to hear about how she was trained at acting school, which was actually really interesting. Apparently there was a lot of improv, which she said could either be really good or really bad, but it was a very supportive environment, so you could really learn a lot about yourself and about the craft.
Once the panel was finished, I rushed over to stand in line for photo ops with Elyse. The line moved fairly quickly. I asked her to do a ghetto pose with me, which actually turned out really well. She actually changed her mind on what pose to do after the first one, so I ended up with two pictures! I look pretty much the same, but that's okay. I love the way they turned out!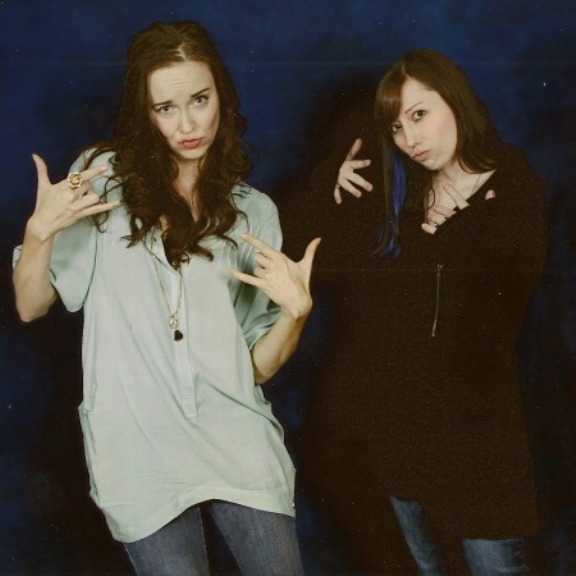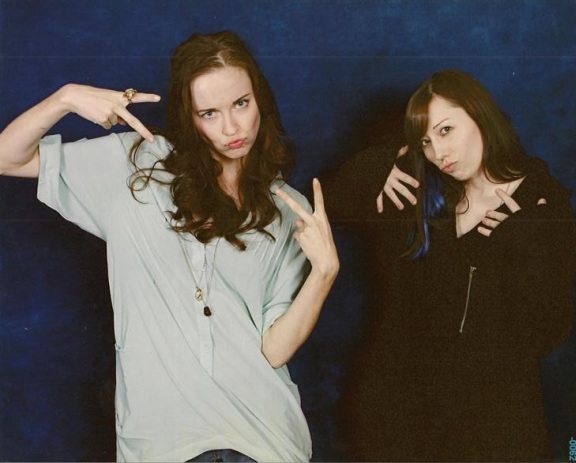 Once the photos were taken, I went off in search of Meagan, but I actually found WR_Systems (Kenn) instead. I chatted with him for awhile before heading down to Ben Browder's panel.
I ended up being early for Ben's appearance, so I got to see a bit of the auction. Let me tell you, with my auction history, I knew bidding would be a bad idea – but it was so hard not to! Still, I managed to restrain myself. Thankfully.
I'm sure it does not need to be stated that Ben's panel was awesome – but it totally was. These actors really do know how to entertain. There's something about this convention in particular that just feels a lot more personal. I do not want to go into detail about what Ben talked about, because it was not all fun times, flowers and rainbows. Some of it was, though. So from that, I will leave you with the following quotes:

"Do not smack your butt thusly!"

"In a fight between Daniel and Mitchell, Mitchell would win. But, in a fight between Mitchell and Crichton, Mitchell would win, then Aeryn would kick his butt!"
Oh, and not to be forgotten, the bunny suit was referred to several times. Ben admitted that every Halloween, he thinks of that suit and wishes he had bought it. He also recommended every appearance he has made on the Creation stage as quality family entertainment, but with the disclaimer, "As long as your children do not understand innuendo!"
After Ben's panel were photo ops. I didn't get much of a chance to talk to Ben once I got up to the front of the line, but I did get a hug, so that made it okay. I also had an autograph ticket but stupid me, I missed the autograph session! So alas, Courtney goes unsigned. Another moment of silence for yet another missed opportunity. Oh well, again, there's always next year.
The night was still awesome. All of the Scapers, and a few Gaters and Browncoats, as well, congregated in the lobby once the convention events were finished. I'm not sure entirely how many of us there were total, as some people would come and go throughout the night. It was a lot of fun, though, just hanging out and munching on snacks people had brought from all over. (I contributed Smarties.)
Someone else brought Grey Goose – just in case, I won't refer to him by name. I will neither confirm nor deny any of that Goose passing through my lips. I will, however, confirm that much of it passed through his lips and I will forever know him as the raging lesbian inside a man's body, which he loudly proclaimed to everyone in the lobby.
Another lesson to be learned? Do not pass out in the lobby with Scapers if you want to wake up in the same state you fell unconscious in. No, I did not make that mistake. Someone else did that on Saturday and I got to hear about it. He woke up with his fingernails and toenails painted – and did not know about his feet until much later, as his socks and one shoe had already been replaced before he regained consciousness.
On Sunday, one of my friends had the misfortune of passing out once the nailpolish had been taken away. Instead, he got me and a bag of make-up. Feathered eyeliner suited him well, if you ask me! Actually, he woke up an hour or so later and had no idea. He was talking to people and didn't realize he had make-up on until he woke up the next morning with black smudged down his face.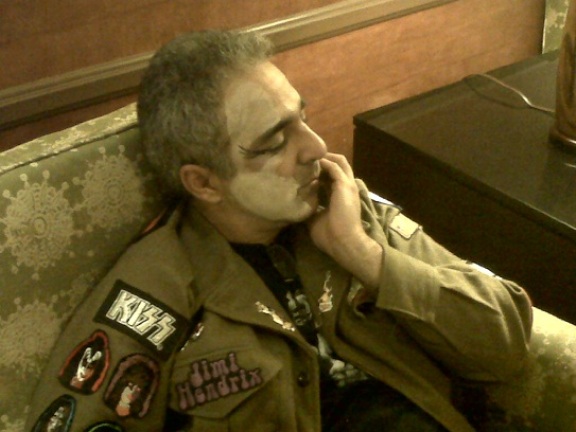 I was one of the last to leave, mostly because I was having so much fun. The only reason I did not pull an all-nighter was that my friend was flying in the next morning at nine and I did not want to keep her waiting too long. It was so sad leaving all of them, but I did see a few the next day. Nothing compares to leaving Los Angeles after an amazing convention like that, though. You do not know the meaning of PCDS (Post Con Depression Syndrome) until you've left a group of Scapers. I'm still feeling it.
Is it too early to start a countdown for next year?
The WHR Team will have more TriCon news reports very soon! As always thank you for reading and visiting WormholeRiders News Agency. For now, signing off to cover Day Of Days
Please feel free to leave a free comment or question here or click one of the social media icons below to share this article.
ValaBlack