Hello again Rieslings!
Did you all absolutely love the new episode today or what?! Well, lucky for you, we have some more exciting news about the world of Riese. The iPhone RPG (Role Playing Game) Riese: Battle For Eleysia is available for you to download to your Apple device right now! The game works for iPhones or an iPod Touch. Go download it immediately and start your fight for Eleysia today! I know you won't regret it. Happy playing to you all!
Press Release:
Vancouver – November 2, 2010 – Genius Factor Games a Vancouver based game developer, as part of its trans-media strategy, is proud to introduce its

second title created exclusively for the Apple iPhone® and iTouch®.
Riese: Battle for Eleysia brings the world of the award-winning, steampunk inspired Syfy web series Riese: Kingdom Falling into the hands of iPhone® and iTouch® users worldwide. Featuring the voice of Felicia Day (The Guild, Dr. Horrible's Sing Along Blog), this RPG card battle game lets players battle for control as the deadly Sect, the glorious Eleysian Army, or the dedicated Resistance, all in an effort to conquer and rule the land of Eleysia!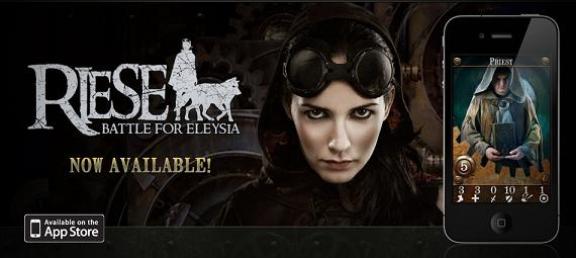 Players can customize their decks of over 60 gorgeous cards and 24 modifier cards to develop packs that best suit their own personal battle strategy, track their progress with OpenFeint achievements, unlock additional content as they play through the campaign and immerse themselves in the Riese
world with Felicia's narration and the riveting series soundtrack composed by Rich Walters.
"Riese: Battle for Eleysia is built upon the rich and diverse canon from the already successful show and sets the stage for another unique and deep way for fans to explore and engage in the series." says Ted Nugent, President of Genius Factor Games. "Our focus on independent IP naturally aligns us with production companies like Riese Productions, Ltd. and we are extremely excited about future trans-media projects."
A product update is already in the works with additional features including head-to-head multiplayer, supplemental content and other improvements. The update is slated for release around mid December 2010. An iPad specific version is also in development and anticipated in early 2011.
"Working with Genius Factor Games on the Riese: Battle for Eleysia game has furthered our goal of being truly transmedia" says series co-creator Kaleena Kiff, "The story we're telling with the live action series is the basis for the game, while the game itself has allowed us to create a larger world, full of depth and new characters and inventions that will eventually become a part of the live action series.
With the two fueling one another, we feel like we're just beginning to scratch the surface of the expanding stories we'll soon be able to tell with both the series and the game."

Riese: Battle for Eleysia is available now in the Apple App Store for $3.99. For more information on what is upcoming for Genius Factor Games visit their website and blog at http://www.geniusfactorgames.com, or follow Genius Factor Games on Twitter!
About Genius Factor Games
Based in Vancouver, Genius Factor Games is a digital entertainment company specializing in innovative, interactive titles for the Apple iPhone, mobile and social media platforms. Our goal is to deliver casual games characterized by a unique, "pick up and play" experience in five minutes or less. Genius Factor Games™ – Great people, great entertainment™.
About Riese Productions, Ltd.
Riese Productions, Ltd. is a film production studio dedicated to innovative, multi-media entertainment experiences for online audiences. The studio's first launch is the steampunk-inspired web series Riese: Kingdom Falling.
Press Contact:
Genius Factor Games Inc.
Ted Nugent
Genius Factor Press
Thanks for reading! As always, if you have any questions, comments or concerns, feel free to leave a comment down below and I'll do my best to get back to you in a timely fashion.
Or you can follow me on Twitter by clicking on my picture below to the right.
~ MeaganSue