Good evening Stargate fans!
We promised you several surprises this week and as always we keep our word. The latest surprise is coverage on a new event beginning
tomorrow running through the weekend and a new reporter joining the family at WHR that will report on this exciting event!
Effective immediately please welcome Kassandra also known as MackenziesMomma on Twitter to the WormholeRiders New Agency team of reporters!
Based in the Pacific Northwest region of the United States, Kassandra is an excellent photographer, writer and video graphic specialist as well as being a wonderful person!  A long time devotee to the Stargate franchise,  Kassandra's first assignment will be to cover The Official Stargate Prop and Costume Auction in conjunction with MGM Studios in Seattle Washington. Cannot attend the auction? No worries. Click the Propworx Stargate Artifacts text links or banner below to visit their official web site to bid LIVE at the auction on the Internet!


Welcome aboard Kassandra, we are honored by your presence in joining the WHR team!
We ask that you welcome her as well! Thank you.
Best Regards,
WR_Systems (Kenn)

Press Release:
Propworx and MGM Announce The Official Stargate™ Prop and Costume Auctions
Experience Music Project|Science Fiction Museum to Host This Landmark Event September 24 – 26, 2010
LOS ANGELES — August 26, 2010 —Propworx, in association with MGM, announces The Official Stargate Prop and Costume Auctions at the Experience Music Project|Science Fiction Museum in Seattle, Washington to be held September 24 – 26, 2010 and live online at www.propworx.com. This is the first in a series of two live auctions featuring items from Stargate SG-1 and Stargate Atlantis, with the final auction in 2011 concluding a year-long run of online and live Stargate auctions.
Over 850 lots of props, costumes, production artwork, concept drawings, and set pieces will be on display Friday, September 24,
culminating in the auction on September 25 – 26. Most notable among the lots is the Lot 51: SG-1 Travel Stargate used during location shooting of Stargate SG-1 and in the second season of Stargate Universe. This huge prop is made of fiberglass and mounted on a welded steel frame and features working lights behind the chevrons and is 22 feet tall.
Lot 560: M.A.L.P or Mobile Analytic Laboratory Probe vehicle used by Stargate Command to investigate alien planets before sending in a live team, was used in Stargate SG-1 Season One and would make the perfect addition to a collector's display of the gate. Lot 590 is a fully articulating animatronic Asgard puppet portraying Thor and numerous other Asgard throughout the most recent years of SG-1 and Atlantis. This was the final version of the puppet to be created by the Stargate special effects team and measures four feet in length!
"Never in one place have so many beautiful props, costumes and set pieces from the Stargate franchise been auctioned at one time," said Alec Peters, CEO and founder of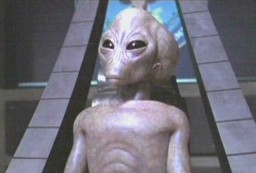 Propworx, the premier Hollywood studio auction company. "Stargate's reputation as a visually beautiful and intellectually challenging series is on display at one of the most stunning locations on Earth, the Science Fiction Museum in Seattle. We are honored to bring this event to the loyal fans and collectors who have followed the series throughout its development."
"We are thrilled in association with Propworx to be offering Stargate fans, collectors and the general public an opportunity to see and experience these amazing props and costumes," says Chris Bosco, Senior Vice President, MGM Studios. "An auction of this caliber is truly a unique and memorable experience."
About Metro-Goldwyn-Mayer Inc.
Metro-Goldwyn-Mayer Inc., through its operating subsidiaries, is actively engaged in the worldwide production and
distribution of motion pictures, television programming, home video, interactive media, music and licensed merchandise. The company owns the world's largest library of modern films, comprising around 4,100 titles. Operating units include Metro-Goldwyn-Mayer Studios Inc., Metro-Goldwyn-Mayer Pictures Inc., United Artists Films Inc., MGM Television Entertainment Inc., MGM Networks Inc., MGM Domestic Networks LLC, MGM Distribution Co, MGM International Television Distribution Inc., Metro-Goldwyn-Mayer Home Entertainment LLC, MGM ON STAGE, MGM Music, MGM Worldwide Digital Media, MGM Consumer Products and MGM Interactive. In addition, MGM has ownership interests in international TV channels reaching nearly 120 countries. MGM ownership is as follows: Providence Equity Partners (29%), TPG (21%), Sony Corporation of America (20%), Comcast (20%), DLJ Merchant Banking Partners (7%) and Quadrangle Group (3%). For more information, visit http://www.mgm.com/
About Propworx
Propworx (www.propworx.com) is the premier auction house for Hollywood studios looking to sell their assets in fan-friendly event
auctions. The auctions create significant additional positive media exposure for studio productions and monetize assets that previously would sit in storage or be destroyed. Propworx' inaugural production, the year-long Battlestar Galactica auctions, were the most successful Hollywood memorabilia auction events in history, with over 8,000 lots going to fans and collectors worldwide. This was followed by the successful the Iron Man Auction in Chicago and the Star Trek Auction in Las Vegas, which garnered praise from collectors and fans throughout the world. Next on the block is the Kevin Smith auction, Kevin Smith Sells Out: The Official Askewniverse Garage Sale! in November in Las Vegas.
About the Experience Music Project|Science Fiction Museum
Experience Music Project|Science Fiction Museum (EMP|SFM) is dedicated to the exploration of creativity and innovation in popular music and the thought-provoking ideas and experiences of science fiction. Since EMP opened in 2000 and SFM in 2004, EMP|SFM has welcomed more than 5 million visitors through its doors. From its museum planning stages in 1998 through 2009, EMP|SFM has been a key
economic driver among Seattle nonprofit arts and culture organizations, with combined EMP|SFM institutional expenditures and EMP|SFM audience-member spending resulting in $651 million dollars of local economic impact. EMP|SFM is housed in a 140,000 square foot Frank O. Gehry-designed building. This spectacular, prominently visible structure has the presence of a monumental sculpture set amid the backdrop of the Seattle Center.
STARGATE SG-1 is a trademark of Metro-Goldwyn-Mayer Studios Inc. © 1997- 2010 MGM Television Entertainment Inc. and MGM Global Holdings Inc. All Rights Reserved.
STARGATE ATLANTIS is a trademark of Metro-Goldwyn-Mayer Studios Inc. © 2004 – 2010 MGM Global Holdings Inc. All Rights Reserved.
STARGATE UNIVERSE © 2009 MGM Global Holdings Inc. © 2010 Metro-Goldwyn-Mayer Studios Inc. STARGATE UNIVERSE and SGU are trademarks of Metro-Goldwyn-Mayer Studios Inc. All Rights Reserved.