This year at Dragon*Con, I had the privilege to conduct an interview with Michael Shanks with his expressed permission and kindness.

Seated on the other side of his autograph table (like the devoted 'reporter' and MS fan that I am), we were located within the Walk of Fame with his expressed permission and the documented position with regard to an official Dragon*Con letter dated August 26, 2010. Mr. Michael Shanks allowed me the opportunity to interview him and observe first hand his interactions with fellow fans coming up to express their opinions and overwhelming regard for him as an actor and human being.
I have been reporting on Mr. Shanks professionally for over 6 years at numerous conventions where my deportment and presentation has always been above reproach as evidenced by numerous reports and news articles I have published including here and here for WormholeRiders News Agency.
This interview with Mr. Shanks was the result of great effort by many parties involved that assisted to make this report possible. I thank all those who contributed positively for the opportunity to interview Mr. Shanks. As a whole the interview took place over the course of two days Sunday and Monday September 5 and 6, 2010. I will admit, due to issues that no one would like to hear about, I was a bit unprepared (question-wise) when Mr. Shanks expressed interest and approved to do the interview right then and there at his table. Therefore this portion of the interview is extemporaneous in nature.
The first thing that came to mind for me to ask was what he could tell about his current work on Smallville, where he is returning as the amazing superhero Hawkman (aka Carter Hall).

The character is set to make his next appearance in the episode 'Shield', premiering October 1st in Smallville on the CW, a Warner Brothers company. According to Mr. Shanks, we will find Carter Hall in Egypt hunting down Lois Lane. There, Carter tells Lois of his
relationship with Shayera and how it parallels Clark's relationship with Lois. Hall informs Lane that Clark will need Lois down the line if he is going to succeed in his endeavors. Mr. Shanks also said that he is going back to shoot another episode later in the season, though he didn't know the name of the episode at the time.
I next asked Mr. Shanks about what other projects he is working on. He started talking about Red Riding Hood, a Warner Brothers film

which just wrapped shooting up in Vancouver featuring  such well known celebrities as Amanda Seyfried, Gary Oldman, Julie Christie and Virginia Madsen. Mr. Shanks plays a blacksmith in the movie. I had found out at Creation's Stargate Convention in Chicago that Mr. Shanks went through actual blacksmith lessons for the role.
Mr. Shanks told me he could not say much about the project – that they were being all 'hush, hush' about everything, even call times. With the whole internet age today, where everything is being leaked online, the studio wants to make sure that stuff stays under wraps until the very last minute. I agree that rumors do not belong since we here at WHR deal with vetted facts.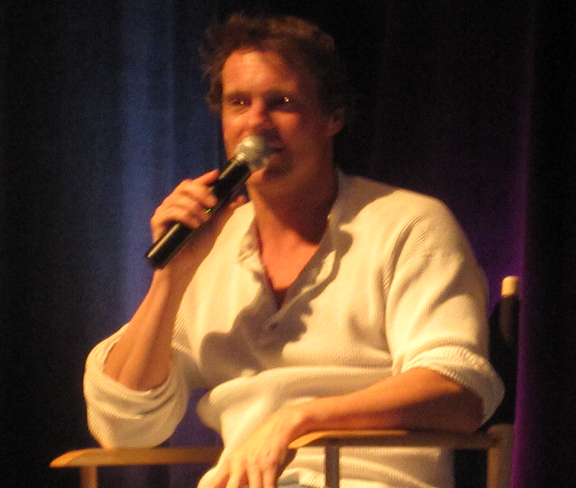 At this point, due to last minute approval by Mr. Shanks of the interview, my lack of proper question preparation started to show (which I apologize to all about) and I asked Mr. Shanks some more 'everyday' type questions. I asked his opinion of the Vancouver Canucks (we are both fans) for this coming season, and he believes they will do well. With the additions they picked up in the off-season, he has high hopes for their success (but mentioned, as every Canucks fan knows, that is how it always is up until that second round in the playoffs). I inquired into his personal taste in music (simply because it is something I have not really seen much about before on the internet) and Mr. Shanks said he likes lots of different types of music, but is really into the head-banger stuff. "It confuses his kids", he said, because it is not like what his wife Lexa Doig prefers at all. He made mention of Linkin Park specifically, which gave me a sense of personal joy because Linkin Park is also one of my favorite musical bands.
During the interview all questioning was done in breaks between people coming up to his table to get autographs or just have a moment to talk with him. Being able to observe the interactions of Mr. Michael Shanks and his fans from the outside was a whole new, and enlightening, experience for me as a reporter. I was honored that Mr. Shanks allowed me the privilege of watching of people as they come up and thanked him for the many characters he has portrayed in his acting career. Even more interesting was how Mr. Shanks inspired each of them to choose the path in life that they did.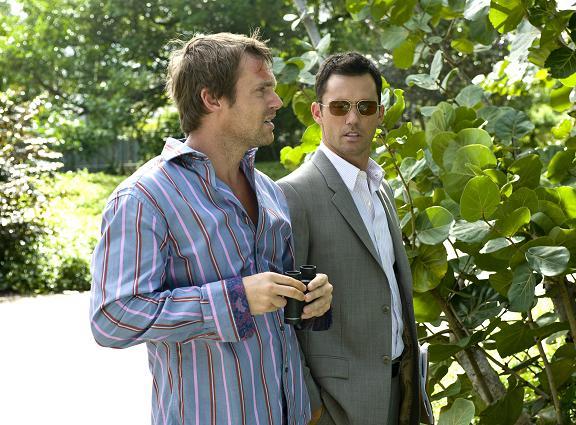 Many people came up and thanked him for his portrayal of Victor on Burn Notice and for Hawkman on Smallville. One lady mentioned how she had yet to watch the season 2 finale of Burn Notice, 'Lesser Evil'. I made sure to share with her  to 'be prepared' when she watched it (but to definitely watch it), and then informed Michael as the lady walked away that I cried when Victor died. As is expected by the fandom with Mr. Michael Shanks, he gave a gleeful snarky reply in return saying 'Well, I think anything could make you cry. You pull out your nose hair and you cry!'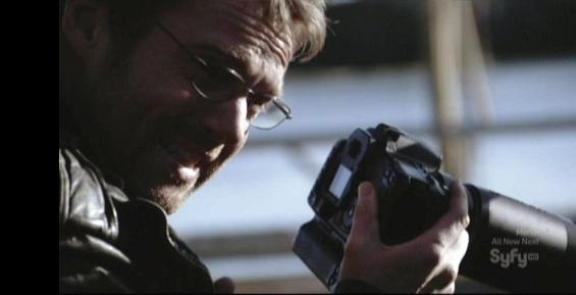 Another woman came up and informed Mr. Shanks that she had pursued a career in linguistics because of his portrayal of Daniel Jackson in MGM's Stargate Franchise. He told her he was 'sorry', which I know from personal experience is his usual humorous reply to such things, and she let him know that she is mocked relentlessly by her friend – who, ironically, is named Daniel Jackson. Michael thought
this was interesting and mentioned how he had yet to meet one himself. It was not too long later that a guy came up in line and started speaking to me, asking me if I was just a really big fan. I joked with him, saying I was a Michael Shanks groupie, and he got a kick out of it.
He then informed me that he was coming up to see Michael Shanks because he enjoyed his work and because his name was Daniel Jackson! Knowing what had occurred not too long before, I was tempted to say something, but did not want to ruin the moment for either of them. So I waited anxiously as Daniel came up to Michael and introduced himself. Michael Shanks loved it himself, turning to me and pointing while stating: "there he is!" We all wanted to see some proof, but "Daniel Jackson" was prepared for this and had his I.D. almost at the ready to prove what he was saying.
It was these experiences, and others that day, that inspired me later on in the evening (after leaving Mr. Shanks table) to come up with additional journalistic questions that I could ask him the following day. Keep an eye out for Part 2, where I will feature such questions and happenstances that occurred in my second encounter with my Michael Shanks interview experience for WHR.
Before I end, I would like to thank first and foremost Michael Shanks for giving me this opportunity to interview him in such an 'off the cuff' manner. I would also like to express many thanks to all my fellow convention goers who I had the opportunity to chat with while at Mr. Shanks table, none of whom minded my presence there. It is out of respect for these fans, as well as for Michael's extreme generosity, that I did not record any of this interview to video.
As always thank you for reading and visiting WormholeRiders News Agency. Please feel free to leave a spam free comment here or as many people do, feel free to visit me on Twitter by clicking the text links or my avatar below.

DannysGirlSG1