Hey Thriller NBC with a hint of Science Fiction (hopefully) fans!
The Event is a new series premiering today, Monday September 20, 2010 on NBC! The series has been described as something of a new flavor of LOST with a 24'ish tilt and is expected to contain quite a bit of excitement and special effects. While no show could replace LOST, I personally am looking forward to the pilot this evening! WormholeRiders News Agency is also excited in seeing Blair Underwood again as a series regular in The Event with guest starring appearances by veteran actor Hal Holbrook as well! These developments bode well during for the pilot run of The Event.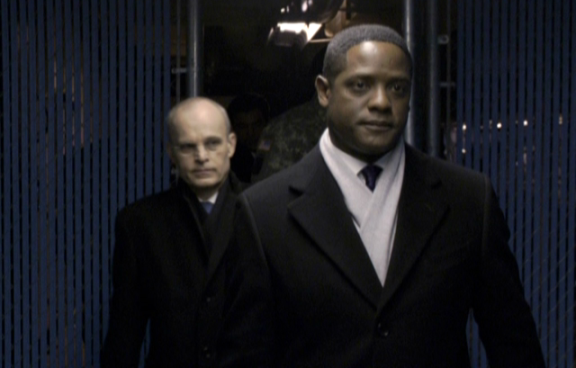 As described by NBC Universal, Quote: "The Event" is an emotional, high-octane conspiracy thriller that follows Sean Walker (Jason Ritter, "The Class"), an Everyman who investigates the mysterious disappearance of his would-be fiancée, Leila (Sarah Roemer, "Disturbia"), and unwittingly begins to expose the biggest cover-up in U.S. history.
Sean's quest will send ripples through the lives of an eclectic band of strangers, including newly elected U.S. President Elias Martinez (Golden Globe nominee Blair Underwood, "In Treatment"); Sophia Maguire (Emmy Award nominee Laura Innes, "ER"), who is the leader of a mysterious group of detainees; and Leila's shadowy father (Scott Patterson, "Gilmore Girls"). Their futures are on a collision course in a global conspiracy that could ultimately change the fate of mankind.
Ian Anthony Dale ("Daybreak"), Clifton Collins, Jr., Taylor Cole ("The Violent Kind"), Lisa Vidal ("The Division"), Bill Smitrovich ("The Practice") and Emmy winner Željko Ivanek ("Damages") also star in the ensemble drama.


"The Event" is a production of Universal Media Studios and Steve Stark Productions. Evan Katz ("24") serves as executive producer/showrunner; Stark ("Medium," "Facing Kate") serves as executive producer; Jeffrey Reiner ("Friday Night Lights," "Trauma") is the director/executive producer; and Nick Wauters ("The 4400," "Eureka") is creator/co-executive producer.

We thank NBC Universal for the extended sneak peaks and are very much looking forward to the series pilot tonight at 10 PM Eastern and Pacific. Check your local listings for exact air times.
As always thank you for visiting WormholeRiders News Agency and we look forward to seeing you on The Other Side of the Wormhole after the series pilot of The Event airs tonight.
Please feel free to leave a non spam comment here of by visiting the WHR team or me on twitter by clicking the text links or avatars. Thank you!
Best Regards,
Kenn