Hello again Stargate fans!
Let me start off by saying that this year's Stargate Convention in Chicago was arguably the best Creation Entertainment convention I have been to yet. The atmosphere was laid back and relaxed and provided a sense of calm for all attending. It was fun and funny and entertaining and more than provided its money's worth.
The people who were there on Creation Entertainment's behalf were both accommodating and engaging, never hesitating to assist anyone who had a question or general comment to ask or make. This sort of environment made for a convention that was fantastic from very beginning (once we arrived at the convention) to the end!
Though arriving at the convention was a hassle unto itself, once Tara and I received our access to the ballroom, it was nonstop fun from start to finish. The convention kicked off with Steve Bacic's Q and A. Due to travel issues we ended up in there a little bit late, but Steve had us laughing even before we sat down.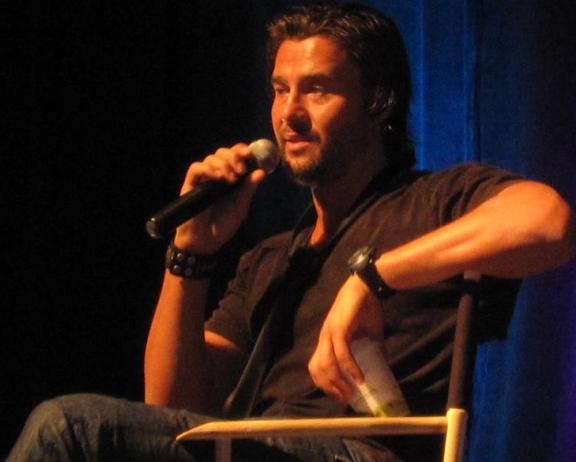 And that only increased once Dan Shea had joined in on the 'question asking' for Steve's panel. Those two bantered back and forth for a good portion of the end of Steve's panel (from which I received a lovely personal 'gift' from Steve, which I will go into more detail about in my full convention report), which pretty much merged into Dan's Friday panel (he would be attending all weekend, so would have many other moments on stage).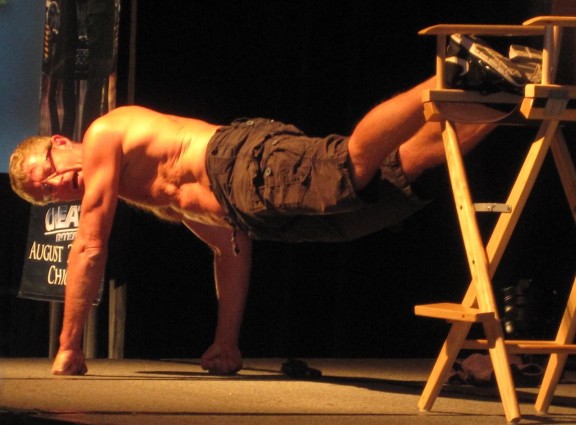 Though I will not go into too much detail on my personal 'investment' (all together unintended, but ultimately hysterical) with Dan's time on stage that Friday, I will say that he is very entertaining and energetic. He even took a few seconds to stop moving so those lucky people with cameras poised could snap the elusive good picture of Dan on stage (i.e. – not motion blurred).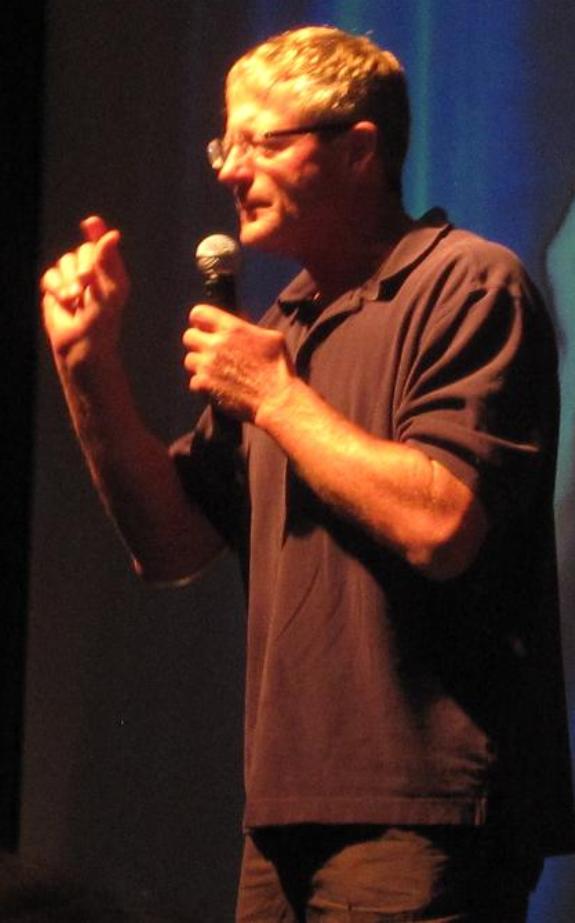 Friday carried on much the same, with equally satisfying panels from Andee Frizzell and Christopher Heyerdahl (who appeared on stage together) and Robert Picardo.  Andee shared her personal trials of just trying to get into the U.S to get to the convention and Chris was often off the stage 'assisting' those asking questions or taking a moment to glance at a banner on the wall. They mentioned how they had flown in on the same plane together and hadn't even realized it (Andee made a joke about how egotistical she must be to not realize she was on the same plane as Chris Heyerdahl – Chris made a similar comment about himself).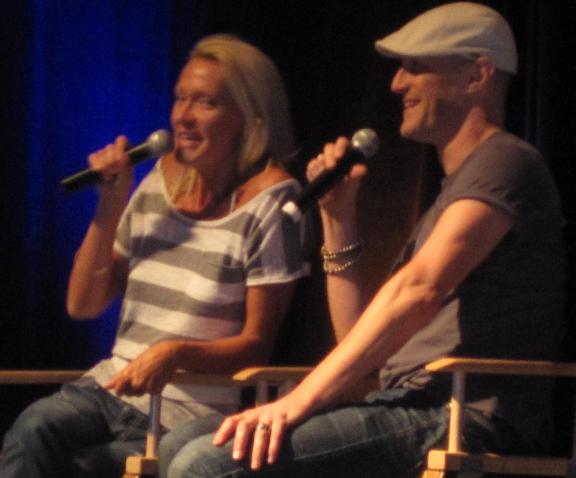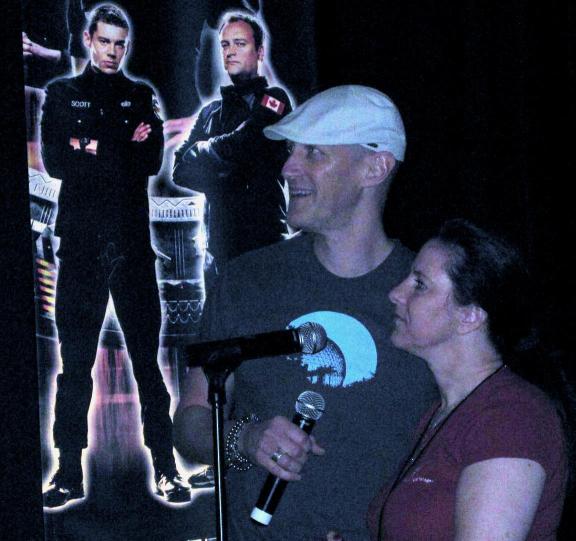 Robert's panel (which was before Andee and Chris') consisted of him making a lot of comments about Richard Woolsey being a pretty disreputable character who was then build up to be a disreputable character that the audience liked a little more. He made some parallels between working on Star Trek and working on Stargate (made specific mention of adlibbing lines, such as in Stargate Atlantis where Woolsey forgets Chuck's name), as well as parallels between Star Trek fans and Stargate fans (with a lot of crossover in between.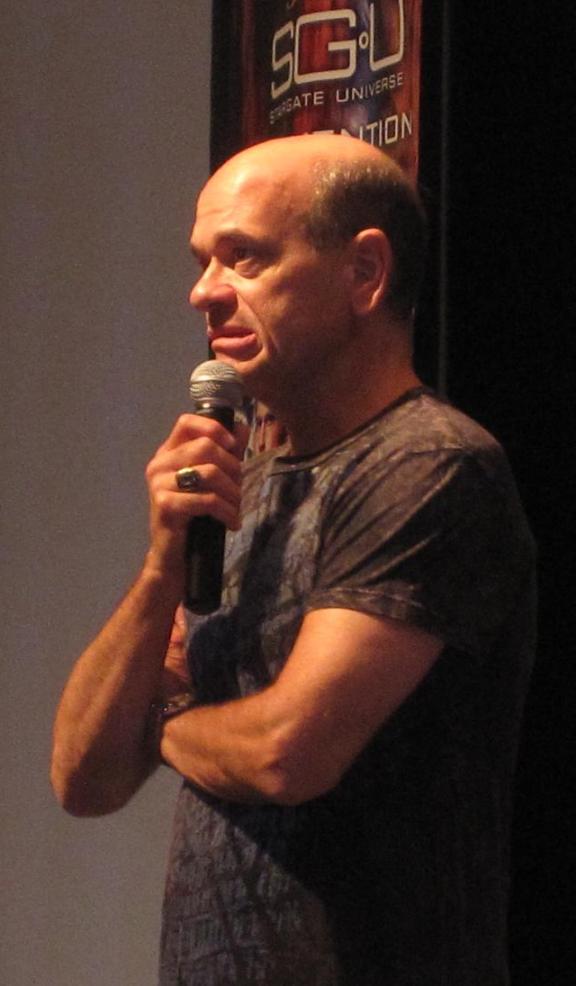 Alfonso, Robert's 'cousin' came up often and it was made clear that Alfonso would be appearing later on that evening. Alfonso did appear later, at the Cabaret, along with Dan Shea and Andee Frizzell. Dan was just as energetic as before, and Andee shared some rather hysterical and somewhat disturbing stories. Alfonso, as he seems to be known to do, flirted endlessly with his female audience members.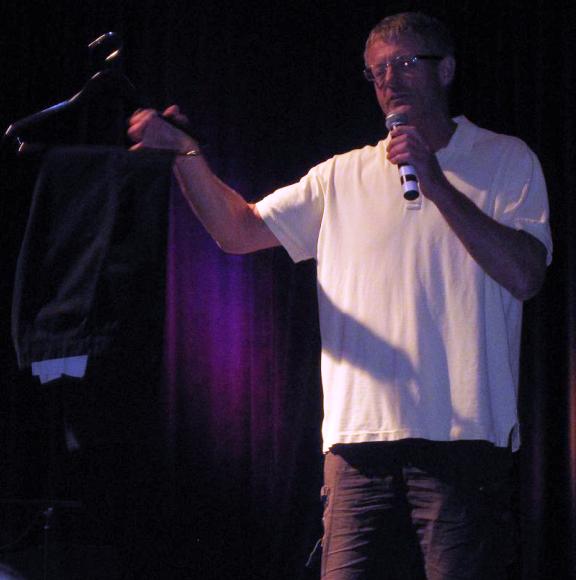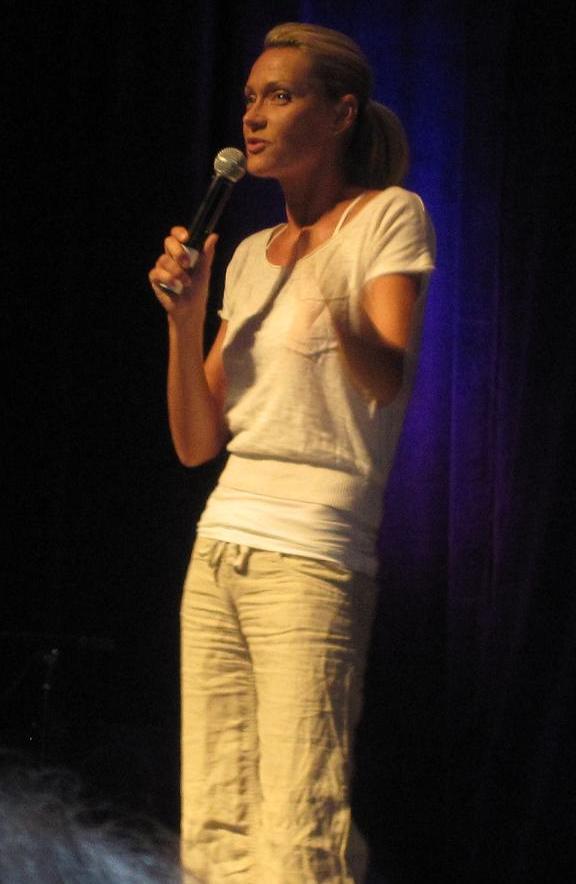 He pulled a few of them up on stage to sing a song written by his cousin 'Roberto' that was based in the Star Trek fandom. He also provided much romantic advice, of which he was sure to emphasize he was the best at 'romance' (he had many 'appointments' by the end of his show).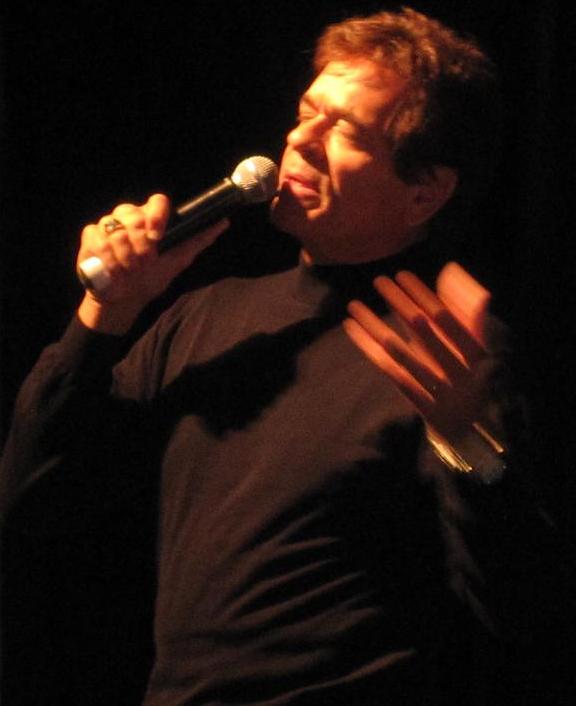 Following this display of sexual manliness was the karaoke, which Creation Entertainment held in the ballroom rather than the ball. I personally enjoyed the change because the ballroom provided a better atmosphere – it provided a sense of comfort to be able to stay in the same room where we had been all day and would spend the rest of the weekend. Definitely made it feel more a part of the convention. The laid back air about the karaoke, and the constant support of the audience and stars that were milling about, made it a lot easier for people to get up and sing. I took a stab at a song, singing Time Warp with dear friend Connie_Point.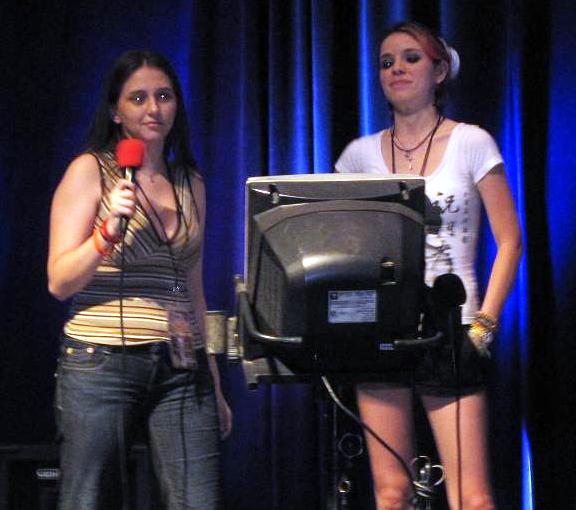 We could not get Christopher Heyerdahl up on stage with us, but it was satisfying to see him enjoying our performance from just offstage. When we went up to talk to him later, he said we were very good (in one of his awesome accents).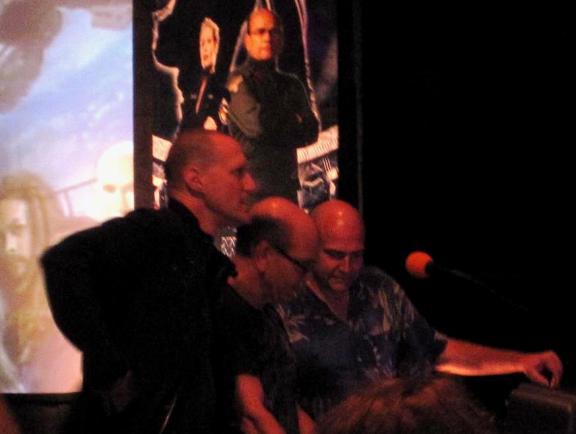 The next day kicked off bright and early with a photo op with Joe Flanigan and Michael Shanks (at least for those of us without tickets to the Flanigan or Hewlett Meet and Greets, which were going on right down the hall from where we waited for the photo op). Both men were amazing as usual (surprisingly, Joe made a comment on my Canucks jersey and Michael didn't…) and even if photo ops are a rather quick encounter with these stars, they are always worth it to get one. The day continued on in much the same fashion of Flanigan, Hewlett, and Shanks. The duo panel with Joe and David started off with hilarity when both of them started bouncing behind the stage screens, making big shadows appear. The laughs never stopped, especially as they started ribbing each other almost immediately. This only increased when Joe was awarded the Twitter Actor of the Month and David got runner up!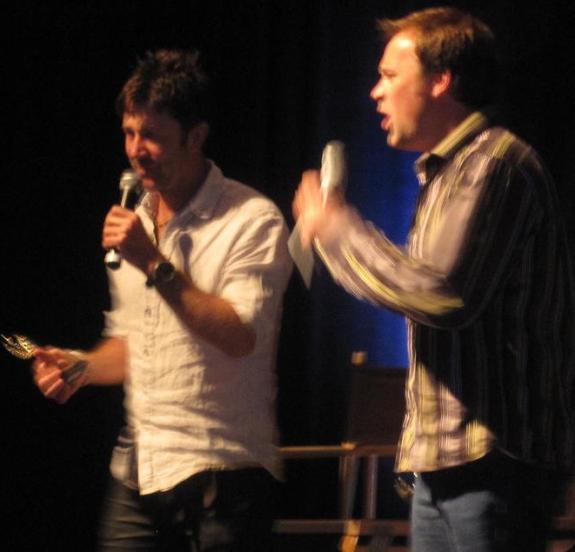 After that, it became a 'contest' of who go more questions and who was best (as is to be expected with them). The 'Stump the Experts' Trivia contest was shortly after their panel, and I made sure to get up and participate for that one (since I have quite a love for SG-1 trivia). I was able to answer one question for a set of prizes and got to ask my question (which someone finally answered correctly while on line for Joe Flanigan's autograph), but had to head off before I could ask another because I had to get to Michael Shanks' Meet and Greet.
Many of the things discussed within that lovely little room I have been sworn to secrecy on, but let me say I would gladly spend more than I did for another experience like it. I would highly recommend doing a meet and greet to anyone who is considering it. Michael's panel followed immediately after. I will say my one disappointment with the convention occurred when it was announced the video that would normally introduce Michael would be shown after his panel (I had hoped my video would win – which it did, but it was shown after). It is not something that angered me, just a minor disappointment in an otherwise excellent weekend. Michael's panel went off spectacularly and I made sure to shout out my comments to dear Shanks whenever I felt the need!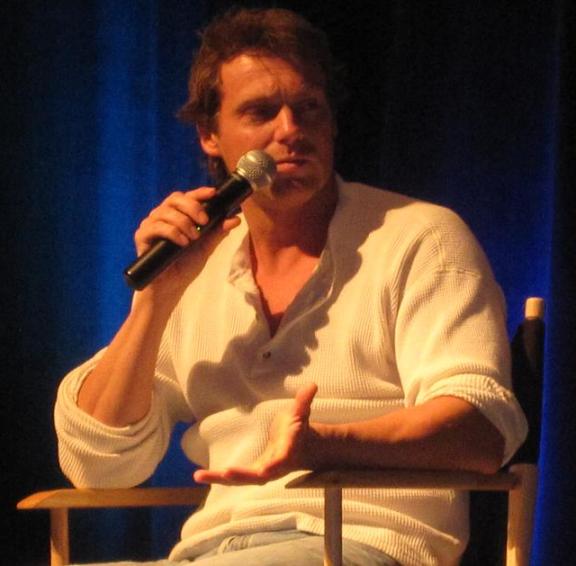 Michael responded in kind and much fun was had by everyone all around! When his panel had ended, I received my certificate for my winning Stargate video Good to Be Bad shown below, and then headed to his photo op. That was quite a pleasing experience, even more so than usual, but those details will have to be saved for my full report about Day 2 of the convention.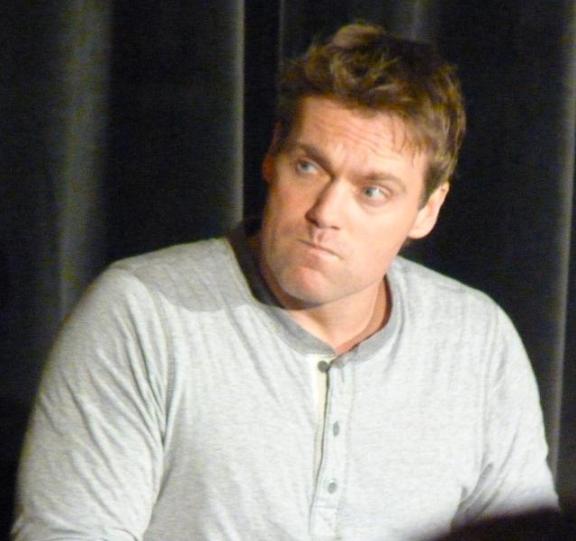 The rest of the day consisted of autographs from Michael, David, Andee and Dan. The events of the convention this day ended with the Gold dessert party. The spread this year was spectacular and the 'impromptu' centerpiece submissions that came about were fantastic – I entered a hand drawn Stargate…hand drawn on the bottom of a pizza box insert!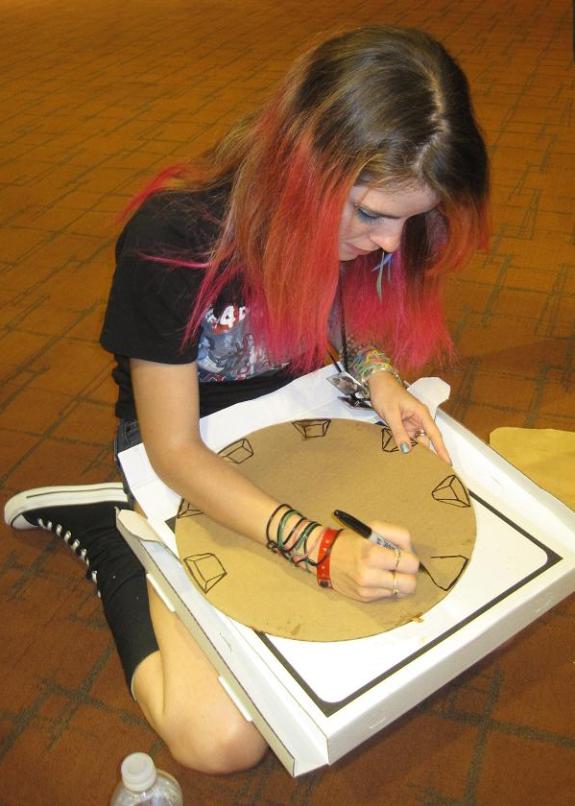 It got several pleasing comments.  Andee Frizzell (who, along with Dan Shea, was a guest at the party) even became a centerpiece for a time. Our group also made sure to kick off the dancing right with a request to the DJ for 'The Cha Cha Slide.'
Sunday, last day of the con, was just as amazing as the previous too. Another early rise for the Charity breakfast, but it was worth it for the company there and the wonderful breakfast that was provided. Brian J. Smith, Alaina Huffman, and Elyse Levesque were all on stage as the morning's featured guests. It was nice to be able to see these stars who are rather new to the Stargate convention circuit. I made sure to let Brian know that he had never replied to my tweets – and he promised to do so before the end of the day. Which is a promise he kept! Each of the Stargate Universe guests had a separate panel, all of which were very informative and entertaining!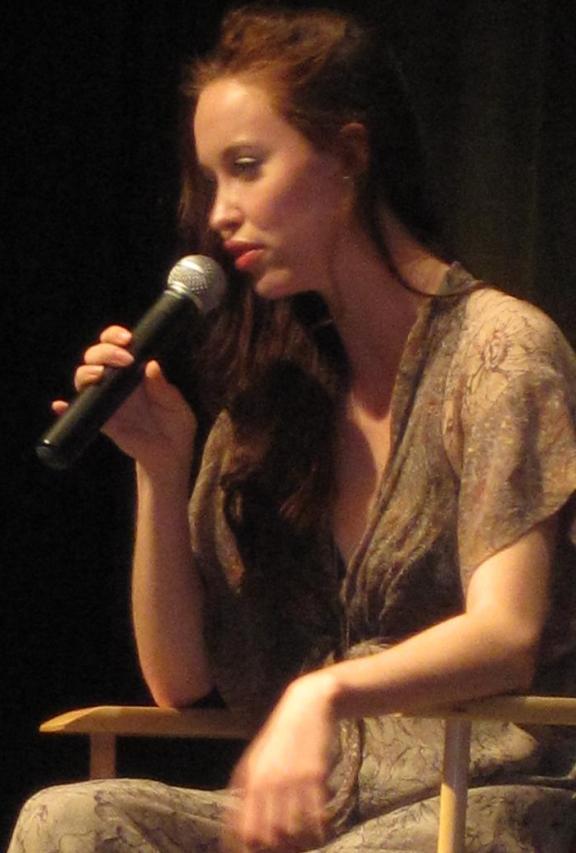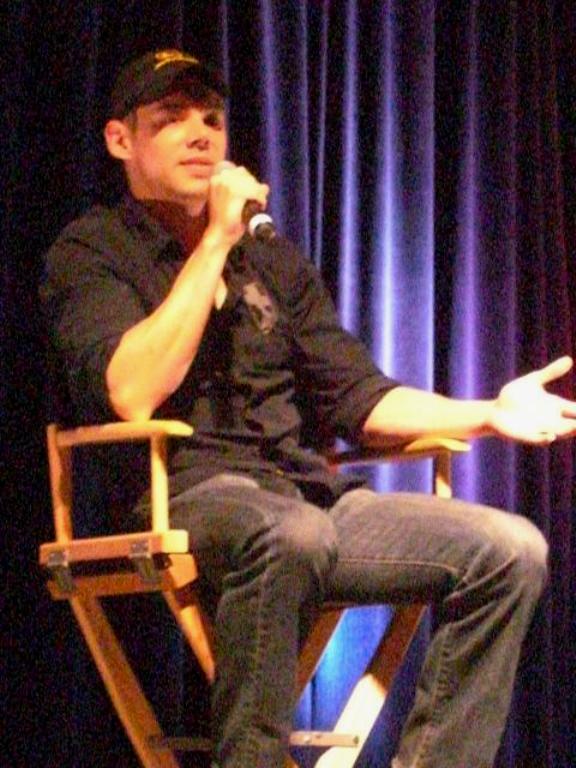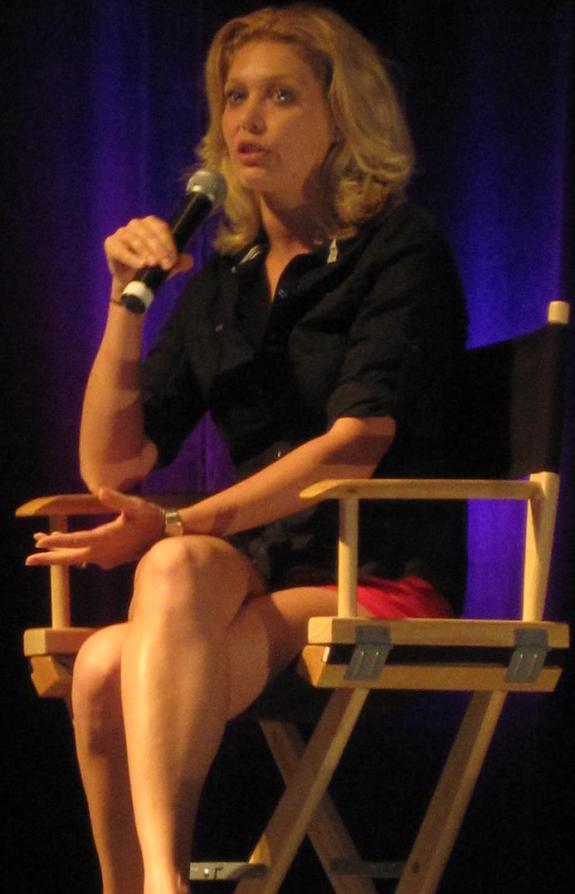 Finding out that Brian was such a big history buff was very exciting for me because I am one myself. I made sure to ask him what his favorite period in history was and he said it was definitely The U.S. Civil War. Later, just before the panel that had all three of them, I ended up winning a bid on the Shanks banner that had been hanging on the wall all weekend. So the rest of my day was spent smiling at my 'big purchase'. The SGU trio panel was just as entertaining as their individual ones, if maybe a little more giggly much to the enjoyment of the audience.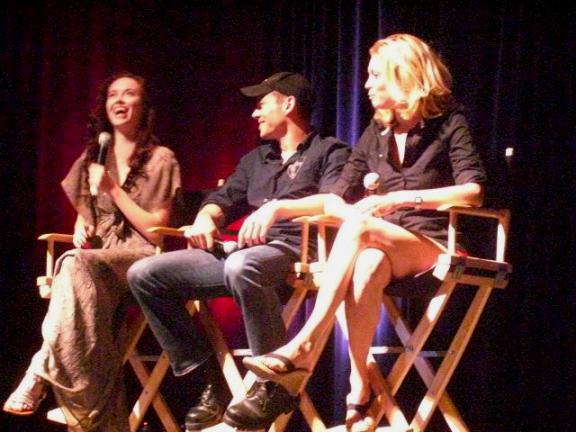 They all shared lots of inside jokes of what went on behind the scenes of Stargate Universe. It came up several times during the day, actually, that David Blue is the closest to the character he plays on SGU. Their group photo op came after their joint panel and then it was time for autographs and one sad, final exist from the ballroom for the weekend.
I did not hesitate this year to reup my seat for next. The experience had this year was out of this world amazing and I cannot thank Creation and the Stargate stars (plus all the attendees) for providing such a wonderful experience. If I was not always looking forward to the Creation Stargate Chicago Convention every year already, I most definitely am now!
My grade for the Creation Entertainment Stargate Convention known as ChiCon 2010? An "A++"!
Please feel free to share this article with your friends, co-workers and or family and leave your comments! We look forward to you visiting our dedicated review and analysis web site here in the future! Or as many of our readers and visitors often do, visit WHR on Twitter, or visit me on Twitter by clicking the text links or my image avatars in this news story.
I and TeamWHR look forward to Seeing You on The Other Side!"