Well, hello again!
Sorry for the delay in getting this last report on the Phoenix Comicon up. I was sick and then out of town for awhile… But anyway, down to business!

First we looked and indeed there was R2-D2!


Saturday was one of my favorite days of the con.  The very first thing I had on my agenda was The Guild panel featuring Felicia Day and Wil Wheaton.  They are so funny together!  I've got this whole panel on video which I will be posting, so check back for it soon!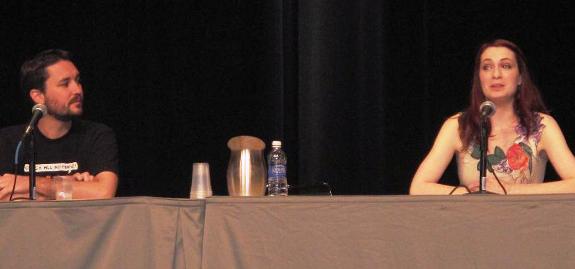 Again, I must emphasize the amazing work that some people put into their costumes.  I met this woman who made her own Codex costume!  For all of you Lame-Os who haven't watched The Guild yet, Codex is Felicia Day's character's avatar in the game that the web series revolves around.  This costume was by far one of my favorites from the entire convention.  And, honestly, I think it's about time you dropped what you are doing and watched this show.  Seriously.  Just follow my superlative advice already and watch it!  ;D
After that, I walked the exhibit hall a little more and found some amazing things.  If you are a comic lover, then Phoenix Comicon is for you!  There are literally thousands of new comics as well as many, many back issues.  You will no doubt find what you are looking for.
There were even issues of The Guild comic for sale!
There are also loads of different collectable figurines, buttons (or pins), some "Monster Purses" and I found some really nifty (and by "nifty" I mean, completely geekified) belt buckles. There are also loads of different collectable figurines, buttons (or pins), and some really nifty 'Monster Purses'!"

Another thing I love seeing around any convention is artwork.  I stumbled upon this beauty while browsing.  For the life of me, I can't remember who drew this.  If anyone knows, please leave me a comment down below so I can give credit where credit is due.  This was amazing to see in person and I wish I had the money to have purchased it for myself.  It has the mainline stars who attended the con this year.
After that, I had a little business to attend to and then the day was over for me since I didn't have tickets to the Geek Prom.  Yes, I know I originally wrote that the Prom was on Friday, but I was mistaken.  And, by the time I figured out that it was on Saturday and I could have attended, it was already sold out!


This event was to sponsored by Bookmans and helped to raise money for the Kids Need to Read charity and Wil Wheaton, Felicia Day and John Scalzi all went to party it up with all the geeks.  From what I've heard, it sounds like it was a blast!  I'm going to be sure not to miss it next year.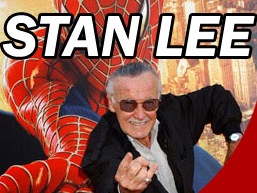 As I mentioned before, this is my last report on the Phoenix Comicon.  I was sick all day Sunday and couldn't make it for the last day.  I was SO upset that I missed Stan Lee!  I've met him before and he is seriously the coolest guy ever.  If you ever get a chance, go meet him!

Well, thanks for reading folks!  Stay tuned for the Wil Wheaton panel video that's up next and The Guild panel video that will be up after that.
And, as always, feel free to leave a comment down below or chat me up on Twitter by clicking on my picture.
~ MeaganSue