Welcome back Stargate Universe fans!
Only one more episode before we all go through serious withdrawal symptoms until season 2 airs. Only one more episode for Friday-night scheduling. When season 2 does air, it will be on Tuesday nights. Again, congratulations to all the Leo Award nominees and winners. SGU won for best drama.

Once again, in full disclosure, this review contains complete spoilers. Read at your own risk!
Th
is episode contained everything I could have hoped for, and after a momentary let-down, it was nice where they took the story. The stunts slammed it. The visual effects were magnificent. The special effects were stunning. The drama was nonstop. The urgency was palpable. Applause!  Andy Mikita was the director of this action-filled episode.
We left off 2 weeks ago with Colonel Young (Louis Ferreira) removing the air from Colonel Telford's (Lou Diamond Phillips) room to get him to give up information about the Lucian Alliance (or so we believed). Camile (Ming-Na) orders Brody (Peter Kelamis) to restore the atmosphere.

Brody is steadfast in his belief that Young will not let Colonel Telford die (hard to say if he was clued in as to what was going on and he had to maintain that cover with Volker (Patrick Gilmore) and Eli (David Blue), or if he had confidence in Young's abilities, a good sign that more civilians are trusting matters of the military to the military). Peter Kelamis plays this scene quite well so we do not really know. I bet he wins poker when he plays with Patrick Gilmore between scenes! Lt. Matthew Scott (Brian J. Smith) is visibly upset by what is happening and goes to try to help, thereby violating a direct order.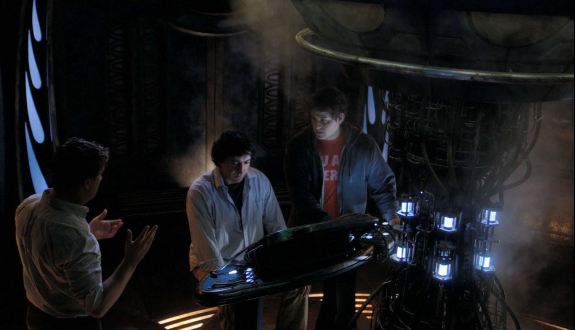 After the air is restored and the door opens, at first I thought it was Rush (Robert Carlyle) in Telford's body telling him the Lucian Alliance were coming. But then I find out what I was hoping in my last review didn't happen really did happen: Brainwashing. UGH. The only way to stop it was for him to go into cardiorespiratory arrest for what appeared to be a full minute. I was a little annoyed, but I needed an adventure. I have not been let down this season, and I trust Joseph Mallozzi who had this episode's writing duties per his blog. Let us see where this takes us.

Young and Scott have a heated exchange in the hallway about the chain of command.
Since I had the opportunity to meet the charming and handsome Lou Diamond Phillips at the screening of his movie Transparency at the Dallas International Film Festival, it was nice to see that same Mr. Nice Guy in the role of Colonel Telford, now. Okay, I'm easy. Brainwashing it is! But for who, me or Telford? Am I brainwashed that another Stargate plot with brainwashing is okay? I'm feeling a bit dizzy. Yes, yes, all is good with the universe; brainwashing is good when it has a different spin on the episode.
I'm brainwashing you now to LOVE the Destiny! LOVE the VFX department! Ah, Zen. Nirvana.
The plan of defense? He tells the group assembled (including Becker, Jeffrey Bowyer-Chapman) they will snuff the life out of the people coming through the gate. Let's consider their options: No ancient weapons that they can use within the ship (yet), a limited amount of bullets. Snuffing out their lives would be the logical call.
It was awesome to see Amanda Tapping in the role of Colonel Samantha Carter on the Hammond. The word "pyramid" brings an air of nostalgia to General O'Neill (Richard Dean Anderson).
It was ironic to now see their planet under attack as they are getting ready to go through the gate to get to Destiny, knowing there is no coming back. Very "Air" of them. Eli checks out more Dr. Daniel Jackson (Michael Shanks) instructional videos. I cannot wait to see them on the next DVDs. My first thought is great stunts from James Bamford and team. Also, they need to figure out how to get a shield for that gate on the ship.  They are just flying through Stargates for the enjoyment of the fans!  It is a very cool shot.

Young is about to press the vacuum button, but sees Telford comes through the gate (Rush), but it is really now Telford — the connection was severed when gate travel occurred.
The planet core is going to explode, but Carter has to make the tough decision of leaving two of her fighters behind. You see, Carter can make the decisions and can sit in the big chair. Young is having a little of trouble finding his footing.
Young tells them they have to go to plan B and fight it out; however, the Lucian Alliance had technology they were not counting on. So now Telford is the mole for our side within their organizations under his own influence. It was about this time that I remember saying, "They better not kill him off next episode."
A firefight ensues. Riley (Haig Sutherland) is hurt and captured. Others are captured, too, including TJ (Alaina Huffman). Chloe (Elyse Levesque) is hurt, shot in the leg, but they get away. While pressure on a gunshot wound should be enough, there are times when a tourniquet is necessary, so no points off for that.
What follows are very touching moments between Eli and Chloe as he tries to help her. The belt was the best choice in the plan B of options for tourniquets; the rope, not so much.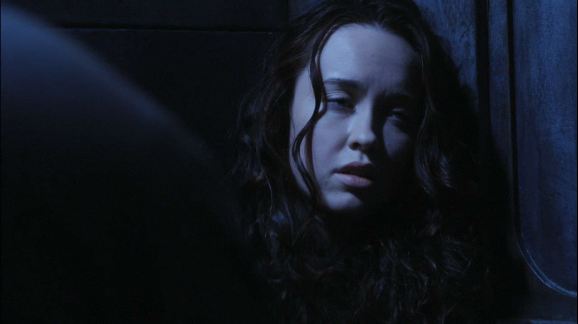 Kiva (Rhona Mitra) tries to convince Young they want the same things they want and offers that they join them, or…Young, "I vent the atmosphere in the areas you are occupying.
Kiva grabs Riley, TJ, and another SGU cast members. Telford tells her it is a mistake because it will force their hand.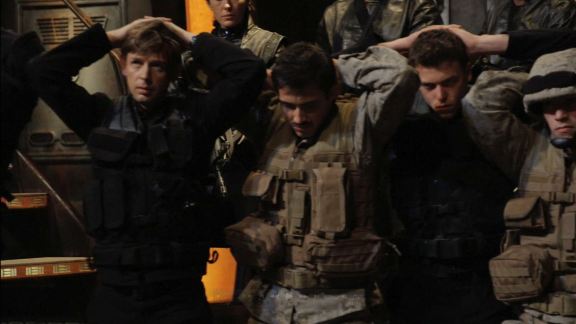 Camile steps in as IOA negotiator. Telford has a plan to get to the control room. Telford wants 12 men; Kiva says 6. If anything goes wrong, those 3 die (meaning TJ, Riley and the other man). Telford says TJ is a medic and they could use her.
Camile contacts Kiva and says, "In our society, the military takes orders from civilian leadership." and Telford makes facial gestures like, "Yeah, yeah, yeah."
Eli and Chloe are exploring unknown parts of Destiny in their effort to get closer to the group again. I loved the scene where Eli says, "I gotcha."
Young us es the stones and talks with General O'Neill who scolds him about not acting promptly. Colonel Carter could make the hard decisions but it was the right decision. He recommits to getting the ship back.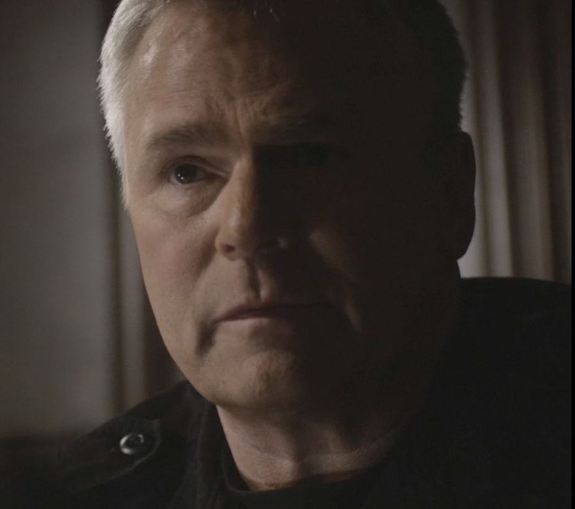 Telford and his group head out to take the control room (assumedly). He turns on a computer (to send a message to the group) and covers quickly with the guys he is with.
Rush notices there was no countdown clock going.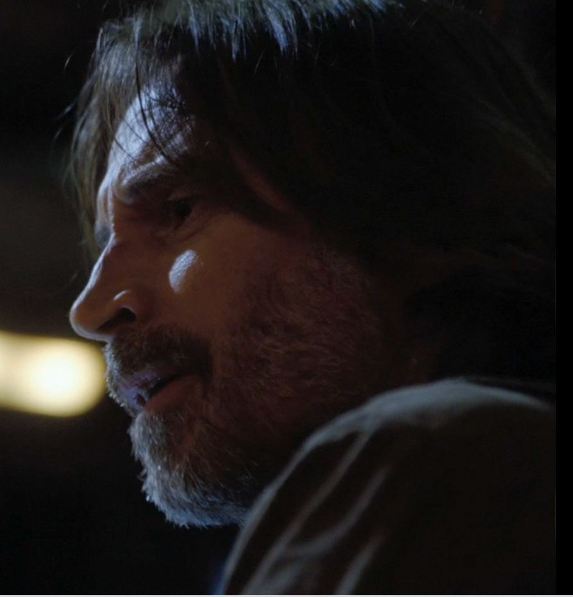 At the door that will open for the ambush, the Lucian Alliance put in their technology door things and this guy starts burning like an upside-down volcano down to crusty bits, much like one would see being microwaved perhaps?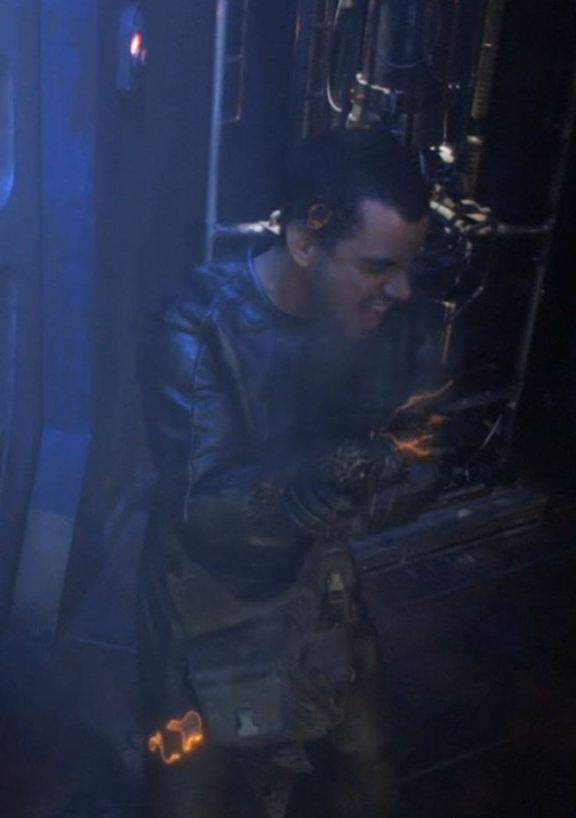 What the heck happened? Is Destiny alive like the ship on Farscape was? Is Franklin now its pilot? Or is it a space-bug hitchhiking across the galaxy? Maybe some sand friends from Air still on-board? Each side suspects the other.  Does Destiny have a consciousness and knows who the intruders on the ship are (i.e., stranger danger)?  I imagine these answers might come in future seasons.

TJ wants medical supplies to treat Varro (Stargate fan-favorite, Mike Dopud).
While Camile, Rush, and Young discuss their options, Young agrees with Rush: They have to take the Lucian Alliance down and do it now!
Next week's episode looks like another jam-packed-filled adventure.  While I cannot wait to see it, it will be sad to have to wait any length of time before the premiere of Season 2 airs.
Best New Drama indeed!

PBMom (Hilda Bowen)