The day for CollectorMania 16 started off with my daughter, our friends and I running round the house, desperately trying to all get ready at the same time.

Our dogs got under our feet (they wanted to come too), and I forgot the camera and had to go back to retrieve it! Finally we were on our way. Despite the Sat-Nav device nearly being thrown out the window on a number of occasions,  we managed to find our way to the Dons Stadium, Milton Keynes.
This is a relatively new location for Collectormania, having swapped from the city centre shopping mall. This means its much easier to get around the stadium, and not have to fight for shoulder space amongst the shoppers, displayers, fans, guests, and show event staff. I would thoroughly recommend first time attendees' to wrap up warm. There's a gusty cold wind that blows round the rafters, and rattles your teeth.
Upon entering the stadium, my first stop was to pay for my autograph and photo shoot with Joe Flanigan, then find out where he was meant to be sitting. Joe didn't arrive till about 11am, along with most other guests. This gave me time to walk around and mingle with other fans. I managed to get accosted by a Dalek, and then R2D2 beeped me from behind, much to the amusement of my daughter, who had to help me down off the ceiling after jumping out of my skin!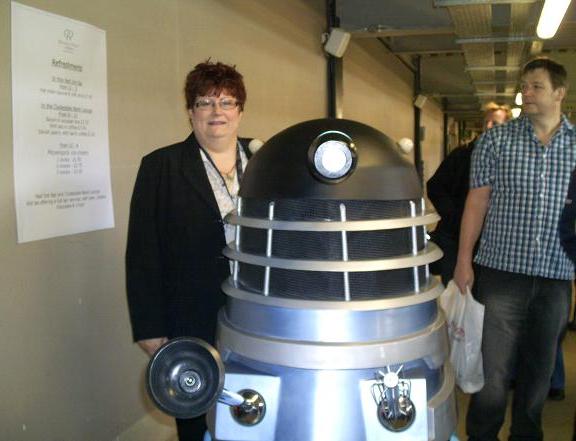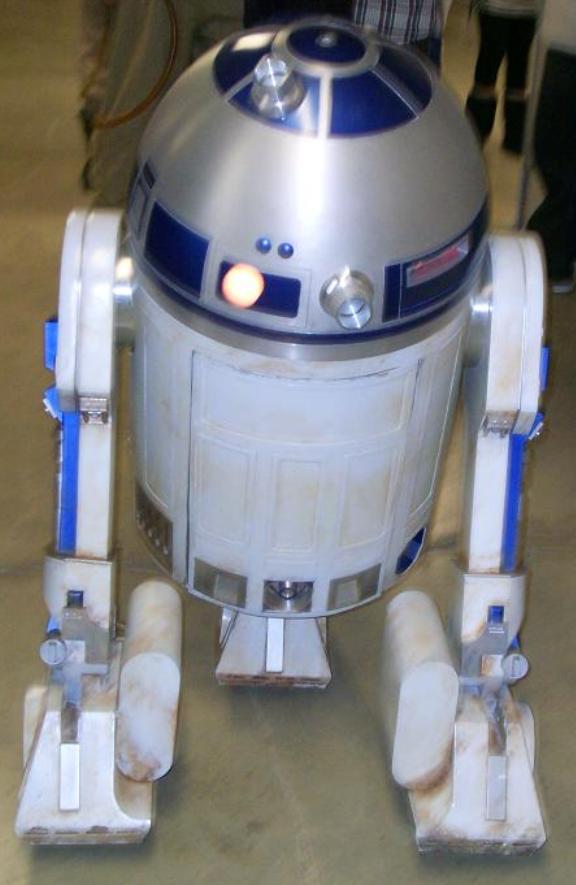 There were lots of fans milling around in costumes. It never ceases to amaze me the dedication some people put into their attire. Ghost Busters, Klingons, Storm Troopers, Darth Vader, Trekkies, they all had fantastically realistic looking uniforms. I was able to photograph a few. I hope you agree just how wonderful they looked.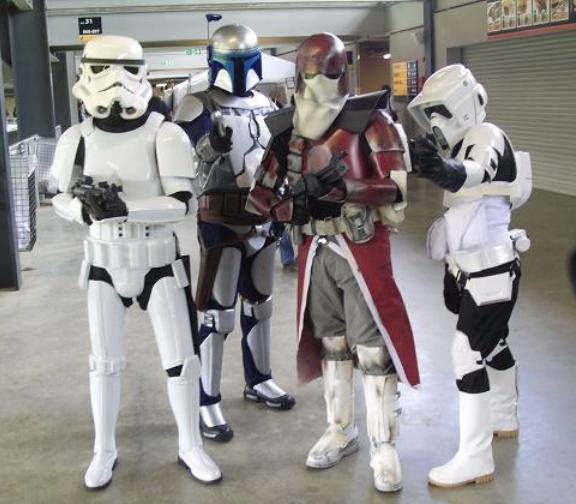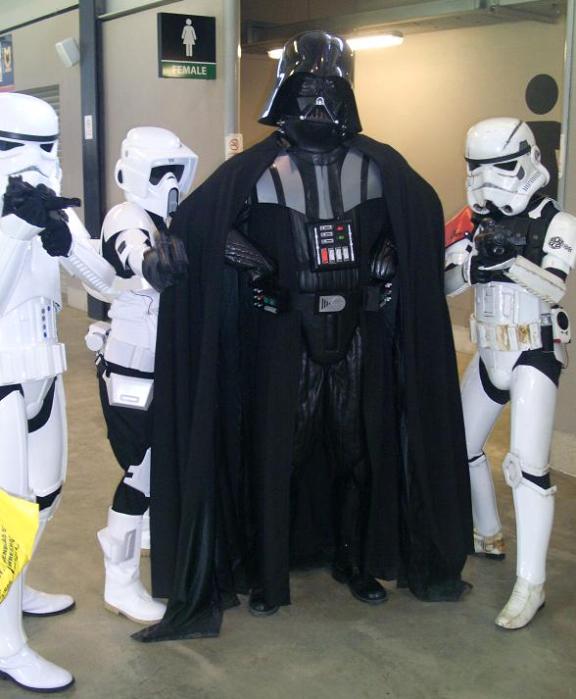 My first sight of Joe was through the booth window, where he was sitting. It wasn't easy to see him, which was a massive shame. At least at the previous venue, guests were seated in a line, and even if you didn't want to get an autograph you still had the pleasure of being able to see them.
From what I could see at the time, he was looking his usual handsome self. There was a small queue to get his autograph, so I decided to wait till after my photo op.Unfortunately pictures of the stars like Joe Flanigan are no longer allowed at the CollectorMania  autograph areas. In the meantime, I took a a picture of the Ghost Busters with my daughter and her friend.
At the shoot, I could at least show him the painting I wanted signed for a friend, and that would stick in his mind. Whilst waiting in the queue for the shoot, I got talking to two really nice Stargate fans. We had a good giggle gossip about the stars we had met. It was a pleasure chatting to like minded soles, so Tracey and Jan, hope we meet again at another convo (convention). I handed them my WormholeRiders card, and they promised to give us a butchers (cockney slang… "Butchers Hook" means "giving a look").
After a short wait, it was finally my turn to have my photo opportunity with Joe Flanigan! I was able to notice he was wearing a dark coloured sports top, and jeans (nicely baggy around the lower torso area…grins). Although I had to laugh, his shirt tails were sticking out at the bottom (amazingly resisting the mother urge to tuck them back in. well that's my story, there was absolutely no other urge to handle his rear end). I have to report that his hair was its normal resilient self, and seemed to be behaving in its normal independent way. I will post a second report on Joe Flanigan when my photo opportunity arrives.

I approached Joe, and he smiled warmly, stuck out his hand, and greeted me with a lovely knee buckling smile. "Hey there, good to meet you", was his introduction. I took his hand, and was pleasantly rewarded with a good firm handshake. My father always said, you could tell the mettle of a man, by the strength, and manner of the grip. My father would have approved of Joe.
I asked Joe if I we could hold the painting I had done of him, and of course he happily obliged. Before I left I informed him I would see him soon to get the painting signed, and all too quickly my first encounter with Joe was sadly over and done with!

Photo above from WHR inventory by WR_Systems (Kenn) LA Stargate 2009
A small walk around the stadium was then in order. I met Kenny Baker, who was the actor inside R2D2, and managed to get a photo of him. Also in the area was Peter Mayhew, who played Chewy in Star Wars. I have to say, and I hope I don't offend, but you could not imagine anyone else playing Chewy, having encountered Peter. He is very tall, with long flowing wiry hair, Chewy with too much make up, and a gentleman to boot.
I stopped to chat with an extremely nice gentleman called Daniel Stewart. He was in Star Trek The Next Generation episode "The Inner Light" one of the favorite TNG episodes of WR_Systems (Kenn). He was very interested in WormholeRiders, took a card, and promised to look us up. He happily posed for a photo, and was a genuine pleasure to meet.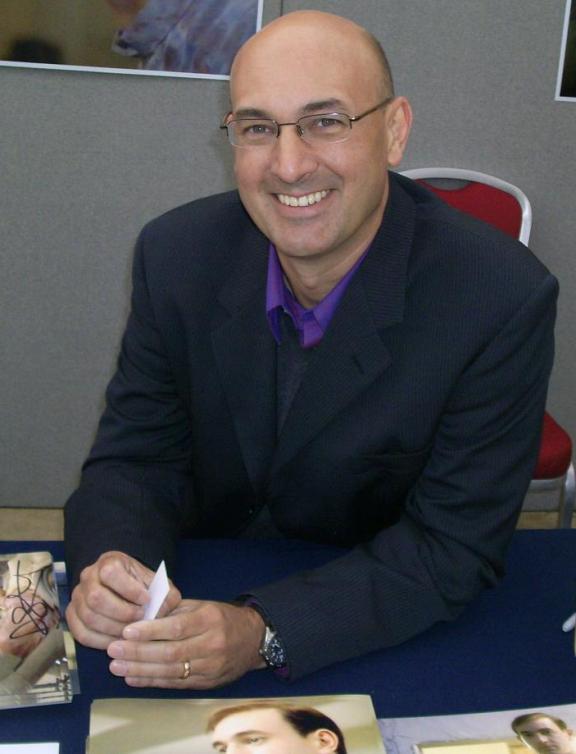 Meanwhile, my daughter decided she was going to hunt down Chaske Spencer (Twilight New Moon and soon to be released Twilight Eclipse ). She came back on a teenage high, with a signed autograph, and a kiss on the cheek from him. I had to deal with major swoon issues with her for a few minutes. Included below courtesy of Summit Entertainment is a promotional trailer for Twilight Eclipse embedded by WR_Systems (Kenn) for my report. Thank you Summit Entertainment!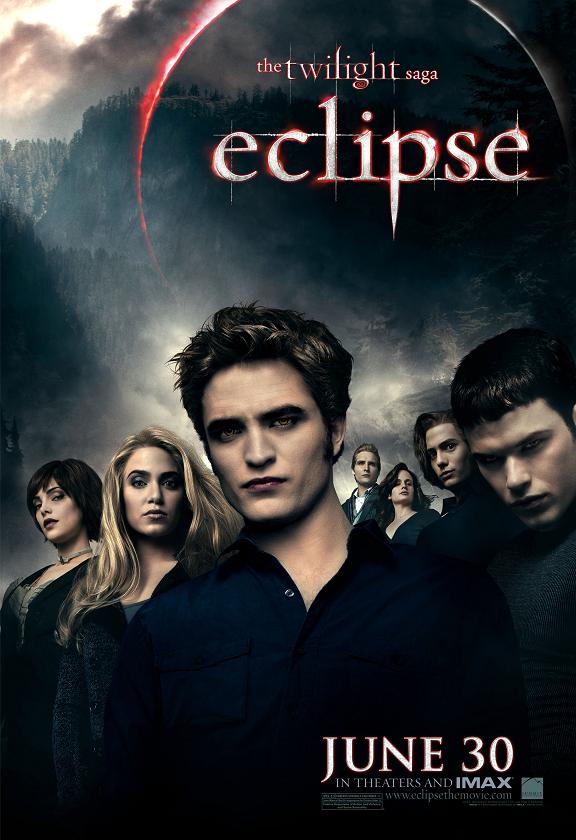 When the feeling came back to her cheek we pressed on to find Joe for the autograph signing. There wasn't too much of a queue, so I decided to take the opportunity to pounce.

Photo above from WHR inventory by PlayItGrand Vancouver Stargate 2009
He looked up as I descended on him, and I thrust the painting at him, "ahh I remember you", (I have that effect on people), and as he took the picture from me, he asked if I had painted it, I replied that I had, and the painting wasn't even for me, it was a request from a friend, and would soon be wending its way to Canada. This seemed to confuse him, so I had to explain that it was for a lady called Karen, who couldn't get to conventions as she has to care for her autistic son. Karen Ford was dying to chat to him on the phone, waiting with bated breath for a call. Unfortunately his minder stepped in immediately and put to bed any idea's of my getting him to call her.
After a short discussion about whether the painting did him justice, and that he didn't like his hair, or his short forehead, (there's always a critic), I gave him my business card and a brief run down about  WormholeRiders, I was pleasantly surprised when Joe replied that he had heard of WHR (YAY). I explained that we wanted to do an interview with him when it was convenient. Joe seemed quite agreeable to this, and replied that if he was approached by WHR (via his agent), he would be happy to do an interview. We will have more on this later.
I then asked him a question, given to me earlier by the daughter of one of our younger (7yr old) up and coming members (Vala_the_Great). If you could be a dinosaur, which dinosaur would you be? To which he replied, a pterodactyl, cos that meant he could fly, which would be a pretty cool thing to do….or, a brontosaurus, as they had long necks and could see a lot as he was rather nosey, and all too suddenly, our conversation was at an end, and I found myself trudging resignedly out of the booth.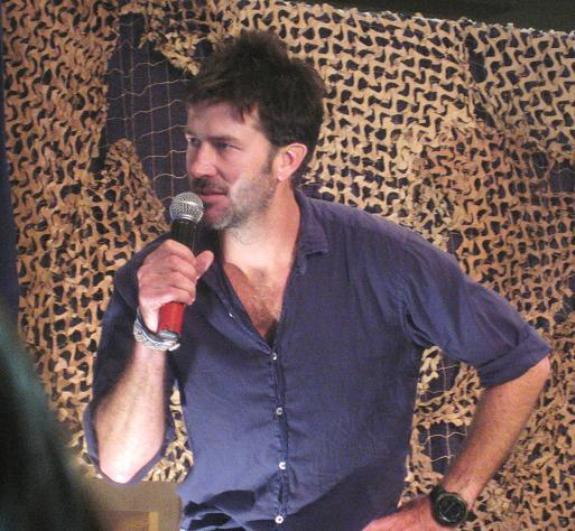 Photo above from WHR inventory by PlayItGrand Chicago Stargate 2009
It could only have been two or three minutes, but it felt a lot longer. What struck me was Joe's friendliness, and ability to put me at ease (I must admit to being a little knock kneed to begin with). I thoroughly enjoyed my few minutes of "Joe time".
I could hit myself cheerfully for my lack of alertness. Firstly, Tim Russ who played Tuvok in Star Trek Voyager, passed by me, and I didn't have time to whip out my camera, then, blow me down, if Robert Duncan McNeil (Tom Paris), then walked past me….camera still firmly embedded in my bag. I did manage to capture a glimpse of Kate Mulgrew, (Captain Janeway). But she was extremely popular, and very well protected by her minders.
If you have never been to a convention, and find yourself with the opportunity, then I would urge you to go, if only for the experience. Collectormania is a very well run event, it caters for just about anyone, from science fiction freaks to sports fanatics. The venue is spacious, if not a little chilly, so remember to pack your winter warmers.
If there is a downside, then it would be the inaccessibility of the guests. From previous experience of Collectormania, I have always enjoyed being able to see the guests, even capture them on film, or manage a quick chat when they were walking around. This year was different, and it was quite evident that the taking of informal photos had been clamped down upon. It just made the event more business like rather than beforehand, when it was a relaxed informal type of meet and greet event. As a result (as mentioned) I could not take pictures of Joe Flanigan at his autograph table. The good news is that I will have a separate report to post as soon as my photo op with Mr. Flanigan arrives!
I must stress, Collectormania is still a must see. It is great value for the money and the overall experience. A really great day out. And on that note, I will bill you farewell, until the next time sci fi fans.
This is honesthunny signing out for now.