Hello fellow V fans!
After a lot of wondering, and waiting, I can confirm that V has been picked up for season two! Every week when the episode finishes, my initial thought always is: "Is that it?" I always want more, so the renewal confirmation is fantastic news for me!
WormholeRiders had been informed off the record as far back as WonderCon that V would be renewed because of the investment in the series, but many nay saying critics had their own ideas. We are pleased they have been proven wrong and being the professionals that we are, we held back on announcing this news story prematurely.
I informed several members of WHR about the pending renewal after I heard about a movement to "Save V" that broke out on Facebook. He said to not get involved. This original DM tweet to my attention "that the Save V Campaign was off base" is dated April 24, 2010. Both he and I still have this as evidence. We waited patiently until the news had been confirmed by several of our official sources elsewhere before publishing this news story and then tweeting about this news story ourselves. Patience is after all a virtue, with the exception of course being Anna Visitor!
It was first leaked by Entertainment Weekly after a tweet by Scott Rosenbaum on Twitter at 11:23 PM May 13, 2010 in the United States, 7:23 AM United Kingdom time were I am located. However earlier that evening at least two news sites were claiming that V was about to be canceled. Kenn did not agree with them knowing the news was to be announced imminently.
It was just before 6:00 PM when he tried to discuss the subject in a chat room that Chuck was also renewed as announced the previous week by the executive producer. Then he was jumped on by a person about Chuck, so he decided to not argue about V or Chuck facts that he knew were correct and that the others were wrong about. A wise move on his part not to argue.
We conducted a conference call to discuss when to publish this story and decided to do so as soon as two other sources involved with V production could be consulted, which they have been.

We held this story until we had official confirmation not only from Mr. Rosenbaum of Warner Brothers, but after consultation with original V series producer Kenneth Johnson and one other source in the industry that must remain confidential at this time.
So while this may seem like news 36 hours since we began consultation, it is now official news confirmed by three non media entertainment industry sources. We can share you this though from our "off the record" source, more V of a very special nature is coming and we will report on it soon. Just remember that you heard it here first.

Now as to kudos for V Series. The cast and crew are absolutely amazing! Producers/Writers Scott Peters, Scott Rosenbaum and Gregg Hurwitz have with their team of writers brought us amazing episodes/story lines.
And the Casting, is just amazing with every review how amazing everyone is, but WHR will say it again!
Anna
I love how Morena plays Anna. You see Anna is such a potentially evil character, but Morena is playing her subtly not using her power full tilt. She introduces herself as the leader of the Visitors, but as the season went on we discovered she is the Queen… And gave Birth to an army… (Well Anna laid one thousand Eggs). She is a mother, Lisa is her Daughter and heir to the throne. But as we see she will do anything to attain her plans even assault her own daughter.
The pleasantly delicate and understated almost reptilian head movements and rapid blinking was a genius touch by Morena! She was perfect for Anna, beautiful, clever and talented! And there are so many fans from Stargate SG-1 and Firefly that were ecstatic to see her back in an amazing Sci-fi show as the Leader of the Visitors!
Erica Evans

Elizabeth Mitchell plays firstly and primarily a Mother. She wants to protect her son who has unwittingly got far too involved with the Visitors. Again perfect casting, And Fans of Lost are very happy to see her as the Leader of the resistance/fifth column. She is an FBI agent, part of the counter terrorism department which is perfect cover for her true intentions.
She finds out quickly that her partner is a Visitor and that the Visitors are hiding a very big secret… they are reptiles! Elizabeth is so believable, I know as a Mother myself that I would be doing what she is, trying to keep her son safe, and she is trying to save Humanity at the same time. Mother's everywhere can connect with Erica Evans.
Georgie Sutton

David played Georgie Sutton, he was the original leader of the human resistance. He was simply amazing. My daughter adores him, and still cries (real tears) when she thinks of Georgie dying. I loved how Georgie was just a normal man, he was just trying to fight as best he could. His family was slaughtered by the Visitors and he wanted revenge plane and simple. David is such a talented Actor, the final Georgie scenes he played out were fantastic, he pulled on the heart strings over every viewer.
Father Jack Landry

Joel plays Father Jack Landry, a Roman Catholic priest, who starts to question his faith when the Visitors arrive. We learn that he was an Army Chaplin. He ends up attending a meeting with Georgie and Erica when he comes into procession of some photographs showing under cover Visitors posing as Human terrorists.
Joel is brilliant, he makes Jack believable and lovable. And I can tell you that from all the Fans on Twitter, a lot of people are 'shipping' Jack and Erica. (That is wanting two characters from the show to become more then just friends). Evans_Erica is one of the ships! Joel was of course in two other fantastic Sci-Fi shows, The 4400 and Taken. (Loves both).
Chad Decker

Scott is Chad Decker, a almost self obsessed journalist, who believes that he should 'be' the news not just reading it. And he gets that wish once Anna and her mob show up in twenty-nine ships over every major City in the world. Chad is really a piece of work, you can not tell is he is against Anna or working for her. Twice he has refrained from giving Anna Jack's name. But he did tip her off about the shuttle. He seems torn… perhaps.
Scott is doing an Amazing job portraying Chad Decker. He has this balance with they way he plays the different sides of Chad. Showing Anna that she can not play him, though she always does, even know he thinks he has an upper hand. I am going to hold out hope that Chad will see the light and come over to the light side *smile*
Ryan Nichols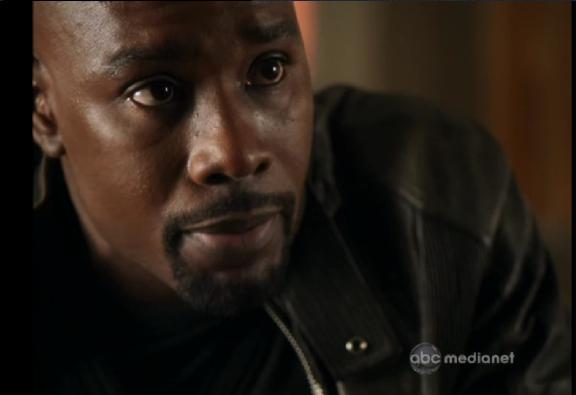 Morris Chestnut portrays Ryan, A Visitor who was sent by Anna to kill John May, and succeeded. John May is dead (Or so it seems). Ryan was once an emotionless Lizard, but now has fallen in love with a Human woman, Valarie and feels emotions… (Something that Anna does not permit) Valarie (Played by the wonderful Lourdes Benedicto) is pregnant with Ryan's Child, a V/Human Hybrid. With the Help of Dr Leah Pearlman (the delightful Lexi Doig SG-1, Andromeda) Ryan discovers that R6 bonds with Human cells to give out a signal of sorts so Humans are traceable.
Ryan is very interesting character, and Morris does an amazing job at portraying him. Ryan seems almost overly emotional and angers easily.  Though My daughter has a theory that "Ryan is a bad lizard" she does not trust him. She said that she thinks: "Anna will get him back on the Bliss".
Marcus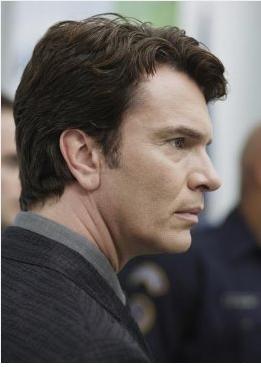 Marcus is played by Christopher Shyer, wow, he is amazing. He plays this emotionless Lizard so well. He uses slight Lizard-like head movements, and talks in a monotone. He is completely believable that he is really a Lizard. *That is a compliment*
Marcus is Anna's second in command. She has him running around on her every whim. Like finding a plant for the R6 warehouse explosion for example. Where Marcus planted evidence to frame Kyle Hobbes…
There are little things here and there that make me think that Marcus is beginning to question Anna's orders. When his aide Steven failed the test by a narrow margin and Anna had him take a suicide pill, me had this 'look' about him, and said that many lives would be lost in the process. Not the sort of thing an Emotionless minion should be concerned about. Also, when did Marcus learn to drive?
Lisa
Laura Vandervroot is Lisa, she is simply wonderful. (My daughter Loves Laura! And for the record she is such a lovely young woman who made my little girls day!) Lisa is set 'Tyler as her assignment, we are still not one hundred persent clear what importance Tyler has, but I am sure all will be revealed. Lisa starts to have real 'feelings' for Tyler. She fails Anna's test, something which Joshua Anna's chief medic (Fantastically portrayed by: Mark Hildreth) covers up. Lisa has become immune to Anna's Bliss, and as my daughter called from episode one, we believe that she will turn out to be a "Good Lizard".
Kyle Hobbes
Kyle was introduced in welcome to the war. Played by Charles Measure. He is really managing to play his character in such a way that we are not quite sure what way he is going to go. Some theories are going around is that he is in fact a rogue Visitor. Which could be interesting!
Charles Measure is really talented. And is really well cast as the character Hobbes.
Tyler Evans

Tyler Evans is played by Logan Huffman, this young man is a fantastic actor. He is playing a young lad, who is falling in love for the first time, only thing is that Lisa is an alien. Tyler is completely obsessed with the Visitors, despite his Mothers wishes for him not to get involved.
There are many theories flying around about Tyler, I have even jokingly called that John May is his father. It will be interesting to find out what is so special about Tyler. It is obvious that he would do anything for Lisa, so will he follow her if she joins the Fifth Column against Anna?
This next (Last in this season) Will certain be interesting. So many things to address. Anna and Erica, face off? Tyler and Erica are invited to dinner… *As dinner, this remains to be seen ;)* And the Eggs will they hatch? The fleet is on the way, soon to reach earth. I really can not wait to see this next episode and the new season!
In the mean time…