Hey VulcanCon and SciFi Convention Fans,
Klingons were swimming in the pool. Or maybe that was a dream. It's hard to tell when I'm at a convention. My room faced the hotel pool. If it wasn't a group of Klingons running around at 3am making a huge racket out by the pool, I'm not sure who else it could have been.  C'est la vie at conventions; not much sleep to be had.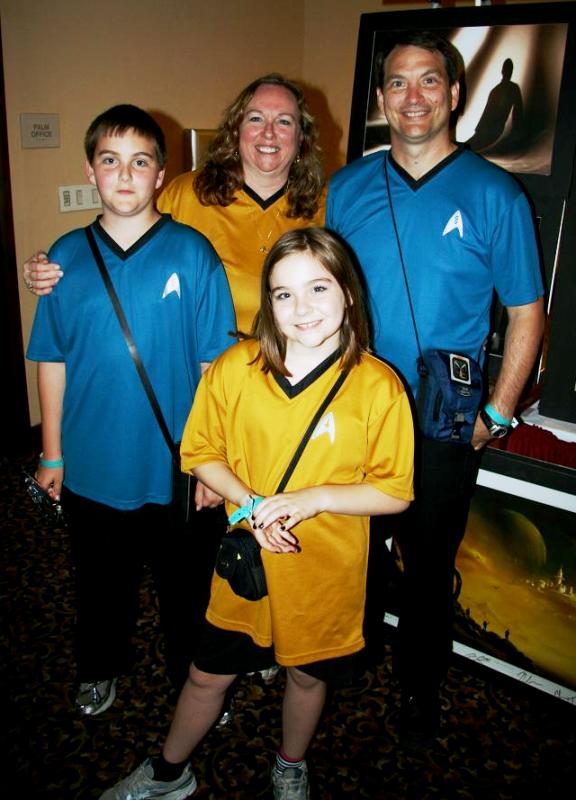 This event was much more intimate than some of the others I've been to. In the morning I just needed to worry about packing up and getting breakfast and reading the morning paper which included an article about the Guinness World Record we set the day before.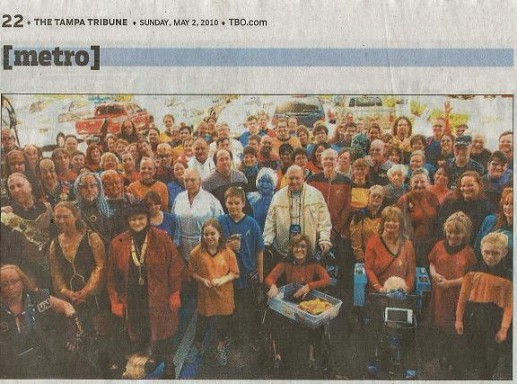 My schedule started off with a photo op with Michael Shanks, followed by a photo op with Christopher Lloyd, the Michael Shanks panel (video included below), the Dean Stockwell panel (video to be posted with my future convention recap) and autographs with Shanks and Lloyd. My roommate Kimberly and I headed down to breakfast. It seems everyone else headed down for breakfast at the same time. There was a bit of a wait but eventually I got my eggs and bacon. After breakfast I checked out the vendor room. It was small but had several different vendors in it. I'm proud of myself for not buying a t-shirt.
My platinum ticket included a free one for the convention but it's hard to pass up an SG-1 or SGA shirt. Somehow I managed. I realized it was time for my photo op with Michael Shanks so I decided to go line-up. I was about fifth in line. Nice! I would like to say there was a gentleman in front of me who let me go ahead of him so I could be with two of my friends. I'm not sure who you are, good sir, but thank you! Shout out to Sheryl and Deni! Thanks for keeping me company in the photo op line. Mr. Shanks arrived on time and the line moved quickly. Getting to chat with Mr. Shanks at the cocktail party the night before helped make me more at ease.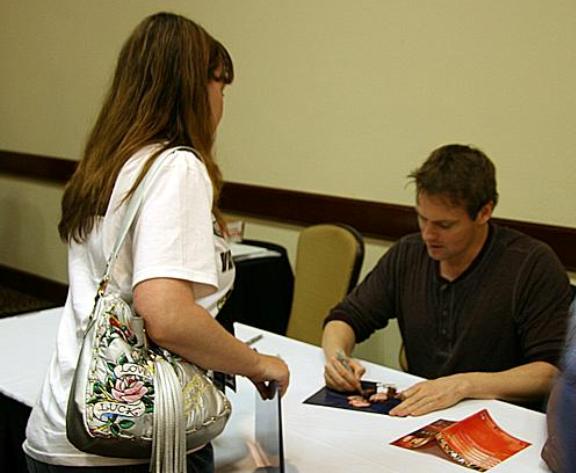 I smiled and walked up to Mr. Shanks. I said, "Hello again, Michael." He smiled back and said, "Hello there. How are you?" I stood next to him, not really sure what type of pose we'd be doing. Mr. Shanks put his arm around me and then I felt him rest his head on mine. Permit me a small fangirl squee here, please. SQUEE! At that point I was hoping my deodorant hadn't failed. And then it was over. I thanked Mr. Shanks, he thanked me and I was on my way.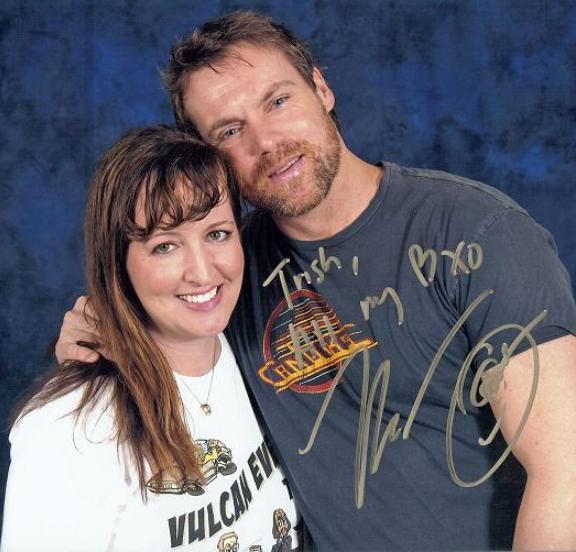 I had a short break before my photo op with Christopher Lloyd. I used this time to pack up everything and check out of my hotel room. It's always such a sad part of the convention. I certainly am prone to the post-con blues. So, with a heavy heart (and sore and tired body) I loaded my things into my husband's car. Oh, he helped too. Then, back to the hotel I went. I found the line for the Christopher Lloyd photo op. If I'm remembering correctly, Mr. Lloyd showed up on time as well and the line moved quickly. I was very happy to see Mr. Lloyd again. When it was my turn for the photo op I walked up to Mr. Lloyd with my hand out.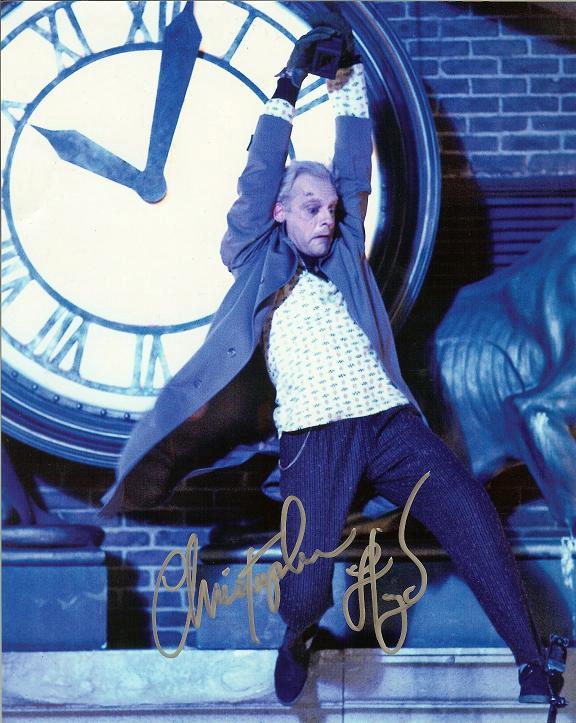 I said, "Hello again! Thanks so much for having dinner with all of us last night. That was a lot of fun." Mr. Lloyd shook my hand and said, "Oh yes, yes. Of course. It was fun. Thank you." I stood next to him and he put his arm around me and hugged me too him. It was really sweet. The photographer took our picture and I thanked Mr. Lloyd. He said, "You're welcome. Be well." Seriously, this man is so sweet I think I could eat him with a spoon. If I didn't know I'd be seeing him for autographs later I'd have had a lot of trouble leaving that room.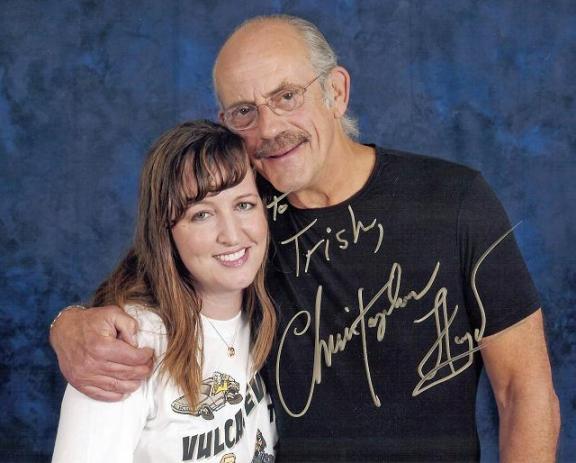 Next up was lunch. My husband, roommate and I left the hotel and drove to one of my husband's favorite eating spots. I devoured my lunch and tried to get some thoughts about the con down on my netbook. Then it was time to head back so I'd make it in time for Michael Shank's panel (video included below). I was thrilled to see that all the photos were ready. I think it's a brilliant idea to have photo ops ready for the autograph sessions. VulcanCon gets two thumbs up for this! I found both my Michael Shanks and Christopher Lloyd photo ops. I have to say they aren't hideous. Well, Mr. Shanks and Mr. Lloyd look great. I'm not cringing at my picture.
Then I found the picture from the dinner with Mr. Lloyd. That photo was included with the banquet dinner ticket. I think that's a wonderful touch. Plus I'm able to show everyone the fantastic shirt Mr. Lloyd had worn to dinner that night. After picking up the photos I walked to the ballroom where Mr. Shanks panel was going to be held and found my seat. Soon Mr. Shanks was announced and the audience cheered and applauded as he came jogging out to the stage. Mr. Shanks always has great panels. He's very charismatic, funny, quick and engages the audience. I knew I was in for a good time. I did not, however, think Mr. Shanks would actually take a balloon from nearby the stage and inhale helium. He did though! I can't even describe how hilarious that is.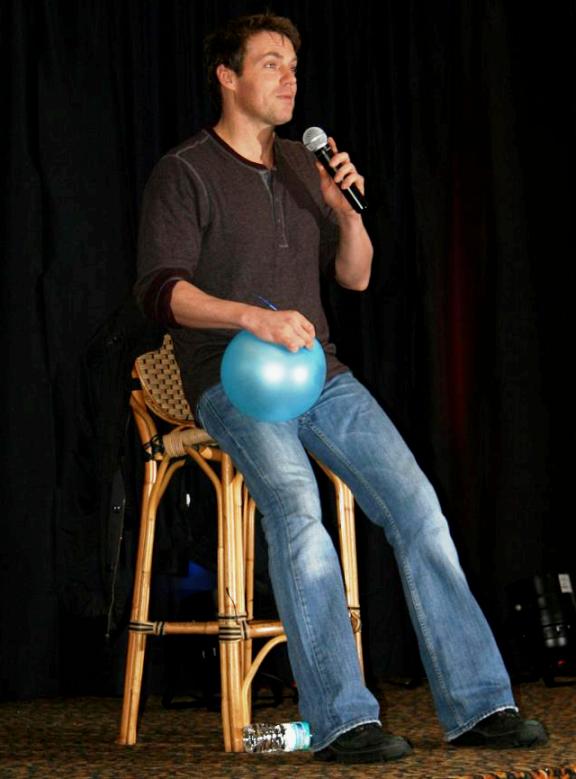 After thoroughly entertaining us with his munchkin voice, he took questions from the audience. He was asked about his time on Smallville as Hawkman. Mr. Shanks informed us that he'll be in the season finale reprising his role as Hawkman. As a Smallville fan I have to say that was great to hear. Mr. Shanks also told a funny story about the Hawkman costume. The wings weigh about 35 pounds and a puppeteer was hired to move the wings. Mr. Shanks said this man wore a green suit as they shot the scenes in front of a green screen. He was kind enough to demonstrate how the puppeteer looked as he moved Hawkman's wings. The puppeteer would squat down in an almost sumo stance and then pump his arms up and down to move the wings. I think everyone in the audience was cracking up about that.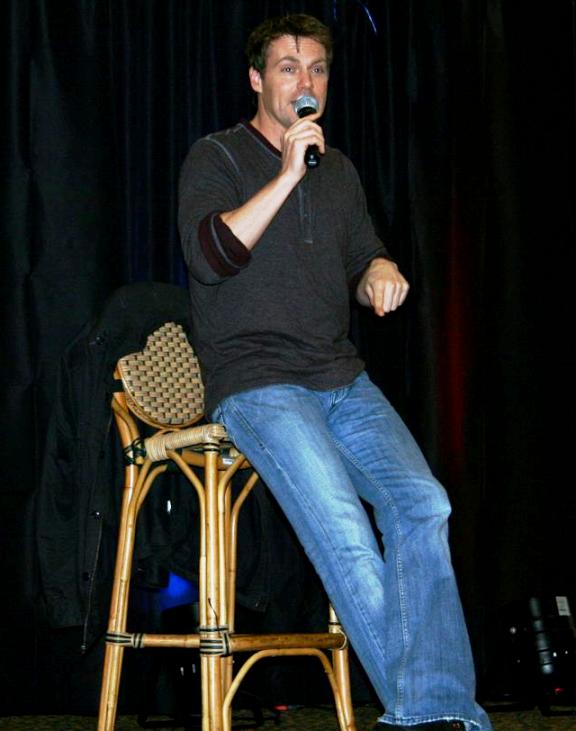 Other questions for Mr. Shanks ranged from how his kids feel about their dad being on TV to how he came up with the voice for Thor. The next project for Michael Shanks is a movie entitled "Faces in the Crowd" with Milla Jovovich. I'm a big Milla Jovovich fan so I think I'll be checking that project out. When asked if he had any zany stories to tell while working on USA's "Burn Notice", Mr. Shanks said nothing came to mind. He did say that really enjoyed working with Bruce Campbell. Another fan asked Mr. Shanks if he could have any job in the world what would it be. I was surprised when he did not skip a beat and said, "President of the United States! Uh… In a perfect world, of course."
Dean Stockwell's panel was literally right after Michael Shanks. WHR will include Dean's panel with my recap report. Mr. Stockwell is certainly more reserved and soft spoken. He took questions about his work on "Quantum Leap" with Scott Bakula, BSG, his cameo role on "Enterprise" and things related to being an actor. Mr. Stockwell said working on "Quantum Leap" was like a dream come true. The cast crew always had a good time, made things fun and were like a family. He said the show had a reputation for being the one in which an actor would love working. He and Scott Bakula remain good friends to this day. When asked who he has enjoyed working with the most Mr. Stockwell did not hesitate in saying Errol Flynn.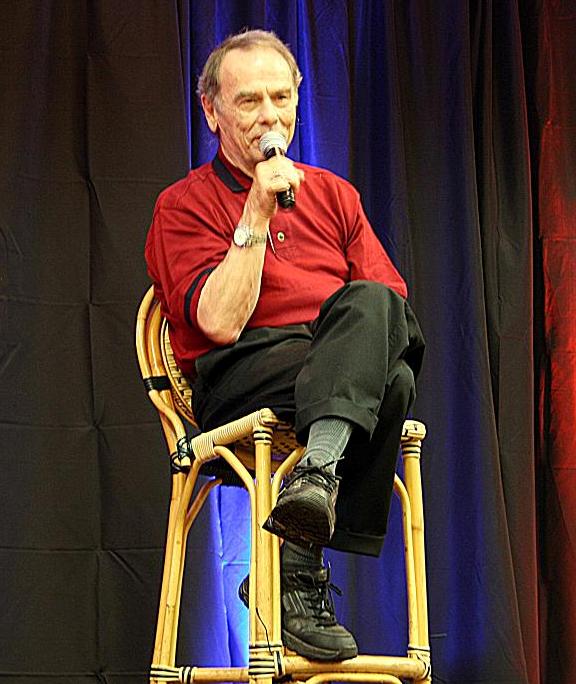 Mr. Stockwell's panel ended and autographs with Michael Shanks and Christopher Lloyd were next. This line went slower than the photo op lines. Autographs usually do go slower. Mr. Shanks signed my photo op and I thanked him for coming out. He said it had been his pleasure. Then I had to say good-bye. Well maybe not good-bye so much as "until next time." And then I found the back of Christopher Lloyd's line.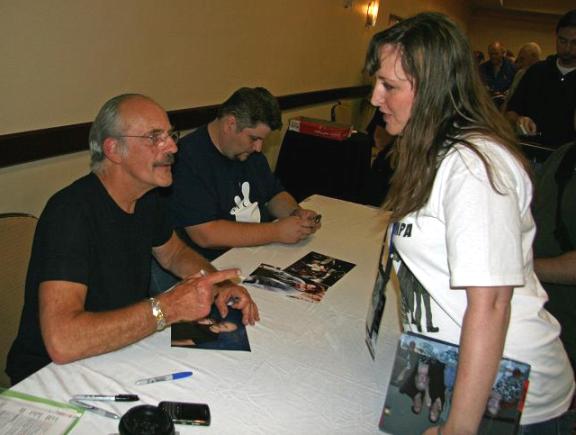 I handed my photo of Mr. Lloyd and me to the handler. I wondered if Mr. Lloyd would recognize me. He took the photo from the handler without looking up and went to sign it. Then he stopped. He looked at the photo a bit closer. He slowly lifted his head and looked at me. He stared at me for a moment and said, "YOU again, eh?" And I laughed and said, "Yep. Me again." He gave me a huge smile. He signed my photo for me and shook my hand.
I thanked him for coming and told him I was thrilled to get to meet him.  We said our good-byes and, again, Mr. Lloyd said, "Be well." "You too," I said.
And with that the convention was over. Would I suffer the post-con blues? Sure. However it's hard to be too sad when you just spent the weekend with Daniel Jackson and Doc Brown.
Whovian99