Hi Chuck fans!
Here is the Team WHR recap of the newest episode of Chuck
Photos are courtesy of NBC Universal.

Chuck and Sarah spend a long romantic train ride from India to Paris. Chuck thinks the best thing for them to do is to run away from the spy life. Sarah's believes that's the best thing for them and with that, they agree to quit the spy life and start a new civilian life together. Back in Burbank, Beckman orders Casey to use Morgan to find Chuck and Sarah's whereabouts. Meanwhile, Ellie and Awesome get ready to go to Africa and Ellie wonders when Chuck will be back in town.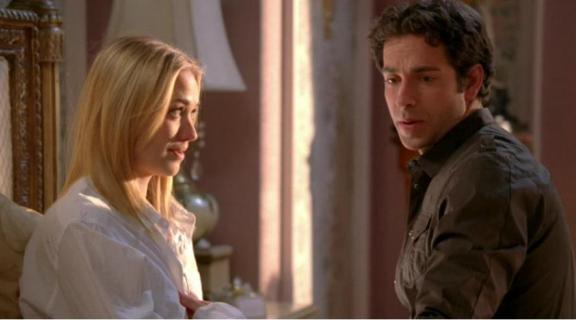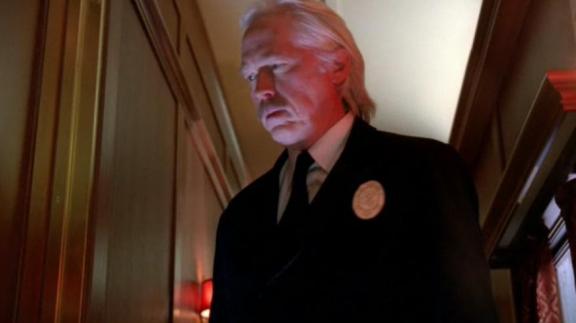 Chuck and Sarah talk about where they should start their new life, although leaving the spy life may not be as easy as they thought. In the dining cart, Sarah notices men with guns and Chuck flashes on Juan Diego Arnaldo, a terrorist in the Basque Separatist Organization. However, both Chuck and Sarah are going to try to stick to their promise. They decide not to share the information about the bad guys on the train with each other.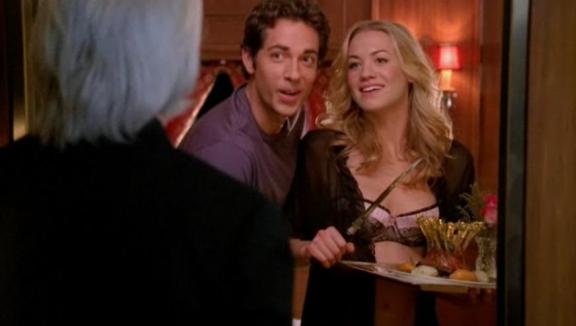 At the Buy More, Morgan swears he hasn't heard from Chuck, and Casey thinks Chuck and Sarah are busy getting… busy. Awesome is also looking for Chuck, because he knows that Ellie really wants him at their going-away party. Morgan has been tasked to find Chuck and bring him back to Burbank. Morgan declares himself the "Intersect of Chuck." Jeff and Lester overhear Awesome talking about the party, and they offer Jeffster's services.
Back on the train, Chuck and Sarah decide to try to do some undercover spy work without the other noticing. Sarah sneaks into Arnaldo's room and hides in the bathroom when she hears someone enter. When Arnaldo and his men return to the room, Chuck escapes out the window and skill flashes on acrobatics, while Sarah pretends to be a drunk Texas bride on her Honeymoon to talk her way out of being caught. But Chuck and Sarah come clean to each other about Juan Diego Arnaldo and they share information, deciding to do one last mission before really calling it quits.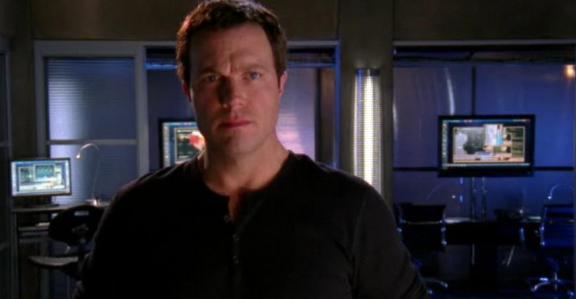 At Castle, Morgan helps Casey track down Chuck's last known location: Chuck needs prescription cream for his eczema and he's a huge DC comic fan and won't go anywhere without the newest addition of "Justice League." Morgan and Casey make their way to Europe. Meanwhile on the train, Chuck and Sarah come up with a plan to get to Juan Diego Arnaldo: Sarah flirts with a rocker to get his handcuffs and Chuck skill flashes on how to speak French, so he can pose as a good samaritan while he steals her pain pills.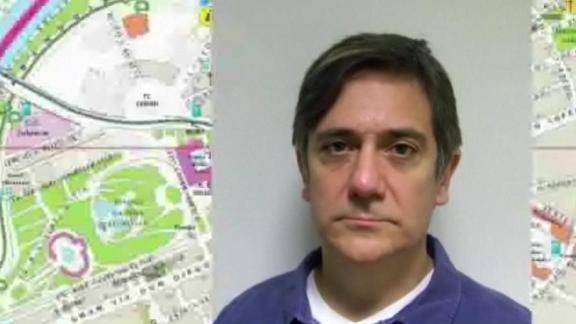 Chuck and Sarah pose as the Charles', a newlywed couple from Texas, to get close to Arnaldo and his men. Casey and Morgan arrive in Europe and get on the train to find Chuck and Sarah. Chuck is able to drug Arnaldo's men and Juan Diego makes a run for it, but before Chuck and Sarah can apprehend the wanted terrorist, Casey handcuffs them. Chuck tries to convince Casey that they are on a mission, but Casey doesn't believe them.
Back in Burbank at Awesome and Ellie's, Jeffster practices and blows an amp. It becomes obvious to Awesome, Jeff and Lester that Ellie is upset because Chuck isn't around and hasn't contacted her. Lester tells Awesome not to worry about the amp: tonight, Jeffster is going unplugged.
Left with no choice, Chuck and Sarah double-team Casey and punch him out to chase after Arnaldo. Once Casey regains consciousness, he finds Chuck and Sarah in Juan Diego's cabin with Juan hiding in the bathroom. Unfortunately for Chuck and Sarah, there's been a big misunderstanding. Arnaldo turned himself in and the men that were with him were Interpol agents, taking him into a witness protection program. Casey realizes that Chuck and Sarah didn't go through Beckman for this mission because they're quitting the spy life to be together.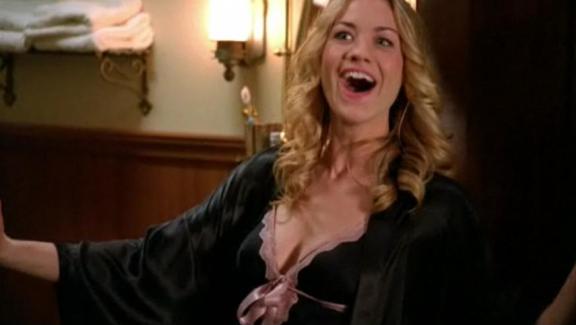 However, unbeknownst to all the spies involved, Arnaldo's enemies (the Basque ETA) are out to get him. General Beckman is livid at Chuck and orders him to keep Juan Diego alive until the new Interpol agents arrive and then to return to Burbank immediately.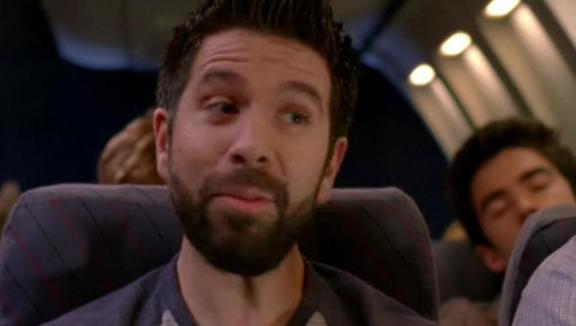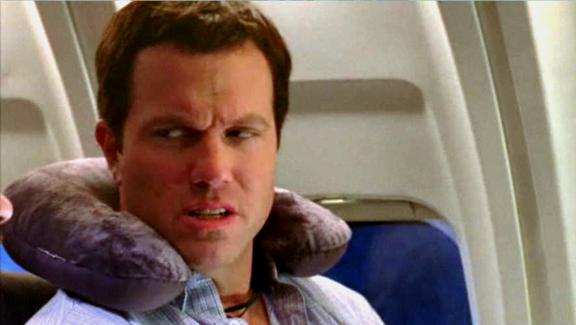 Both Morgan and Casey talk to Sarah and Chuck about quitting the spy life, and the two both agree they want to be a couple more than spies. Arnaldo offers his unsolicited advice and suggests it doesn't always have to be all or nothing. This is Chuck and Sarah's chance to be together and they won't risk losing each other again.
Casey tells Chuck and Sarah to make a run for it now, before the other Interpol agents come to take Arnaldo into witness protection. Morgan and Casey say their goodbyes to Chuck and Sarah. Back in Burbank, Jeffster performs "Leaving on a Jet Plane" and Ellie gets drunk, upset that she won't be saying goodbye to Chuck before she leaves for Africa.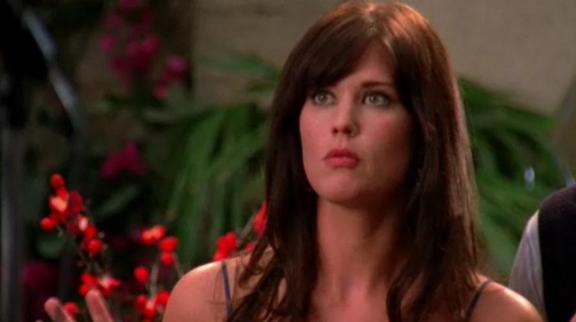 Morgan and Casey meet the new Interpol agents, who claim that they have been staying in Lake Como. However, the agents are not Interpol, and they blow their cover when Morgan tests their knowledge of the Sagra di San Giovanni (a festival of boats) and the "agents" refer to the festival as a palace. Casey is quick to pull his gun, but it's no use; Morgan and Casey are outnumbered by members of the Basque who are willing to do anything to get to Arnaldo.
Outside the train station, the real Interpol agents arrest Sarah and Chuck for drugging them and tell them that the secondary set of agents who were sent to meet Morgan and Casey are dead. Sarah and Chuck realize that Morgan and Casey are in great danger and they need to help them. The Interpol agents don't believe Chuck and Sarah and once again, the two are stuck in handcuffs and resort to punching the good guys out to save Morgan and Casey.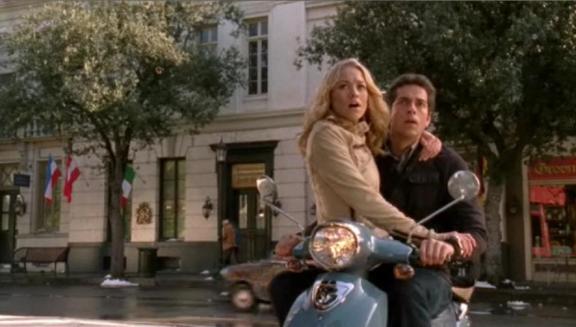 Morgan and Casey are trapped and Chuck and Sarah come to the rescue. Arnaldo is threatened by the Basque members who want to know everything he's told Interpol. But before he talks, Chuck and Sarah come crashing through the window and Chuck skill flashes on Afro-Brazilian martial arts and takes out the bad guys. Even handcuffed, he and Sarah make a great fighting team together as well as Morgan and Casey. The four are able to take down the bad guys, and save Juan Diego Arnaldo. Chuck and Sarah realize that they can be spies and still be together.
Back at Castle, General Beckman congratulates Casey and Morgan for a job well done on taking down the terrorists. Morgan tries to stand up for Chuck and Sarah, but Beckman doesn't want to hear it. Chuck and Sarah tell Beckman what went wrong on the mission and come clean about their relationship. Even though Beckman doesn't want to know all the details, she cautions them to be careful about letting their private life interfere with their spy careers. But off the record, she says, "It's about damn time."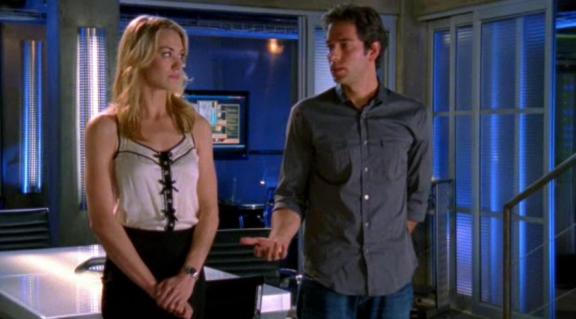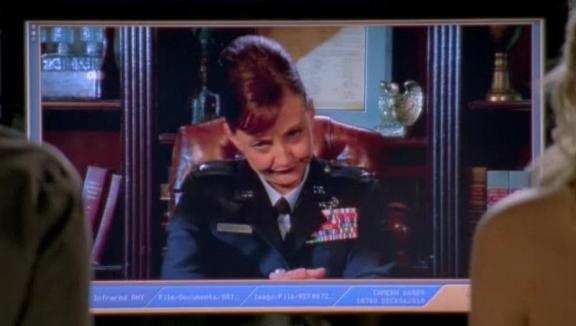 Chuck realizes that he missed Ellie's party and rushes to her apartment. He finds a DVD from the party and, watching it, he realizes how hurt Ellie is about his absence. However, Ellie's at the apartment and it's not too late for Chuck to say goodbye to her. Ellie says she doesn't want to leave her little brother, but Chuck tells her not to worry; she's not leaving him alone, he has Sarah. Ellie is happy to hear that they're back together.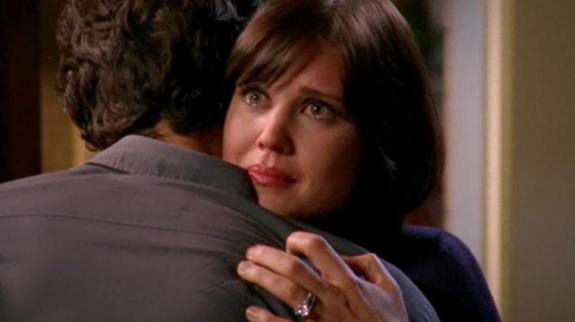 In his apartment, Chuck takes this opportunity to play music for Sarah, since she hasn't had much time for that in her life. Chuck introduces her to a song he thinks is going to be her favorite, "Feeling Good." They cuddle in bed and the two spies are off to a good start.
Please feel free to share this article with your friends, co-workers and or family and leave your comments! We look forward to you visiting our dedicated review and analysis web site here in the future! Or as many of our readers and visitors often do, visit WHR on Twitter, or visit me on Twitter by clicking the text links or images avatars in this news story. I and TeamWHR look forward to Seeing You on The Other Side!"
style="font-size: 13pt;">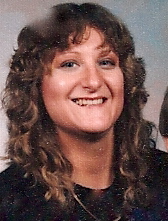 As always I welcome your comments, so please feel free to leave them here or contact me on twitter.

Jan