Heya science fiction convention fans,
I continue my report on SciFi on the Rock held April 17-18, 2010 in St. John's Newfoundland. After making my rounds through the vendors downstairs of the hotel, I came across another section set up of all sorts of cool SciFi toys and comics by Buddy Toad Comics!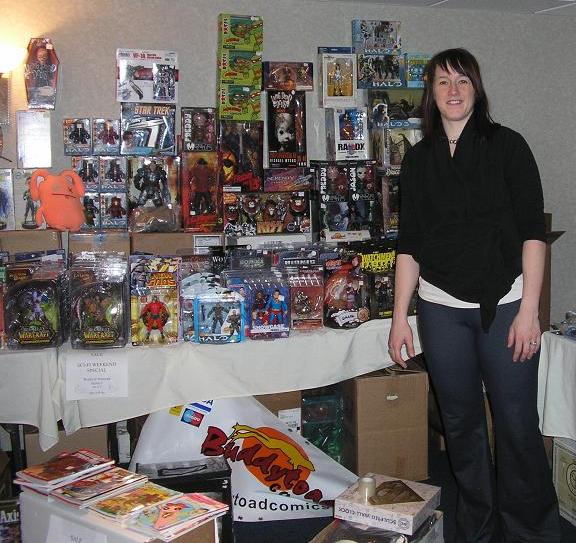 Then I set myself up, with the laptop in tow and got ready to make my first tweet. As I was doing so, Max Grodenchik was heading down the little ramp and headed towards one of the tables that was set up for the special guests to arrange their pictures of the various roles they were in. Max sets out his pictures and sits back to await for people to pop by.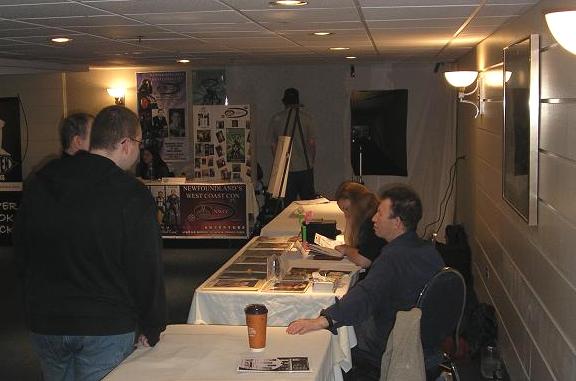 I then went back upstairs and that's when I ran into Darren Hann and Peggy Dixon from Scifi on the Rock. They had a small table set up so I asked if I could get a picture of them for my write up. They were more than happy to do so, as this would also give them a lot more coverage to where we are on the map.
You will notice that I a lot of venturing from the main floor to the bottom floor while I was waiting for the first Q&A to start, which was with Nalini Krishan, lovely and gracious lady to chat with. I was honoured enough to get a picture with her.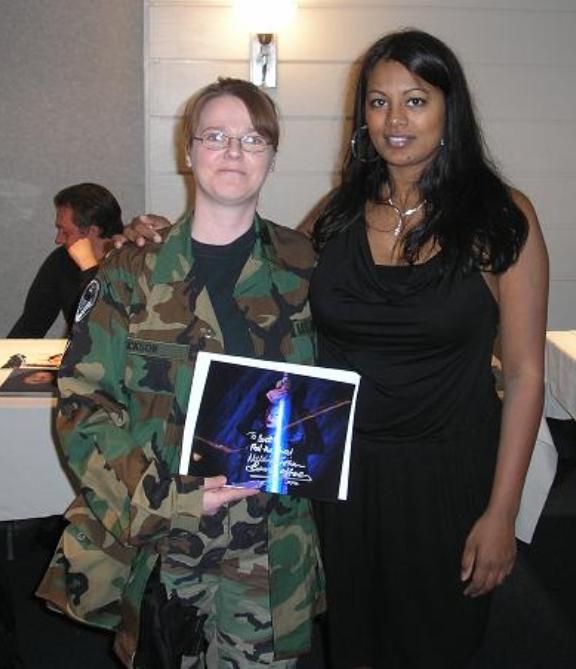 Click image above to visit Karen on Live Journal.
After I had the picture done, I felt someone, more like, something, looking at me. I turned to my right and low and behold, this is what was staring back at me!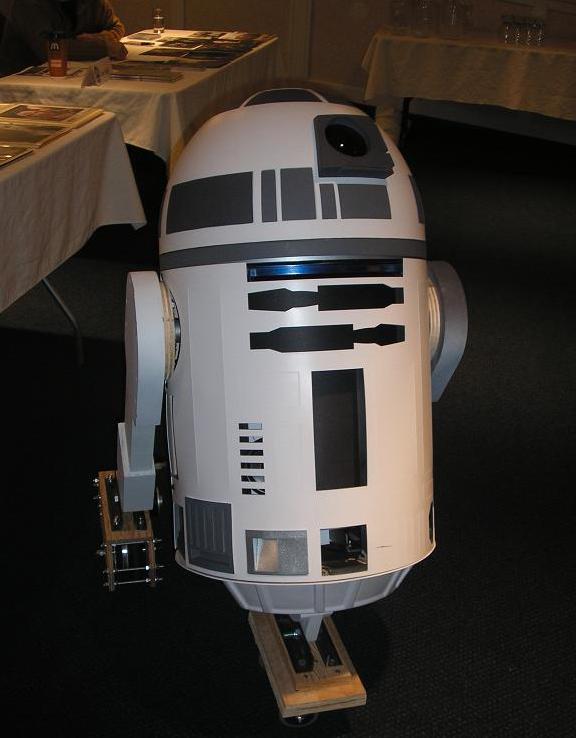 Max was intrigued by seeing a life-size R2D2 so he had to have his turn and play.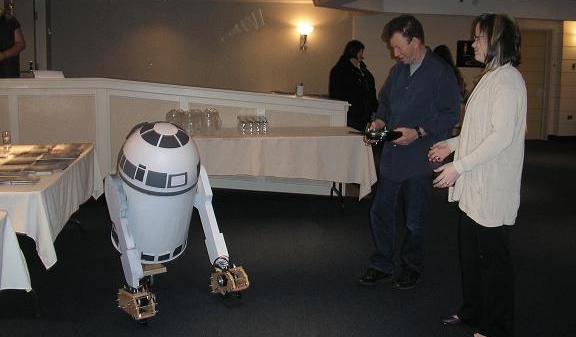 Then I noticed that Casey Biggs was missing from his table. With looking around, it didn't take me long to find him. Playing a video game and apparently losing badly, according to him when I asked him how he done? He said "I died 5 times." We both  chuckled.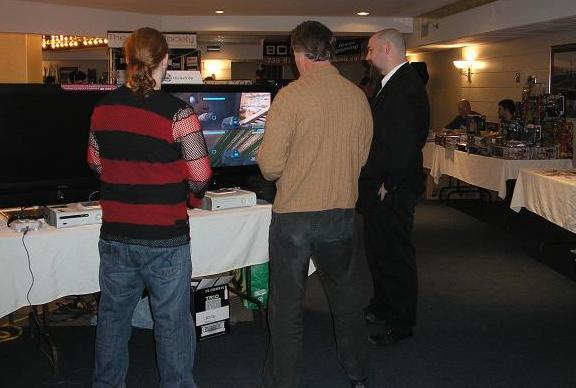 So I ventured back over to Carson's booth again to have a small chat to give Max and Casey time to have their fun. They were so great and loved interacting with us. This convention has something that others probably doesn't have, a more relaxed and intimate feeling. The guests are never rushed and you're never rushed to get signed autographed pictures from them.
So a little while later, I went to Casey's table first, and having a chit-chat about how he's enjoying himself, he told me that other then the fog, he was having a great time. He asked me if I was at the convention yesterday (April 17th), of which I said, no, couldn't get a baby sitter. He informed me that he preformed at the Catina that the convention has had the past couple of years. Something that you can get up on stage and sing, act out something, read poetry, whatever turned your crank.
After some time of trying to decide on what to get, I opted for a Star Trek DS9 trading card with Casey's character – Damar and Rene Auberjonois' character – Odo. Casey said that if we are lucky enough to get Rene here, I can have him sign it as well. I was also honoured by Casey to get a picture taken with him.

Click image above to visit Karen on Live Journal.
Then Max was back at his table. I asked how he was enjoying his time here and he said the same, loved it here. That's when I noticed that he had a handbook of places to go to here in Newfoundland. He asked me if I was from here. I told him sort of, I'm living in here but I grew up in a community 1.5 hours away from here. He asked it's name, I said Cavendish. That's when he took out his travel book and had a map of all of Newfoundland and asked where it is.
At this time I pointed to the little dot for St. John's and showed him handy about where I grew up. That's when he asked what part of Newfoundland it's called. I told him Trinity Bay. He was very curious, something you very rarely get. That's when he told me that he had plans on going to one of our parks, Terra Nova Provincial Park. I chuckled and told him that, that part was three hours away. He opted for a much closer location to visit. LOL After our lovely chat, I asked if I could get a picture with him. I never realized just how short he was, lol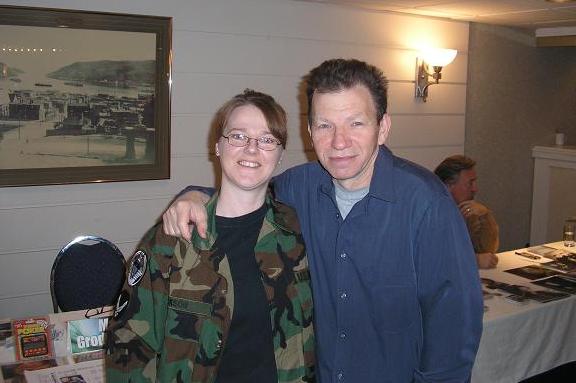 Click image above to visit Karen on Live Journal.
By this time it was soon time for the first Q&A, so I went upstairs yet again to see what room it was going to be in. Realizing that it was Nalini first, I went back downstairs to nab her before the session started. That's when I asked her if it was OK with her to video her session and to have it hosted on this site. She was concerned at first, but when I informed her of the professional group of people that run this site and that we are a credited news agency that reports from other conventions from all over the place, she then asked for the site's address. Giving it to her,, she agreed for me to video and take pictures.
This ends the written part of my time at the convention and leads to the Q&A's of all three special guests. I hope you enjoy the sessions as I had a lot of fun listening to them each equally. I hope you enjoyed reading my report and would consid
er on visiting us here. My next reports will be about panels, but first I have a surprise for you courtesy of WHR.  So until then, take care.
KarenFord1