Are you ready to be totally WonderCon Chucked Out?

Well we certainly were by the fabulous peeps at WonderCon! All our thanks to Comic-Con International and Warner Brothers Studios for the totally Chucked Out panel we were fortunate to witne

ss up close and personal! This fantastic Chuck event was held on Sunday April 04, 2010 at WonderCon in San Francisco.

Prior to the panel guest appearance of stars  Zachary Levi,  Joshua Gomez, Adam Baldwin with Executive Producers Chris Fedak and Josh Schwartz, WHR reporters were fortunate enough to see the episode "Chuck Versus the Other Guy" courtesy of Warner Brothers Studios! When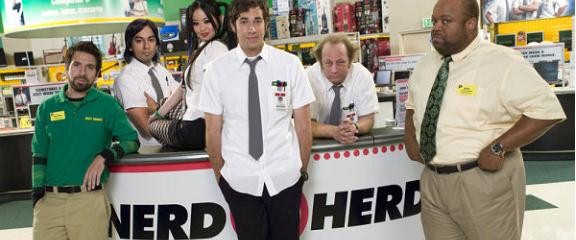 we saw tomorrow's blockbuster episode of Chuck! ZOMG! That's how we got totally Chucked Out to the cheers and hollers of Chuck fans!
Airing on April 05, 2010, "Chuck Versus the Other Guy" is a very special episode you do NOT want to miss! Everything that has occurred this first half of Chuck's season will be revealed! Does Chuck get Sarah (Yvonne Strahovski) back or will he lose her forever because she believes that Chuck is not the same guy after his Red Test?
Will Daniel Shaw (Brandon Routh) ultimately win Sarah's heart or take her life seeking retribution for S
arah's Red Test in which Shaw's wife was killed years earlier? And what do the "Chuck Shippers" have to say about the fact to date that Sarah appears to be in love with Shaw? Yikes!
What ultimately is to become of our beloved Colonel Casey (Adam Baldwin)? Is he destined to be a civilian peddling electronics at Buy More forever? How will Morgan (Joshua Gomez) deal with his status as a member of Team Bartkowski aka Team Chuck?
Will Big Mike (Mark Christopher Lawrence) reinstate Morgan Grimes as Chuck's work contemporary at the Buy
more? Or is Morgan destined to be added to the massive unemployment of greater Burbank OR will he become a real spy on Team Chuck?
And how about the predicament with the likes of Chuck's sister Ellie (Sarah Lancaster) and Devon "Captain Awesome" Woodcomb (Ryan McPartlin)?  Will they really escape Burbank for some far off destination and never be seen or heard from again? Or will Lester and his Nerd Herd gang tail Ellie and Awesome around the globe?
And what the heck is the recalcitrant General Beckman (Bonita Friedericy) up to back In Washington anyway? Can anyone get the upper hand on her and the massive secret spy apparatus dictating policy to Shaw, Sarah and Chuck?
And what of super guests stars coming in the near future? You betcha! From our notes about the Chuck panel, stand by for super surprises like the return
of Chuck's brother Steve Bartkowski (Scott Bakula) and other fun guests stars on CHUCK! YAY!
But seriously, has "The Ring"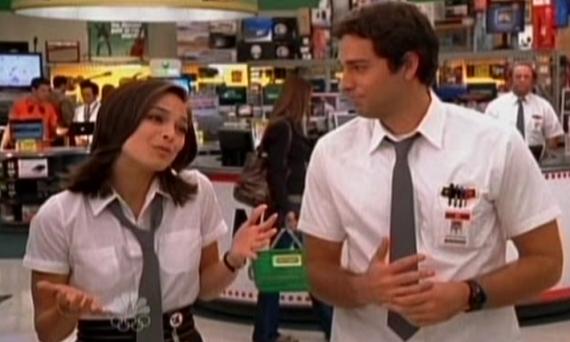 played a dark hand and is poised (maybe) to take over the world? Perhaps "The Ring Operative" leader will be the one to finish of General Beckman?
Well Chuck fans, every cloud has a silver lining, but come on now series creators, what the dickens is going on and what are you smoking down there in Burbank? Is it Los Angeles basin tail-pipe exhaust or are you folks simply breathing too much LA smog?
And if you are inhaling, dear WHR mascot and my owner Adria (Anna Morena Inara) the Cat only wants to know one more thing?
Dear Warner Brothers; Do you get Morena Baccarin's of V Series phone number for me yet? And if not Morena, we will settle for Hannah's phone number! (Kristin Kreuk) Just kidding!
But for goodness sakes Warner Brothers you had better danged well fess up and let the fans know
the answers to all these questions soon! Oops! They have! ROFL!  Tune in tomorrow night on NBC and all will be revealed!
Well fans you really must be Chucked Out yourselves and will soon see what the devil is happening on Chuck with your own eyes! I was totally ecstatic when I saw "Chuck Versus the Other Guy"! A new Chuck review done and it will post ASAP early tomorrow morning, so stand by for more Chuck!
Let me say this without spoiling the fun for tomorrow night Monday April 05, 2010: "Chuck Versus the Other Guy" is simply one of the best episodes ever! It is filled with plot twists, fantastic location shooting  special effects, gun battles and a stunning ending you do
NOT want to miss under any circumstances!
The Chuck mid season episode airs tomorrow evening on NBC at 8:00 PM EDT / PDT.
Be prepared when we will all go *Happy Dance* crazy about being totally Chucked Out!
Thank you for visiting WormholeRiders News Agency.
WHR will have a detailed report on the Chuck panel coming soon!
Best Regards
Kenn