When I'm trying to convince a friend, casual acquaintance, or random person with whom I just happen to be chatting to watch Human Target, I usually describe it as being similar to those fun summer action movies, but in 45 minutes or so. It is the perfect show to sit down to every week for witty banter, great action scenes, and three great actors who generally look like they're having a wonderful time making the show.

The basic premise of the show is that the three main characters – Christopher Chance, Winston, and Guerrero – run a business with

which they provide a rather unique service: Chance acts as a 'human target', so to speak, for clients who need a body guard but for whom the traditional methods would most likely be ineffective. Winston and Guerrero provide an unorthodox support team, as well as bickering constantly – much to my amusement.

We are only eight episodes into season 1, which means that it will be easy for you to catch up (if you haven't already). For those of you who haven't already watched the show I thought I'd give you a bit of an introduction to the characters and backstory which we've gotten so far so that you could watch tonight's new episode:

Christopher Chance is played by Mark Valley, who you may recognize from his role as John Scott in Fringe (which I also highly recommend if you haven't seen it). Chance is still something of a mystery, even though we've started to get some more confirmation on his past. For the first several episodes we knew that Chance had previously worked for a very bad man, and in the episodes Salvage & Reclamation and Baptiste we got confirmation that he had been an assassin. This revelation explained some of Chance's more eccentric skill sets, from rudimentary skills in flying a passenger jet, to being able to spout off legal rhetoric at the drop of a hat.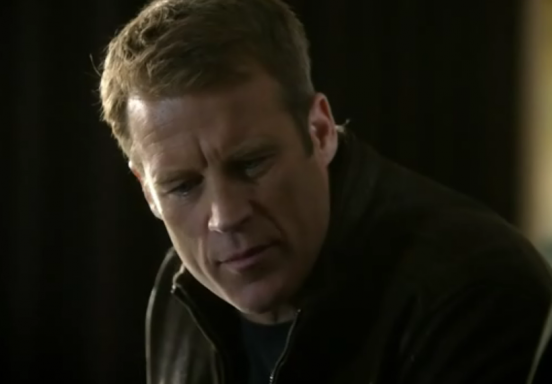 Mark Valley as Christopher Chance
Chance's old boss took him in when he was young, angry, and alone, and trained him until he was a professional assassin who specialized in hits which were designed to be untraceable. Chance had been brainwashed, to a point, as his boss had convinced him that what they did was justifiable by the fact that the 'person on the other side of the gun deserved it'. The turning point came when Chance was sent to kill a young woman named Katherine Walters: Chance fell in love with her and tried to protect her, but she was killed by a man who had been trained by Chance himself. We're still not entirely sure how Chance went from an assassin to protecting people, but we do know that Winston played a large role.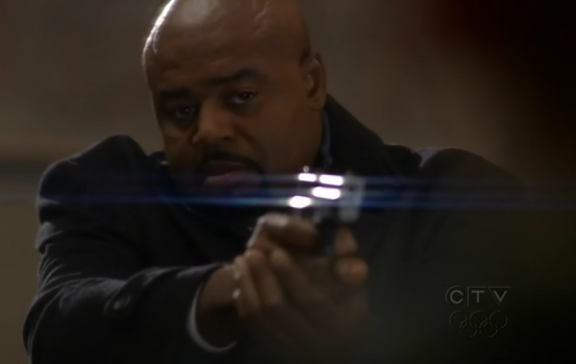 Chi McBride as Winston
Winston is played by actor Chi McBride and is, arguably, the one we know the least about aside from the fact that he was a cop for 20 years and helped convince Chance to leave his old job. My guess is that he was still on the police force, or just past retiring, when the case with Katherine came up as she is listed as their first client and Winston seemed to know Chance during the whole debacle. Or perhaps Winston had already started the body guard business and Chance came to him to help protect Katherine. I just hope we find out soon!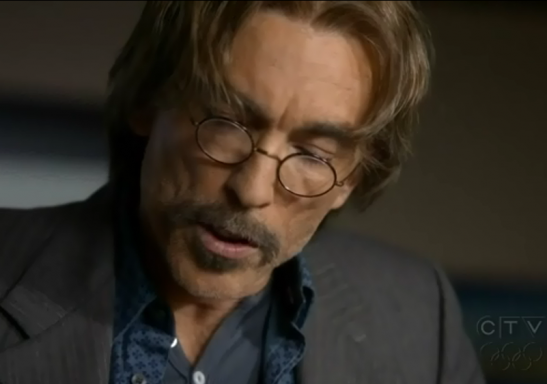 Jackie Earle Haley as Guerrero
Jackie Earle Haley plays Guerrero who is also something of an enigma. He is intense and often menacing, yet he delights in endlessly riling up Winston. We recently learned that he worked with Chance during his time as an assassin – in what capacity, exactly, we still don't know. It is clear, though, that Guerrero's loyalty still lies squarely with Chance: apparently he left the group of people with whom they used to work when Chance did, and we have seen him actively protecting Chance. There were people investigating Katherine Walters' death, and Guerrero killed the man who was sent to contact him when he couldn't glean any more information from the man. As an aside, Guerrero is making "dude" cool again – he says it all the time and for some reason it just seems to fit.

Each episode of Human Target is largely a stand-alone episode, but there are certain elements – usually relating to Chance's past – which carry throughout the episodes. One of the benefits of this structure is that we get some wonderful guest stars on the show; one of the downsides to this is that there are some great guest actors who I'd like to see back on the show – although the nature of the show certainly doesn't preclude seeing many of the actors again.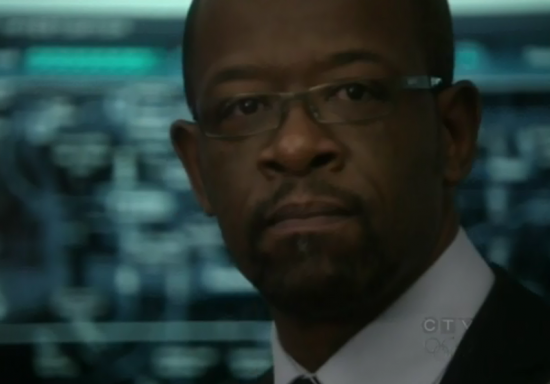 Lennie James as Baptiste
Baptiste, played by Lennie James, is one such actor I fully expect to see again. Thus far we have only met him once and he was arrested at the end of the episode, but I assume that he will escape from custody. The bad blood between Baptiste and Chance stems from the fact that Chance trained Baptiste and then left the fold, and that Baptiste was the one who was sent to kill Katherine after Chance failed. Baptiste revealed that Chance's old boss treated them both like sons, and that Chance was always the favourite. What intrigues me is that Baptiste commented that Chance hurt their boss by taking 'that name', and I would very much like to know exactly what that means.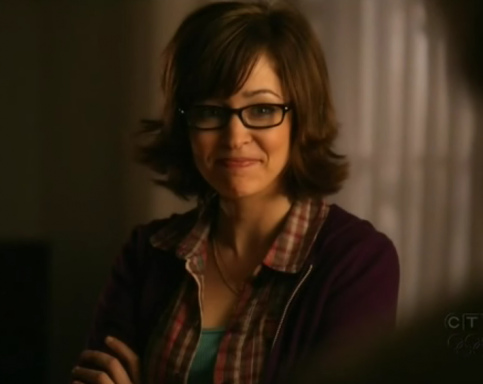 Autumn Reeser as Layla
Autumn Reeser plays a young woman named Layla – a computer expert who may become a regular member of the team. We first met her in the episode Lockdown when Chance rescued an engineer named Martin Gleason, played by Kevin Weisman (who, for the record, I would love to see back on the show), from Layla's company who were holding Martin against his will. The team hired Layla on a freelance basis, which I think means we may end up seeing her again.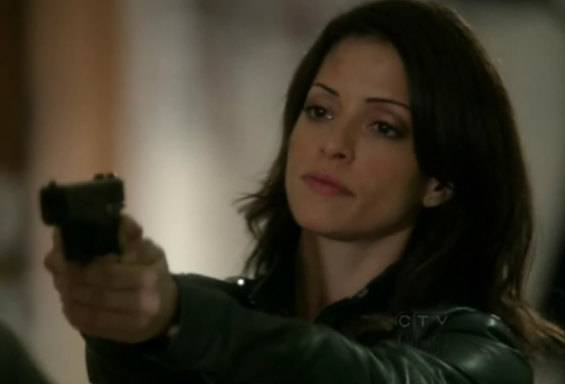 Emmanuelle Vaugier as FBI Agent Emma Barnes
My favourite recurring guest star so far is a woman named Emmanuelle Vaugier, who plays FBI Agent Emma Barnes. Chance and Barnes first crossed swords in the episode Embassy Row when they both ended up running an operation within the Russian Embassy – and came very close to causing an international incident. Chance left Barnes with no proof that he had ever been there and thus faced a rather ticked off Agent the next time they met. Chance went to Barnes for help after he realized that Baptiste would be targeting a foreign dignitary. Initially reluctant, Barnes agreed to help and was almost killed for her involvement. Chance did ask Barnes out on a date, but nothing has happened between the two – aside from the occasional physical confrontation.

One thing of which you may not be aware is that Human Target is filmed in Vancouver, B.C. As of late, there have been many shows filming here, and one side effect is that one often sees local actors as guest stars on the show. If you are a fan of Stargate – one or all of the three – be on the watch for familiar faces. To my count, there has been at least one Stargate alumnus in each episode – though there is usually more than one. You can also expect to see familiar faces from Battlestar Galactica, Sanctuary, and Fringe.

Speaking of Battlestar Galactica, Human Target is scored by Bear McCreary, whose work on Battlestar, Caprica, Terminator: The Sarah Connor Chronicles, and now Human Target, I greatly admire. I find that scoring is one of those aspects of shows which people tend to take for granted; however, I find myself noticing the music in Human Target for its complexity and how much it contributes to every scene.

An aspect of the show at which I constantly find myself marveling are the fight scenes: I hardly purport to be an expert, but simply in comparison to other television shows the fights are very impressive. I find that the fights look as though they would be more at home in a big budget action movie than what you expect to see in a television show. My favourite fight sequences so far were in Embassy Row, when Chance and Barnes were fighting. In each episode you can expect to see a couple extensive fight scenes which are wonderfully choreographed and executed.

I hope that after reading this, you decide to go back and check out the first 8 episodes of the show, but if you only watch one, I would recommend Baptiste. Not only was much of it filmed at my school, but it was also the episode in which we got the most concentrated dose so far of Chance's past. We are always getting hints as to Chance's extensive skill set, but this was the first time someone talked about what Chance used to be like as a person. Baptiste made several mentions as to how Chance has 'lost his edge' and I think it would be interesting to see flashback episodes to before Chance started working with Winston.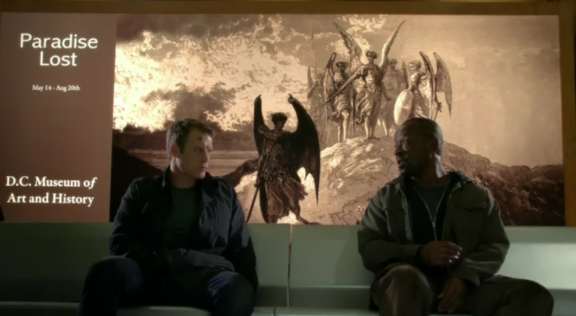 Paradise Lost
Perhaps it is because I'm so used to writing about Fringe, and thus trying to find the clues which are packed into every episode, but one thing I rather enjoyed was the symbolism in the train station in Baptiste, intentional or not: if you look at the wall behind Baptiste and Chance, there is a poster for an exhibit for Milton's "Paradise Lost". Considering that Chance was a 'favoured son' to his old boss and his confrontations with Baptiste, I find the comparison to fallen angels rather fitting.

Much as I enjoy the action scenes, great music, and sometimes outlandish locations, what keeps me coming back week after week are the characters. I want to learn about Chance's past and whether his old boss will find him. I wonder whether Baptiste will return, and I hope that we see Emma Barnes again. I also love the banter between the three main characters, and even though the episodes are fairly serious, I am always laughing at some line or moment. I sometimes find that funny moments in serious shows are made even funnier by the juxtaposition of drama with comedy.

Human Target airs Wednesdays on FOX. Tonight's episode Corner Man will feature Grace Park (Stargate SG-1, Battlestar Galactica) and Peter Wingfield (Stargate SG-1, Sanctuary, Caprica). And in upcoming episode Victoria, you can see Josh Blacker (Stargate Universe), Kavan Smith (Stargate Atlantis), Erick Avari (Stargate SG-1), and Chris Heyerdahl (Stargate SG-1, Stargate Atlantis, Sanctuary). In other words, you can expect even more awesome guest stars in the coming weeks.
Check out this video of Mark Valley on "Good Day NY" where he talks about his show. They also show some clips of tonight's episode:
When the show premiered, I certainly was not looking for a new show to watch (given that I already follow far too many) but since I enjoyed Mark Valley's performance in Fringe, I thought I would give the show a chance.
The pilot certainly delivered, and I was hooked – as I'm sure you will be! Make sure to check out Human Target Wednesdays on FOX!

Feel free to email me with any thoughts by clicking on the link below, or visit my Twitter page by following the link in the image.

NaddyCat

Thanks for reading!

Nadine Ramsden