Good evening all!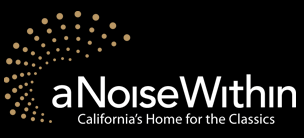 Not much news. Of course we are teasing. Just a stupendously exciting news report to pop into your " fron" and for everyone to see! Ms. Torri Higginson does not have an official website on which to announce news, a position I would gladly take up, therefore…
WHR is more than pleased to confirm that Ms. Torri Higginson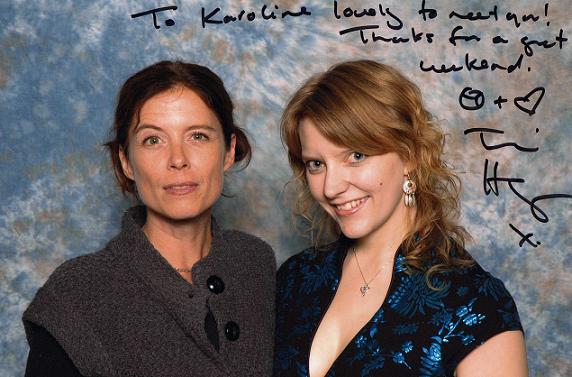 will be appearing for a long run on stage in Glendale California at a fine threatre company known as "A Noise Within". Please click their image logo and visit ANW!

What I wouldn't give to live in America, or have the money to make it over there to see Torri (pictured left with me at a United Kingdom Convention)! A Noise Within is an outstanding Theatre Company. Their production of Much Ado About Nothing is sure to be outstanding!  Personally, I would lov
e to see this production because of Torri being in it and because I persoanly auditioned for the part she is playing for this season at Tolethorpe in the United Kingdom (click image right)!
The ANW play is running between 6th March and 21st May 2010, with previews available on 27th February 2010.
We have included a

video embed about the production and the complete Press Release below for your edification.
Please click the image above left to visit the ANW box office. For those of you whom reside in the Glendale (greater Los Angeles) area, buy tickets NOW before the show sells out.
Make sure to check out the rest of the ANW site too! "A Noise Within" features an extensive education programme with classes in dialects, monologues as well as speaking and
Shakespearean acting!
Naturally all our congratulations to Ms. Torri Higgonson for her new role! Thank you.

JohnLizzieGirl

FOR IMMEDIATE RELEASE
A NOISE WITHIN,
LOS ANGELES' CRITICALLY ACCLAIMED
CLASSICAL REPERTORY THEATRE COMPANY,
PRESENTS SHAKESPEARE'S BELOVED COMEDY
MUCH ADO ABOUT NOTHING
Saturday, March 6 – Friday, May 21, 2010
(previews begin Saturday, February 27)
A Noise Within (ANW) begins the second half of the 2009-10 season with WILLIAM SHAKESPEARE's classic comedy MUCH ADO ABOUT NOTHING, directed by Michael Murray, opening Saturday, March 6 and closing Friday, May 21, 2010 (previews begin Saturday, February 27).
"Much Ado About Nothing is the epitome of a play about the battle of the sexes," says Murray. "But with all the surface comedy, it's really about two lonely people who really want to be together. It's a sexy play in which there's a sense that anything can happen."
The two formidable combatants in love are Beatrice and Benedick, both armed with razor-edged wit, who create fireworks as they struggle with the gravitational pull of mutual attraction. These battle-hardened veterans of Cupid's little game discover in this effervescent comedy of the heart how truly disarming true love can be.
The cast features JD Cullum (Benedick), Torri Higginson (Beatrice), Brandon Hearnsberger (Claudio), Lindsay Gould (Hero), Apollo Dukakis (Leonato) and Mark Bramhall (Dogberry).
The production is part of Shakespeare for a New Generation, a national initiative sponsored by the National Endowment for the Arts in cooperation with Arts Midwest.
A Noise Within (ANW) was founded in 1992 and quickly established itself as one of the nation's leading theatre companies. It continues to maintain its celebrated status as the only year-round classical repertory company in Southern California, attracting fiercely loyal audiences and high praise from the media for its productions of great works of world drama and also as a leading regional force in arts education. Since its inception, the company has presented more than 120 plays from the classics of world literature, each season producing plays from authors ranging from Shakespeare and Molière to Ibsen, O'Neill and Shaw to Miller and Williams. The theatre's consistent dedication to quality has been rewarded with more than two dozen Los Angeles Drama Critics Circle Awards as well as numerous LA Weekly and Back Stage Garland awards. Past highlights include a collaboration with the Los Angeles Philharmonic in a performance of Shakespeare's A Midsummer Night's Dream at the Hollywood Bowl. ANW's next chapter provides the long-awaited opportunity to sink deep and lasting roots when it moves in 2011 from its long-time leased base in Glendale to a spectacular, permanent 35,000 square-foot home in Pasadena. The mixed-use development is located in the historic Stuart Pharmaceutical building at the corner of Foothill Boulevard and Sierra Madre Villa Avenue. The facility is designed to expand A Noise Within's artistic possibilities, offer a greater scope of educational opportunities, meet ticket demand and allow the company to expand its role as a leader in the presentation and preservation of classical theatre.
Much Ado About Nothing marks the sixth play MICHAEL MURRAY (director) has directed for A Noise Within. The others are Ghosts, The Night of the Iguana, Romeo and Juliet, A Touch of the Poet, and Arms and the Man. He has served as Producing Director of the Cincinnati Playhouse in the Park for nine years where he directed more than 25 productions, including Heartbreak House, Sweet Bird of Youth, Romeo and Juliet, Macbeth, Twelfth Night, And a Nightingale Sang, Compulsion, The Diary of Anne Frank, Where's Charlie?, The House of Bernarda Alba, Threepenny Opera, Julius Caesar, A Month in the Country and The Baker's Wife. Murray also co-founded – with Olympia Dukakis and others – and served as Artistic Director of the pioneering Charles Playhouse in Boston, a company that included at various times Al Pacino, Jane Alexander, Jill Clayburgh, Linda Lavin, John Seitz and Ned Beatty. He has directed at numerous regional and New York theaters such as the Hartford Stage Company, Center Stage in Baltimore, the Philadelphia Drama Guild, the Huntington Theater Company in Boston and the Alaska Repertory Theater. Recently he was Blanche, Barbara and Irving Laurie Professor of Theater Arts and Director of the Professional Theater Training Program at Brandeis University. He holds a BA from Catholic University and an MFA from Boston University.
This production is JD CULLUM's (Benedick) second at ANW; he previously appeared as Sganarelle in Don Juan. Among other theatrical credits, Cullum has performed in Pig Farm, The Intelligent Design of Jenny Chow, Major Barbara and The Dazzle at South Coast Rep; Leading Ladies at Ford's Theatre; The Dresser at the Clarence Brown Theatre; Stones in His Pockets at the Mark Taper Forum; Side Man at the Pasadena Playhouse; Reapers and The Foreigner at the Odyssey Theatre; The Cripple of Inishman at the Geffen Playhouse; Waiting for Godot and Habeas Corpus at the Matrix Theatre; Misalliance at Arena Stage; Getting Married and You Never Can Tell at Circle in the Square; Woman in Mind at the Manhattan Theatre Club; and Abingdon Square at the American Place Theatre. On the big screen, Cullum has appeared in Leatherheads, Zodiac, and Good Night and Good Luck. His television roles have included guest spots on 61*, Liberty!, ER, Charmed, 24, Judging Amy, Frasier, NYPD Blue, Dead Last, and Campus Cops.
Canadian-born stage and screen actress TORRI HIGGINSON (Beatrice) makes her ANW debut in this production of Much Ado About Nothing. She has also appeared as Beth in Zadie's Shoes at the Factory Theatre; 1st Maggie in Mill on the Floss at Soulpepper Theatre; Jaye in Weldon Rising at the Eclectic Theatre; C in Three Tall Women at the Grand Theatre; Suzanne in Picasso at the Lapine Agile at MTC; Bianca in The Taming of the Shrew at the World Stage Festival; and Lady Macbeth in Macbeth at the Hungarian Arts Festival. Higginson, who studied acting at Guildhall in London, can also be seen in the feature films Desperate Hours, Yumi in Love, Smile of April, Irish Eyes are Crying, Turning Paige, Airborne, Double Take, The English Patient, Jungle Ground, and Vitacane. On television, she has appeared as Dr. Elizabeth Weir in three episodes of Stargage SG-1 and more than 60 episodes of Stargate: Atlantis, as well as in N.C.I.S., The Cult (Pilot), Eleventh Hour, The Shields Stories, Tom Stone, and Bliss, among many others. In 2000 she won Canada's prestigious Gemini Award, recognizing excellence in Canadian English-language television, for Best Performance by an Actress in a Continuing Leading Dramatic Role for her performance as Katherine Stracham in "The City."
BRANDON HEARNSBERGER (Claudio) makes his ANW debut with this production. He has appeared at the Alley Theatre as Philo T. Farnsworth in The Farnsworth Invention, Davey in The Lieutenant of Inishmore, Cassio in Othello, Frank in Mrs. Warren's Profession, Jan Warwick in The Unexpected Guest, Mike in A Moon for the Misbegotten, Fred/Young Scrooge in A Christmas Carol, Messenger in Much Ado About Nothing, Marquis I/Poet/Cadet in Cyrano de Bergerac. At the Houston Shakespeare Festival, he appeared as Ariel in The Tempest, Horatio in Hamlet, Lucius in Titus Andronicus, Balthasar in Much Ado About Nothing, Tranio in The Taming of the Shrew, Florizel in The Winter's Tale, Donalbain in Macbeth and Silvius in As You Like It. He performaed at the Unity Theatre as Speed in The Odd Couple, Antony Wilding in Enchanted April, Mortimer in Arsenic and Old Lace and Adam in The Compleat Works of Willm Shakspr (Abridged). On film and television he has appeared in Dead of Knight, Spirit Camp and Christian Roane and has done voice-over for several anime titles at ADV Films. He received a B.A.,Theatre from the University of Houston.
Much Ado About Nothing is LINDSAY GOULD's (Hero) debut with ANW. She has performed as Ophelia in Hamlet at Chicago Shakespeare Theater (directed by Terry Hands), Andrea in Cynical Weathers by Doug Post at Victory Gardens Theater, Chicago (directed by Dennis Zacek, with Tom Amandes), Josie in Iron by Rona Munro at Appletree Theatre, Highland Park, IL, and Froggy in Blackbird by Adam Rapp at Profiles Theatre (Joseph Jefferson Nomination, Best Lead Actress). She has a BA in Theatre from Northwestern University and has trained at BADA, Oxford University, UK and Steppenwolf West (Jeff Perry).
APOLLO DUKAKIS (Leonato) is an ANW resident artist and has appeared in more than a dozen productions with the company, including most recently as Selsdon Mowbray in Noises Off and King Edward in Richard III. He has also appeared as Mr. Dimanche/A Poor Person in Don Juan, Brabantio/Gratiano in Othello, Horace Vandergelder in The Matchmaker, Cominius in Coriolanus, Elbow/Barnardine in Measure for Measure, Pantalone in The King Stag, Argan in The Imaginary Invalid, Abbess/2nd Merchant in The Comedy of Errors, The Stage Manager in The Skin of Our Teeth, Dubois in The Misanthrope, Doctor Baugh in Cat on a Hot Tin Roof, Ragueneau in Cyrano de Bergerac (1998 and 1995), Baptista in Taming of the Shrew, Boss Mangan in Heartbreak House and Shepherd in Oedipus the King. Dukakis co-founded and served as associate artistic director, and resident actor at The Whole Theatre in New Jersey from 1973 to 1990. Other credits include Homebody/Kabul at Trinity Repertory Company, Hecuba at American Conservatory Theatre, Nine Armenians at Mark Taper Forum, Anna in the Tropics at Pasadena Playhouse and Palo Alto's TheaterWorks, Pera Palas at Theatre @ Boston Court/Antaeus, which received LA Critics Award-Best Ensemble, Glengarry Glen Ross at Dallas Theatre Center, Lear in King Lear at Shakespeare Santa Monica, Rhinoceros at Antaeus, Shylock in Merchant of Venice at Pacific Repertory Theatre (Carmel), and Old Actor in The Fantasticks at Arizona Theatre Company, and he has worked at Denver Center Theatre Company, Williamstown Theatre Festival, American Place Theatre, La Mama, George St. Playhouse and Provincetown Playhouse, among others. Active in film and television as well, he has appeared in American Heart, Last Action Hero, Shadow of the Blair Witch, Arrest and Trial, 7th Heaven, Seinfeld, L.A. Law, Life Goes On, Hunter, Dream On and Beauty and the Beast.
MARK BRAMHALL (Dogberry), an ANW resident artist, has appeared for last three seasons as Lucky in ANW's critically acclaimed production of Waiting for Godot and also appeared in the company's spring 2009 production of Ghosts. He began his professional acting career in 1966 as a member of the original company of The American Conservatory Theatre (A.C.T.) in San Francisco. In five seasons there, he played leading roles under the guidance of some of the country's foremost theatrical directors, including William Ball, Ellis Rabb, Alan Schneider and Nagle Jackson. In his New York debut, he starred as George in Our Town opposite Henry Fonda, Robert Ryan, Estelle Parsons and Jo Van Fleet. In Los Angeles, he appeared at the Mark Taper Forum in the "New Plays For Now" series, directed by Gordon Davidson. He abandoned his burgeoning acting career for 17 years to father four daughters and pursue political activism, and, in the throes of mid-life crisis, returned to his art—and his birthplace, Los Angeles—in 1990. Since then, he has appeared at the Pasadena Playhouse, La Jolla Playhouse, Odyssey Theatre Ensemble, Colony Theatre, Pacific Resident Theatre Ensemble, Skirball Cultural Center, Egyptian Arena, Theatre Forty, Tamarind Theatre, Taper Amphitheatre, Theatricum Botanicum, Arizona Theatre Company, and Portland Center Stage. He has been a Resident Artist for 16 years at A Noise Within, where he has played leading roles in thirty celebrated productions. Among his favorite roles are Alceste in The Misanthrope, Harpagon in The Miser, Dr. Prentice in What The Butler Saw, Howard in Picnic and Virgil in Bus Stop. His acting awards and nominations include LA Drama Critics Circle, Ovation, Dramalogue, LA Weekly and Robby honors, as well as industry awards for Books On Tape narration. Among his film and television roles are All Through The Night, Vanilla Sky, Too Pure, Introducing Dorothy Dandridge, Sliver, Fools, One Is A Lonely Number, NYPD Blue, Dark Skies, The Burning Zone, 7th Heaven, X-Files, and recurring roles on Alias, That 70's Show, Days Of Our Lives, The Young and the Restless, Passions, and General Hospital. Bramhall holds a B.A. from Harvard, and has studied at U.C. Berkeley, London Academy of Music and Dramatic Art (Fulbright Scholar), American Conservatory Theatre, Classical Theatre Lab and Steve Eastin Studio
Single Tickets are $44 (Friday and Saturday evenings, Sunday matinees); $40 (Wednesday, Thursday and Sunday evenings, Saturday matinees); and $30 (previews). Groups (10 or more) are $25, or $30 on Saturday evenings and Sunday matinees; School Groups (10 or more) are $16, or $20 on Saturday evenings and Sunday matinees.
A NOISE WITHIN is located at 234 South Brand Boulevard, Glendale, CA 91204. To purchase tickets or for a full season brochure, call 818-240-0910 x1 or visit ANoiseWithin.org.
# # #
WHO: A Noise Within – one of the nation's leading repertory theatre companies
WHAT: SHAKESPEARE'S MUCH ADO ABOUT NOTHING
Cast and Crew: Michael Murray (Director)
Shaun Anthony (Conrade)
Mark Bramhall (Dogberry)
Alicia Bruckman (Member of the Watch/Maid)
Abigail Caro (Ursula/Sexton)
Brandon Hearnsberger (Claudio)
JD Cullum (Benedick)
Danielle Doyen (Margaret)
Apollo Dukakis (Leonato)
Mitchell Edmonds (Verges)
Lindsay Gould (Hero)
Heather Grace (Maid)
Torri Higginson (Beatrice)
Jonathon Ray Lamer (Friar Francis)
Hugh Mason (Antonio)
Patrick O'Connell (Don Pedro)
Stephen Rockwell (Don John)
Peter Larney (Balthasar)
Maxwell Schneller (Member of the Watch/Lord)
Steve Weingartner (Borachio)
Jenn Banda (Assistant Director)
Susan Coulter (Stage Manager)
Ashleigh Hannah (Assistant Stage Manager)
Julia Rodriguez-Elliott (Choreographer)
Kurt Boetcher (Set Designer)
Soojin Lee (Costume Designer)
Danielle Horn (Costume Assistant)
Ken Booth (Lighting Designer)
Ben Kamine (Sound Designer)
Andy Stumme (Props)
Rebecca Baillie (Production Manager)
Adam Lillibridge (Technical Director)
Monica Sabedra (Wig/Hair and Makeup Designer)
Adam Rowe (Scenic Artist)
Previews:
Saturday, February 27, 8 pm
Sunday, February 28, 7 pm
Wednesday, March 3, 8 pm
Thursday, March 4, 8 pm
Friday, March 5, 8 pm
Opens: Saturday, March 6, 8 pm
Runs:
Sunday, March 7, 2 pm
Thursday, March 25, 8 pm
Friday, March 26, 8 pm
Saturday, March 27, 2 pm
Saturday, March 27, 8 pm
Wednesday, April 21, 8 pm
Thursday, April 22, 8 pm
Saturday, May 1, 2 pm
Saturday, May 1, 8 pm
Sunday, May 2, 2 pm
Sunday, May 2, 7 pm
Sunday, May 16, 2 pm
Sunday, May 16, 7 pm
Thursday, May 20, 8 pm
Friday, May 21, 8 pm
WHERE: A Noise Within
234 South Brand Blvd., Glendale, CA 91204
TICKET PRICES:
$44 (Friday and Saturday evenings, Sunday matinees);
$40 (Wednesday, Thursday and Sunday evenings, Saturday matinees);
$30 (Previews).
Group rates and special rates for school groups available
TICKETS & INFO: 818-240-0910 x1 ANoiseWithin.org
# # #