Hey Star Trek Fans!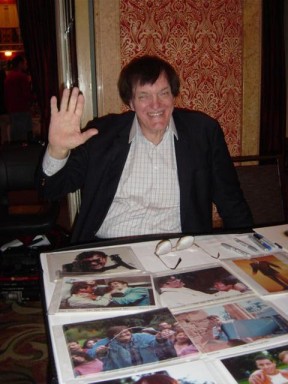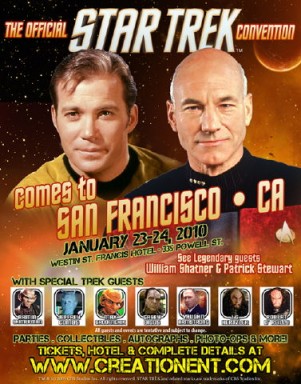 It has been long overdue for a Star Trek convention to be back in San Francisco. Creation Entertainment held the convention at the Westin St. Francis Hotel in Union Square. They had a decent size vendors' room to roam around.
Creation Entertainment also had the chance to add two extra guests in the vendors' room Richard Keil (best known as JAWS from The James Bond films) and William Wellman, Jr. (Bajoran Security Guard).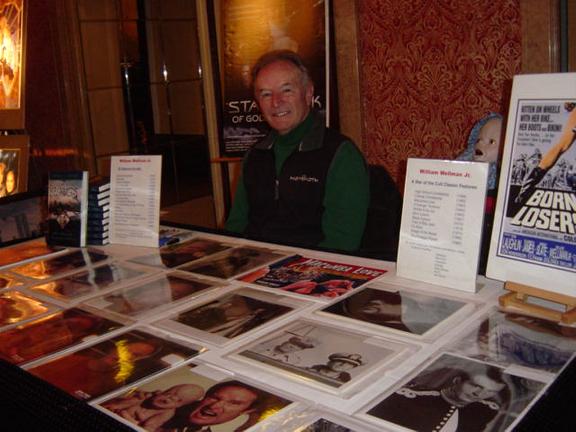 Also in the vendors' room was Gary Lockwood (Lt. Cmdr. Gary Mitchell of The Original Series and 2001: A Space Odyssey). I had the pleasure of taking pictures of each. I did receive an autograph from Gary Lockwood for giving him my black permanent marker because he did not have another that would work. How cool is that? Gary autographing my photo of choice!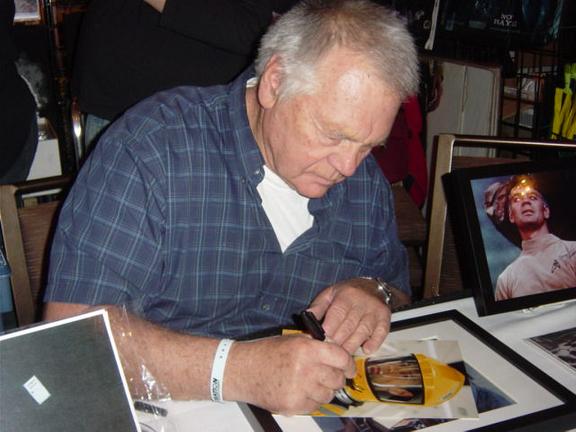 Onstage first was the Quark Family or Armin Shimmerman (Quark of Deep Space Nine) and Max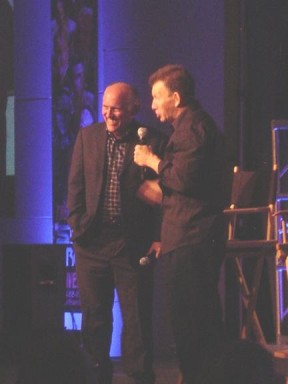 Grodenchik (Rom of Deep Space Nine). One of the most common questions they answered was how long did the make up take? Both agreed that it took anywhere from 2-3 hours depending on the make up artist. Each complimented each other on how well the other was doing since Deep Space Nine. You could tell the close bond between the two. It was fun to watch them play off each like brothers in real life. A couple of times Armin jumped down from the stage to speak directly to fans he could not hear questions from. One was from a little boy that wanted Armin to recite a few lines from an episode. Armin stood behind the boy as he let him recite it himself. It was very cute. Unfortunately, it was too dark for me to take a picture of that moment. Armin made a point to say that the writers produce the scripts, but it's up to the actors to "bring to life" the written word of the screen writers. Both certainly did in DS9!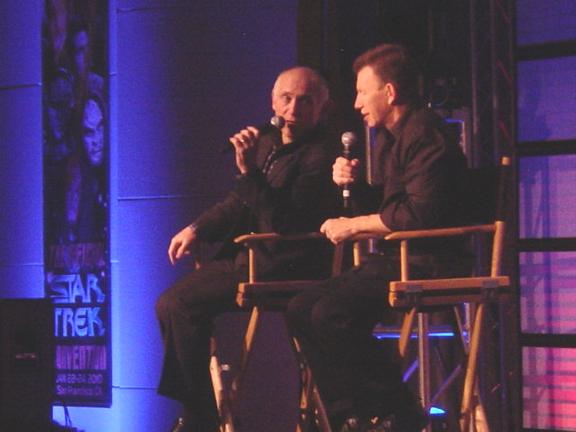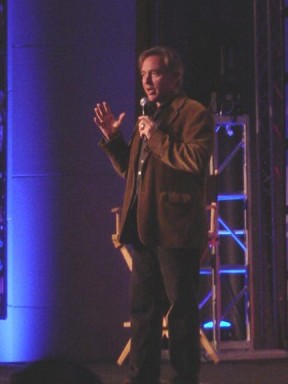 Right after we had Casey Biggs (Damar of Deep Space Nine). Casey came out talking about his audition for Deep Space 9. His audition only consisted of five words. Julliard trained he did what he thought would work. He did not realize once he got the part of Damar that he would have to wear two pounds of rubber. He told us he did not know if he could act under all that rubber. Fortunately he got encouragement from the producers and did just fine.
Shortly after Casey brought on stage Vaughn Armstrong (Admiral Maxwell Forrest of Star Trek Enterprise, Alpha-Hirogen of Star Trek Voyager, and Seskal of Deep Space Nine) do sing a few songs.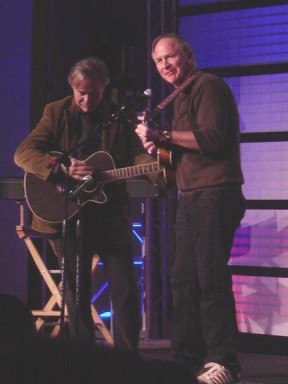 Casey played the guitar while Vaughn played the ukulele. The first song was about Vaughn's first Trek Cruise to Hawaii. The second was a funny song about Red Shirts on The Original Series and the last song was about the women of Star Trek. Each song received quite a few laughs from the fans. After the song Casey turned the stage over to Vaughn.
Vaughn talked about how he truly enjoyed sitting in the Star Trek Enteprise "Captain's Chair" in the episodes "A Mirror Darklly" and kissing Hoshi for one of the episodes on Enterprise. It also happened to be his favorite episode. He was asked if he liked playing the good guy or bad guy better. He said that which ever would pay better, which got a lot of laughs. He said that he was just happy to be working doing what he loves. Our very own WR_Systems asked Vaughn a few questions about his Admiral Forrest character. Would Vaughn have loved to seen Admiral Forrest been part of a spin off series from Enterprise based on "A Mirror Darkly". Vaughn responded with a, "HELL YES!" He also said that his character died to which WR_Systems responded with no one ever stays dead in Sci Fi, he was transported to "Empress Hoshi's" Quarters on the Enterprise!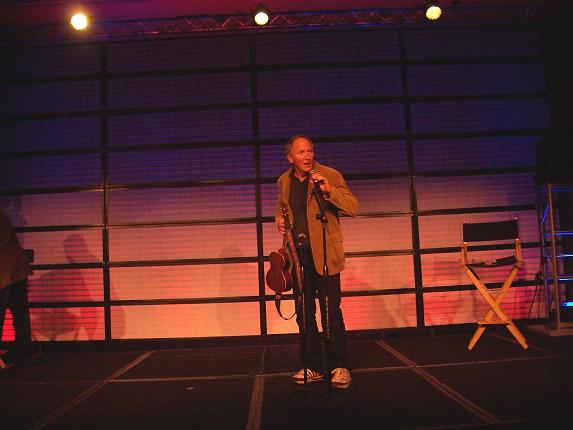 A little later in the day we had the pleasure of having another duo onstage, JG Hertzler (Martok on Star Trek: The Next Generation) and Robert O'Reilly (Gowran of Star Trek: The Next Generation). I knew they would be on stage together, but I did not know they would be in full Klingon make up and costume. It was great! All the years I have been to conventions I do not recall any guest stars dressing up like these two did.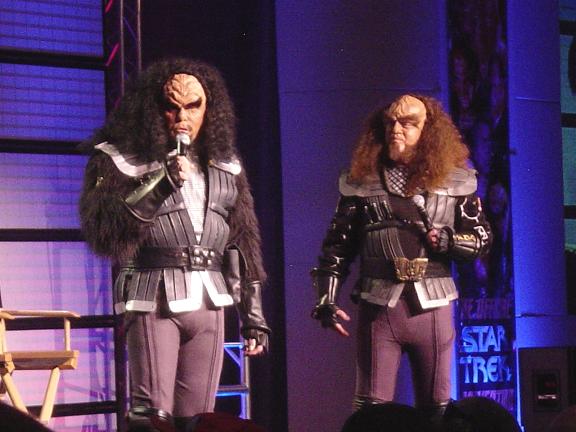 They would be in Klingon character for a moment and suddenly switch out to another or themselves. It was hilarious to watch them both. Robert or Martok was giving out some gumdrops to a few fans as well as flirting to those he could see. Another fun moment was when they had asked for all those who were dressed as Klingons to come up on stage to sing along with them a Klingon song.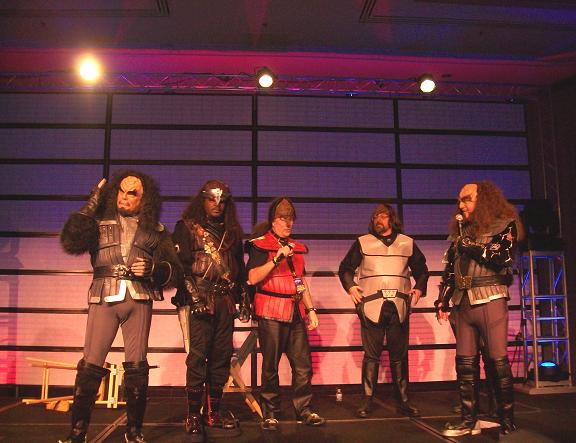 My personal favorite part of their Q&A session was the Klingon rap song they did. They danced along with the song and posed here and there. Some of my photos got blurred because I was laughing during the performance and could not keep my camera still. Have to say their Q&A seemed like it flew by because of the antics that went on.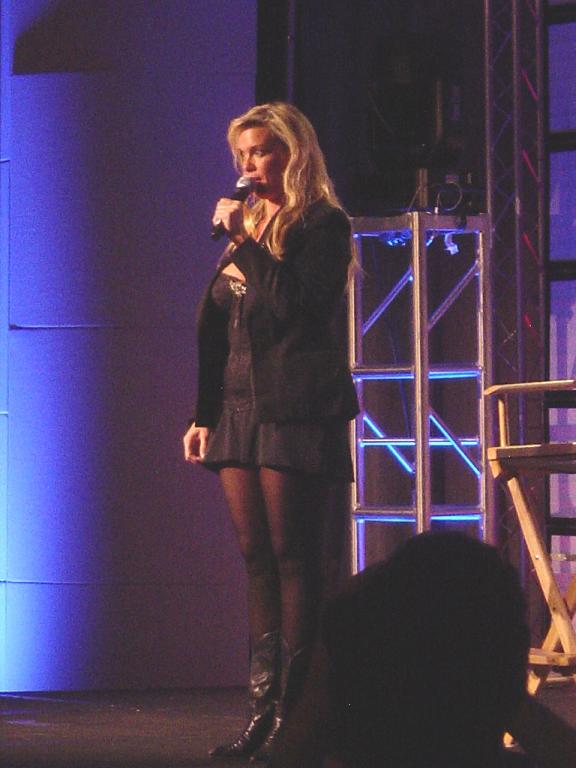 Last, but not least was Chase Masterson (Leeta of Deep Space Nine). She no longer has the short red hair as she did on the show. She now has lovely long blonde hair. When she first came in I remember doing a double take because I almost did not recognize her. WR_Systems will have a full report on Chase since I had to leave early to save our spot for our photo op with Chase right after her Q&A. I will add that I did convince WR_Systems to do the photo op, but really did I really have to twist his arm? LOL 😛
I ended my day with WR_Systems and I at Chase's photo op. We were second in line. Have to say this was his first photo op and it was fun to see how nervous he was, it was cute. Chase was very kind and took a moment to speak with us both. I cannot wait to see how well our photo turned out. (WR_Systems's here: Chase you and I will be posted with the report on "Leeta"- YAY!)
Tuesday I will continue reporting with the two most popular captains in Star Trek, William Shatner (Captain James T. Kirk) and Sir Patrick Stewart (Captain Jean Luc Picard)!
SciFiFanGirl616