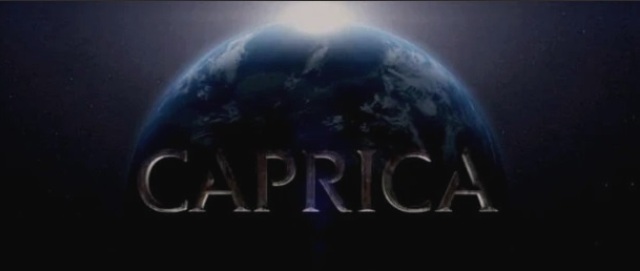 Welcome all Battlestar and Caprica fans!
In the third-part of our Caprica character analysis series, we are going to focus on the ve
ry lovely Ms. Alessandra Torresani. Alessandra plays the teenage genius, Zoe Graystone, on Syfy's new series, Caprica, airing Friday night, January 22 (check local listings for times)!

For her fans, Alessandra has graced us with her presence on Twitter as @BambolaBambina. Alessandra  even has her own website. Click the image to the right to visit the very lovely Ms. Torresani at her official site!

Alessandra and Magda Apanowicz recently made an appearance at the PaleyFest (Paley Center for Media) with executive producers David Eick, Jane Espenson and Ronald D. Moore discussed Caprica as a stand-alone show that has only subtle connections to "Battlestar Galactica". The ladies talked about how they earned their roles on Caprica and a little about their characters.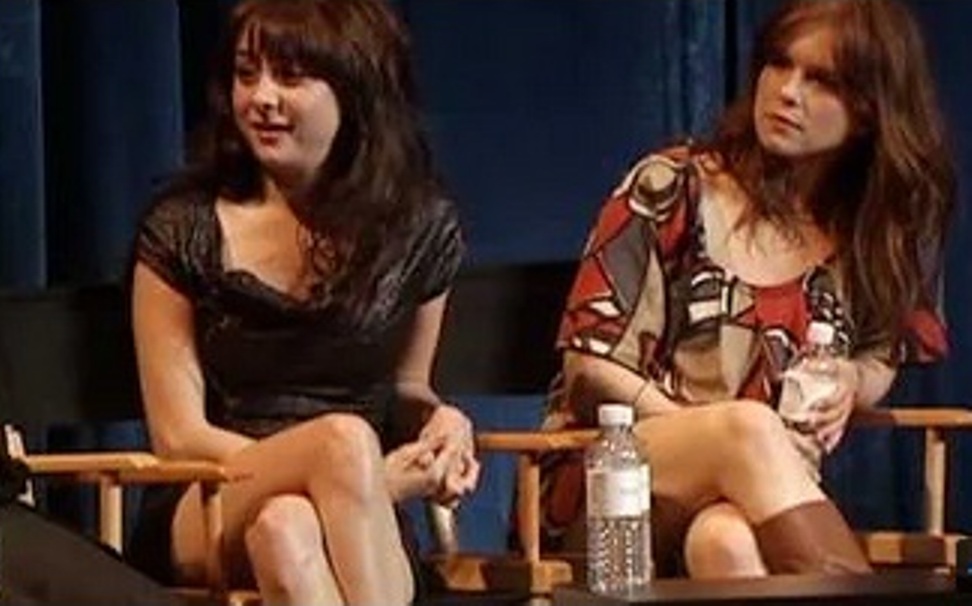 When Caprica opens on the unedited pilot DVD, Zoe is in the V-Club at a balcony looking down on a
young woman about to watch the virtual sacrifice of a virgin. We discover that this person looks exactly like Zoe. The V-Zoe cannot handle what she is seeing and she disappears. Zoe tells her boyfriend, Ben, and other friend, Lacy, that she is probably reverting back to her last copy because she was upset. Ben, her boyfriend, tells her that V-Zoe is going to be perfect because Zoe is perfect. Ah, heavy sigh! True love.
This genius young woman has created a virtual copy of herself and is trying to make her not only the sum total of information that exists in the real world of
the real Zoe, but she is also trying to teach her about humans and about feelings and to give her experiences. At first these experiences are at the V-Club, but just before the real Zoe dies, she is working on a biofeedback loop with her V-Zoe counterpart so that V-Zoe can experience what she is feeling on the outside world.
Ben, Lacy and Zoe have a plan to move to Gemenon. Later we find out that Ben introduced Zoe to The One True God (i.e., Soldiers of the One), and subsequently convinced Lacy to join them in their new religious path.
Zoe gets caught with a holoband at the Athenian Academy and her parents are called, Daniel and Amanda Graystone.
Amanda immediately grounds her; Daniel is softer on her. Zoe makes snide comments about her father's dirty science. Zoe and Amanda spar some more where Amanda reminds Zoe that she should be grateful for what she has been given; Zoe reminds Amanda that she married into "money" (which I take to mean Amanda came from a poor family and married into the wealthy Graystone family). Amanda slaps her. Zoe says to her, "You will regret that for the rest of your life", and storms off.
This scene could be replayed in millions of homes around the world. I recall saying much worse things to my mother growing up (and her to me).
Zoe goes to her room, where despite being told she could not use her holoband, she does, and goes to have a talk with V-Zoe. V-Zoe asks if people are really like that. Zoe responds that some people are, but that is going to change and V-Zoe is going to be a part of that.
It sounds like Zoe might have been putting V-Zoe into the position of becoming a voice to recruit other teens and anyone else who will listen about the One True God. But I'm sure the plan of the Soldiers of the One with regards to the virtual Zoe will be developed as the season develops.
Once at school, Zoe, Ben and Lacy split and head to the "Lev", which is the Skytrain in Vancouver. I will not spoil what happens next for those who haven't seen it. The train, however, blows up, claiming the lives of Zoe Graystone, her boyfriend, Ben, and Shannon and Tamara Adams (Adama). Scared, Lacy bailed out at the last minute which ultimately saved her life.
With the suggestion of an adult in the picture (no spoilers), Lacy tries to get access to Zoe's holoband so
she can go visit V-Zoe to let her know Zoe died. But V-Zoe knows already Zoe is dead. We see a bloody V-Zoe and Lacy questions why this has happened. V-Zoe thinks that it happened because of a biofeedback loop that was ongoing at the time Zoe died. V-Zoe is scared, not knowing what is now going to happen to her program. Lacy grabs her and hugs her. When she pulls back, V-Zoe's wounds are healed.
That is a powerful statement. The intense love of a friend was able to heal a virtual character on her way to becoming real, a digital-age Pinocchio. The real-life power of a hug is undisputed. A well-placed hug can defuse strong emotions, bridge differences, and remind us that we are alive and valuable. Hugs offered to people in crisis gives them something to hold on to during a moment of extreme instability. Hugs can also alleviate personal pain and isolation in non-crisis circumstances. They serve as a symbol of validation and acceptance.
Daniel comes home to find Lacy in Zoe's room. Curious as to why, he goes in there after she departs to find a holoband and the pad that has the symbols to get in there. He just cannot crack the code…yet.
Time passes and Daniel does crack the code. He spots V-Zoe and follows her, but is electric shocked when he tries to open the door with the infinity symbol on it.
Amanda is paid a visit by an investigator. He shows her a message Zoe tried to send to her right before the train blew up. Amanda is shaken to hear about this, knowing Zoe was doing things that neither she nor Daniel was aware.
Lacy comes back over, but Daniel is waiting for her. He demands to know what is going on. Lacy takes him into the V-Club and finally to V-Zoe. At first Daniel dismisses her as a non-entity, talking to Lacy about V-Zoe as if she weren't even there. After spending some time in there, he discovers that she was more than just a copy of her.
Possibly because he was feeling guilty for not being the best father she could have had, and wanting a second chance to do things right, and just for the simple acts of being able to touch and hold her again, he decides he has to find a way to bring V-Zoe from that world into the real world. He asks V-Zoe if he can hug her. She consents and they hug, but Daniel pulls out a flash drive to upload V-Zoe's code. Lacy is denied access to his house at that point, telling Serge, his guard robot, to revoke her clearance.
Part of me, however, thinks Daniel is also thinking about his business and needs this to work to get that military contract. Either way, both acts are that of a selfish man.
Daniel eventually meets up with Joseph Adams (Adama). They go back to Daniel's place and Serge takes William, Joseph's son, off to the game room. He brings Joseph into the virtual world, apparently his first trip ever, to meet his virtual daughter. The two have a discussion about what a soul is. Daniel requires Joseph's help in obtaining the technology to do this and promises he will create Joseph's daughter, Tamara, for him. Daniel is quite persuasive and he agrees.
Lacy has a discussion with an adult she discovers also believes in the One Truth God. She tells Lacy how important this V-Zoe is to them.
Daniel visits V-Zoe and V-Zoe is nervous about the download that is about to happen. She isn't sure she wants to be on Caprica. She tells Daniel some things that are difficult for him to hear. She shares that she hasn't felt like Caprica City has been her home for a long time. V-Zoe says Zoe was on the train headed to Gemenon because she had found God. Daniel tries to stifle the conversation for now, and that they would talk about it later. V-Zoe says that he never wanted to listen and that Daniel and Amanda's arrogance was killing Zoe, that THAT was how they lost her, not because of her death.
Because of Joseph's help, he now has the meta-processing chip from the rival company (see previous character introductions).
The body into which V-Zoe is downloaded appears as if it is going to work, but then it collapses. He hears, "System Error. Data Loss. Irrecoverable Error." He tries to go back to the virtual chamber, but V-Zoe is not there. Once again, he has to feel that horrible feeling that his daughter truly is dead, but this time for real (or so he thinks). He has not lost entirely. At least his company has now won. The chip he stole along with Zoe's programming code allows him to create the effective killing machine that not only seals the deal on the government contract but seals the deal on the future of their society.

Who is going to be tuning in to Caprica? Give me a "So Say We All!"
Thanks to Kenn for video embedding. Please feel free to share this article with your friends, co-workers and or family and leave your comments!
We look forward to you visiting our dedicated review and analysis web site here in the future!
Or as many of our readers and visitors often do, visit WHR on Twitter, or visit me on Twitter by clicking the text links or images avatars in this news story. I and TeamWHR look forward to Seeing You on The Other Side!"
PBMom