CARSON BECKETT: How come I never make friends like that?
RODNEY MCKAY: You need to get out more.
CARSON: We're in another galaxy.  How much more out can you get?
KAROLINE ANDREW: Ok, not so much another galaxy, but another country!
Hi Everyone!
My name is Karoline Andrew also known here and on Twitter by my pen name JohnLizzieGirl. I am a new contributor to WHR from the United Kingdom. I am thrilled to have been asked to report on one of the things I love most: going to conventions!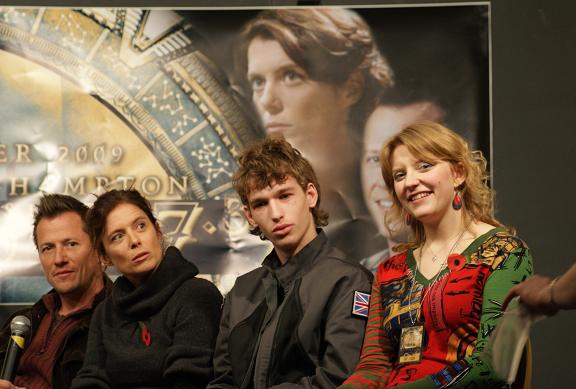 A brief introduction to me:  I live in the East of England, putting me in a brilliant position to attend many conventions and events around the country.  I recently graduated with an Honours degree in Performing Arts.  Incredibly, I was lucky enough to write my dissertation on the Ethics of Science Fiction, which I am now planning to expand into a book.  I am an eight year veteran of conventions, in the UK, USA and Canada.  I was asked to contribute after the event had finished, so I had not taken detailed notes, but at future events I will be able to report in more detail.
This particular convention was brilliantly run by Massive Events, the convention running arm of Showmasters UK. Guests were Torri Higginson, Rainbow Sun-Franks, Corin Nemec and David Blue.  Yes, you heard me, David Blue!  It was a brilliant move for Massive Events to engage David Blue for his first dedicated convention appearance.  I'm going to be focussing mostly on David in this report, as with this being his first appearance he created a big stir!  Excitingly, two days before the convention, Massive Event's announced the addition of the authors James Swallow and Peter Evans.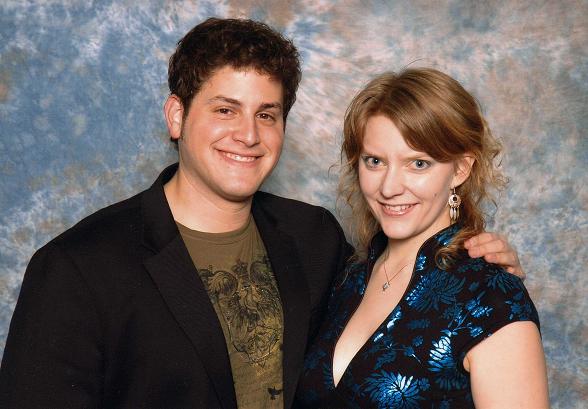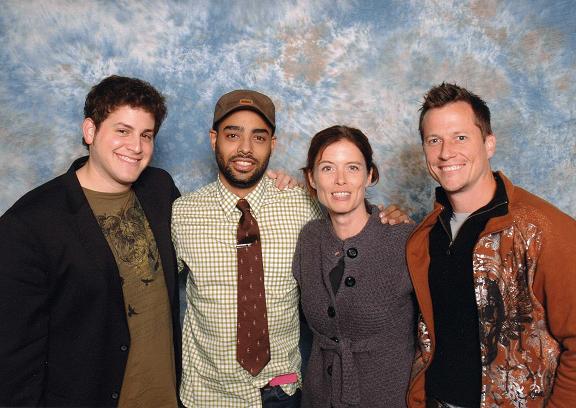 There are a few interesting differences between Creation events in the US and Massive Events conventions here in the UK which will be highlighted. Firstly, whilst being billed as a three day event, the 'action' only really happens on the second and third day (Saturday and Sunday).  Friday is reserved for registration, indulging yourself in the dealers room, an opening ceremony followed by a drinks reception for gold ticket holders, and a themed party for everyone which the guests occasionally attend.
Secondly, these evening events are another difference between US and UK events.  Whilst Creation have regularly had a Cabaret night at their events, Massive Events have always had themed evening parties which are included in everyone's ticket.  This year, Friday's party theme was an IOA Ambassadors Reception, Saturday's a Primitive Worlds party and Sunday's was 'Lost In Space: Arrival on the Destiny'.  One of the great aspects of these parties is Con Dancing, where the attendees get up on the dance floor and dance away to favourites such as 'Doctoring The TARDIS', 'Star Trekking', 'YMCA' and '5,6,7,8'.  Creation seems to be adopting more of these evening events with the introduction of karaoke nights to accompany their cabaret which can only be fantastic.
The convention kicked off properly at 9am on Saturday, with most of the guests in the main hall at their desks for autographs and one guest stepping out at a time in order to do their professional photo shoots with the fans.  The afternoon was reserved for guest talks and quizzes, there were three slots, two with all four guests on stage and one with David Blue on his own.  The programme worked very well, especially considering that most of the time the four guests were on stage at the same time, with a good balance of conversation between them and answering of fan questions.  I have to admit that I do not remember much from the panels as I was busy clicking away with my camera!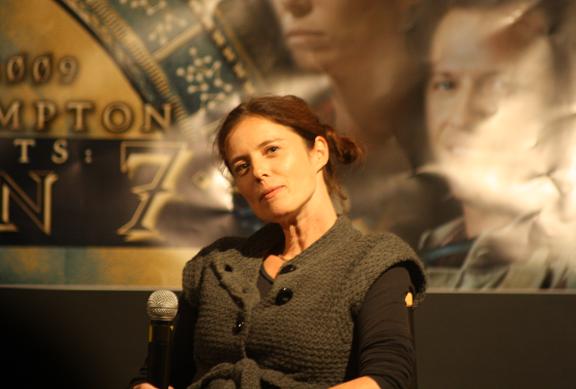 A major buzz for me at this convention was that I was invited up on stage to participate in the quiz with the guests!  I've always been told never to volunteer for something if you don't know what it involves, however, I couldn't pass up the opportunity to do something like this with some of my favourite actors!  And so I jumped up on stage with another fan and was put on Torri and Corin's team while another two lucky fans joined David and Rainbow as the opposition's team.
The quiz was made up of three parts, the first was Stargate Pictionary, where each team member draw a clue at random and then tried to draw it well enough for their team mates to guess.  Torri started off fairly well, however when we failed in the first couple of guesses, she started drawing something else entirely!  Sedgewick!  It wasn't the clue, but she felt like drawing her!  We eventually guessed what she was meant to be drawing, a Kino, and she thanked David for describing it to her earlier since she had no idea what it was!
The second part was acting out scenes from the show.  We were split into pairs, the two fans and two actors, with one set having to guess what scene the others were portraying, including characters and episode.  Torri and Corin spent their turn hugging with Corin doing a Scottish accent, looking at us frantically as we deliberated which scene they were showing us, however we eventually guessed it as the final scene from Atlantis' 'Sunday'.  My fellow fan team-mate and I were given a scene from Atlantis' 'The Rising' between Colonel Sumner and the Wraith Queen.  Our team guessed all but Colonel Sumner, this was extremely funny as they dragged out their guesses, while Rainbow bounced up and down in his seat with the answer.
The third part of the quiz was general knowledge, where we had to shout out our code word before the other team in order to answer the question.  I actually go t into a debate with Rainbow when I answered a quote question and he disagreed because he could remember it from his script!  Anyway, despite Rainbow 's comical attempts at cheating and fiddling the score, my team won, and along with the batch of Universe 8" x 10" glossy promotion pictures we were given! We got hugs from both Torri and Corin!
What made this convention unique was the addition to everyone's tickets of the, perhaps on reflection badly named (considering fangirls), 'Intimate Encounters' with each of the four main guests.  Previously, there has been a bidding system to decide which lucky ten attendees would be able to meet the guests for a twenty minute 'coffee break'.  This time however, because of the attendance level for the event, Massive Events divided everyone in to eight groups and each group had an encounter with every guest.
Attendees became very excited at the prospect of the a nnounced 'Intimate Encounters' with guests.  Luckily, Massive Events realised these may have been inappropriately entitled and renamed them 'Guest Encounters' – a lucky escape for the guests!  However, there was no need to bid on the chance for these 'Encounters' as Massive Events organised everyone into groups so all attendees had the opportunity to meet each guest in a more personal way.  Personally I found these Encounters were a highlight of the whole weekend.  If you are lucky enough to find your self in a friendly, sociable group then the guests quickly relax and will happily interact with you, however, if the group is less forthcoming, or as in my group, fans from France with limited English, then it is a perfect opportunity to 'hog the floor' and ask all those questions you have been bottling up!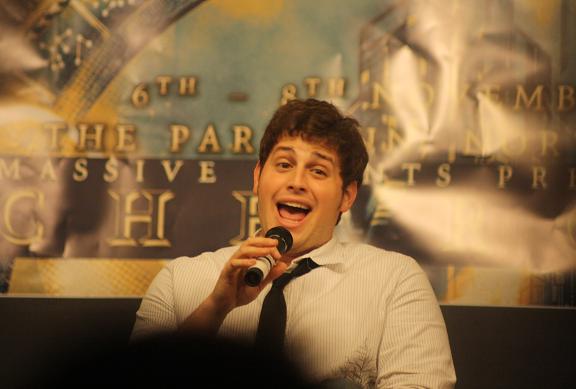 Prior to the event, I was most looking forward to Torri and David's encounters, then happily found I was delighted by both Rainbow and Corin's encounters.  Rainbow was charming and funny, filming each group as he came to the table, then he came and sat next to me. Corin came in and circled the room, touching a few people on the shoulder and greeting everyone before also sitting down next to me!  Suffice it to say, I was a little excited!  Rainbow spoke about how he got the audition for Aiden Ford as well as his feelings after he left the regular cast, adding that  he hadn't felt able to do conventions since then, as he found them upsetting. Rainbow also revealed that he was a huge fan of comic books, with his favourite character being. He revealed that his father had inspired this passion by having a classic set of comics fully bound in a custom hardback cover Rainbow took the time to speak in great detail with many individuals in the group.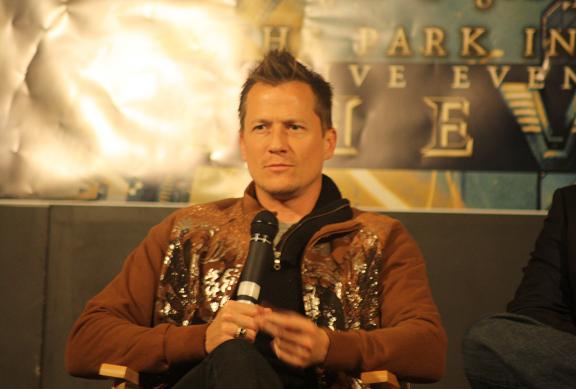 Corin was utterly charming, fielding questions about both his role on Stargate and other roles in films such as S.S. Doomtrooper.  While he said he never really regretted doing a project, he did make the tongue-in-cheek comment that he should have foretold how successful some projects would be given their name, e.g. S.S. Doomtrooper!  However, work is work and he counts it as a learning experience. (We should all be so lucky!)
Torri was delightful, bouncing into the room with a coffee and sitting so she co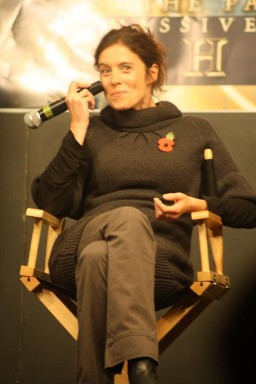 uld see all the group, asking how everyone was.  We said "cold" to which she replied that this wasn't cold, Canada was!  She went around the table and asked everyone where they were from and when she got to the fans from France, she made a sincere attempt to involve them more, however found it difficult to get past the language barrier. She spoke about her recent work on Stonehenge: Apocalypse, and how she enjoyed working with Supernatural's Misha Collins, despite how funny she found it acting next to a wooden Stonehenge that wobbled every time you walked past it.  She told us she had been very busy in her garden and walking her dog 'Sedgewick'. Torri related the story of finding the stray dog abandoned on the streets, just skin and bones, adopted her and nursed her back to health.
Torri thought Sedge was a Whippet when she saw her, only realising later on she was in fact a Labrador mix!  She was asked whether she would contemplate joining Twitter, but charmingly said that she couldn't imagine her life being very interesting for anyone, especially as she's mostly been gardening lately. However after much persuading from the group she said she would consider it.  Just as she was told she had to leave, I asked a quick question which she seemed more than happy to answer, in fact, she fell back into her chair and sprawled over the table top!  I asked whether there was any chance that we might see her in the theatre any time soon and she replied saying that she loved live theatre and would love to get back into it however it was a case of finding the time to do it.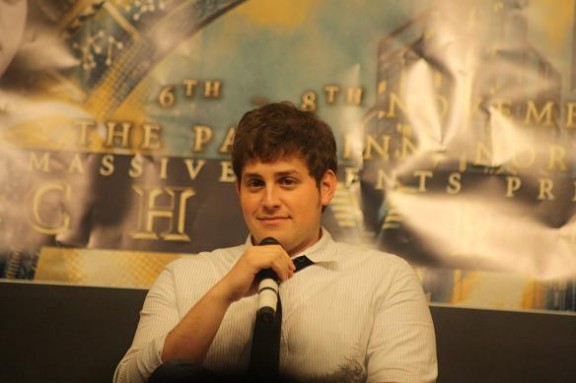 David Blue was our first guest encounter of the weekend, so as you can guess, we were really excited and honoured to be the first to sit down with him.  Having followed him since the beginning of the series on Twitter, it was great to meet the man behind the avatar, and meeting him seemed like meeting an old friend – he fitted right in with the attendees!  He was charming and relaxed, making it hard to believe this was his first dedicated convention.  He told us about being a geek all his life, and gave us an insight to his personal 'Geekdom', reeling off the names of shows he liked to watch, with his absolute favourite show being Star Trek: The Next Generation – even going so far as to have a self- designed Star Trek Murder Mystery weekend for one of his birthdays, including drink bottles covered with labels which said 'Synthehol'!  He said that while he was hosting the party, he went to the bathroom and had a random thought about how he would feel if he was suddenly beamed up to the Enterprise's bridge in front of Captain Picard and the whole bridge crew.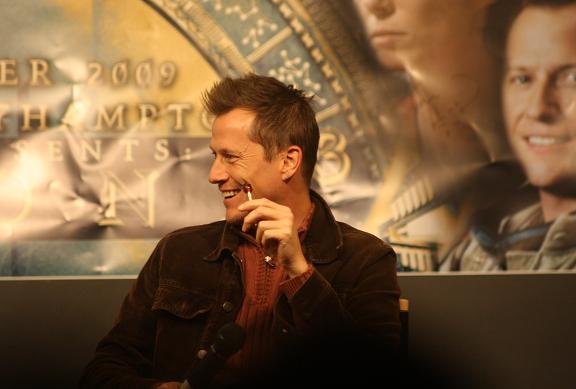 No sooner had he had this thought than his entire neighbourhood blacked out and he thought that it had actually happened!  We also talked about his roles on Ugly Betty, Moonlighting and a little bit about Stargate Universe.  When he was asked whether he had 'acquired' anything from sets he had finished working on, he replied that he hadn't but he wished he had taken his character's coat from Ugly Betty and that he would like to acquire a Kino by the end of Stargate Universe.  In view of the turbulence that ensued from the cancellation of Atlantis, and Universe's go-ahead, it was endearing to see how appreciative he was of people's support and valued their opinions of the show. The new 'kid-on-the-block' did a brilliant job of winning people's hearts and minds!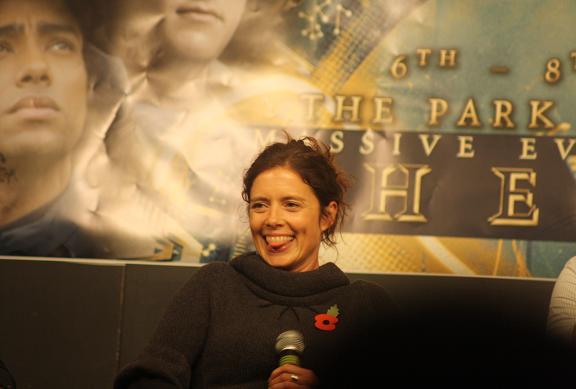 Here endeth the first installment from the UK.  I hope I have managed to highlight some of the
differences between US and UK conventions and some of the excellent arrangements provided by Massive Events.  In future I will be reporting in more detail and look forward to the next convention to which I shall boldly go!
JohnLizzieGirl