The first panel MeaganSue and I attended at the Creation Entertainment 2009 Los Angeles Farscape Convention was that of David Franklin (Farscape's Lt. Bracca).  Mr. Franklin appeared on November 06,
2009 at the Marriot hotel near the Los Angeles International Airport also know as LAX.
As is standard WHR practice my report is quoted as much as possible in paraphrase format. However due to crowd noise it is virtually impossible although achievable task of capturing and transcribing all the notes from the panel appearance of David Franklin. These areas of the transcription will contain in brackets the phrase [inaudible] to denote such sections where transcription was not possible.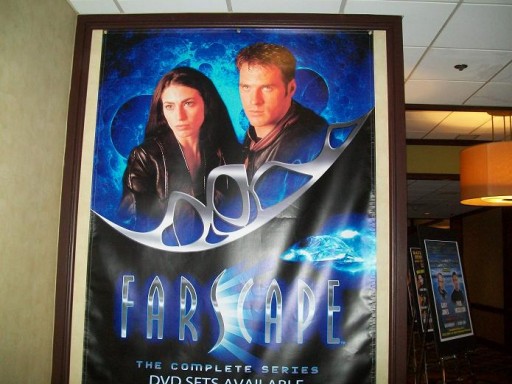 Additionally WHR suffered a camera failure (mine) during this panel which plagued the WHR team the entire weekend. WR_Systems (Kenn Weeks) was not aware of the failure at the time due to his attendance at the parallel 2009 Stargate Convention held at the same venue (location).
Subsequent panel reports will include pictures of the panel guest quests as MeaganSue , WR_Systems and I compensated as much as was possible. Therefore photographs of the actual panel appearance of David Franklin are limited. WHR has substituted other FSCon photos to supplement this report.
Below is the detailed report of David Franklin's panel appearance.  David's appearance was a shorter panel, only about 20 minutes. Nevertheless, I hope you all enjoy reading about David's appearance at the 2009 Los Angeles Farscape!
David welcomed us all to his panel and wished everyone a happy ten years, then jumped right into the
Question and Answer (Q&A) portion of the panel, rather than talking first as some of the actors choose to do.
His first question was, "Your character gets beaten up quite a bit by lots of other characters and I was just wondering if there was ever a moment when you either you got hurt or really wanted to whack one of them back?"
A: There was one time I really wanted to…one time I really wanted to whack someone because they were such a bad actor! (a lot of people yelled out to ask who it was ) The producers seem to have a passion for hiring talentless people in particular…Oh you know they were hot! And there was once scene where I go *pow*. Anyway that was the only time. And I remember 'cause, uh, anyway, yeah. I've said too much.  I wish them well. But being with this person in the scene…I wasn't happy.
Q: What are you doing now?
A: What am I doing now? I'm living here in Los Angeles. I just signed with William Morris to perform voice-overs. It is a good thing.
Q: Anything active? Is there anything of interest of a more recent nature?
A: Yeah, I did a pilot, a comedy pilot but it was not picked up. (Everyone awed at this.) Well, you know…A talentless French chef with his own TV show. And I did some sketches on Jimmy Kimmel.  Oh and Watchmen, you know the movie Watchmen? I did voices for that; for the animated stuff. And for…I can't remember what the movie's called. That movie.
Q: I was rather curious –
A: About my cabaret tonight, is that right? Part two of my cabaret is tonight – it's the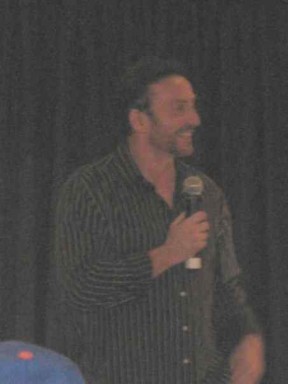 opening night – and the closing night. So I hope you can make it. Now part two of your question…
Q: That's the question. I was wondering if you were going to do another sensational, fabulous, show?
A: That's the plan.  Part two. And it has a story to reach everybody. Not just us here.  It's universal.  And when I say 'universal', I mean universal.  It's about the recession affecting Farscape characters – one in particular. And also, there's a very special guest star. All I can say…No I can't say it. So yeah I've been working on that, writing that and stuff. Thank you very much.
Q: When you're out of LA, what do you do for fun? When you are not working?
A: I go to Mexico. I've situated myself so that if I'm interested in getting shot at, I could shoot back at one of them… (inaudible…something about a finger-playing class) I had a fight with a mandolin. Yeah, it won. But I went back to the class. They already did the review. (People are told that there are mics at the side for Q&A – David jokes about being on Saturday Night Live.) Questions, questions? Anything? I'm here for you!
(David is asked more about his cabaret)
A: Well I can't say too much about my cabaret. Just that there's an extra special guest that you'll find intriguing.
Q: I saw you at the bar a little bit earlier; how much did you drink? I'm joking. It's cool by now, but…
(David's answer was inaudible but something to the effect that he was a bit tipsy.)
Q: The answer is "not enough".
A: Exactly.
Q: Julie wanted to know what it was like to kiss Wayne Pygram.
A: Well actually Wayne Pygram kissed me. It wasn't icky. It was kind of Godfather-y. It wasn't like, you know, sensual – from this area. I don't know, maybe it was.
(Question inaudible – had to do with Rebecca Riggs.)
A: Um, Rebecca, who played Commandant Grayza, we would have a lot of time together doing scenes. It was pretty tedious and all. And it would be her and I together and while they were setting up for the next shot, we would play around and joke and have a lot of fun.  And one time she said to me, "Are they evil?" referring to her breasts. And I thought, "Okay, I better go along with this…" I said, "Yes! They are malevolent!" She said, "No, are they even."  And they'll be here! Rebecca and her breasts will be appearing tomorrow. And Grayza and her breasts will also be appearing tonight too, I believe! Wow, so many special guests. And their friends.
Q: What was your favourite rank for Meeklo Bracca?
A: Admiral. Yeah he started as an officer for Scorpius, and I thought he would get vaporized every episode. And they liked what I was doing, so they kept me around. Then they axed the show just when Bracca was going to get his own back story.
Q: Do you know what the back story is?
A: I know what the front story is, and you'll be learning more about that tonight at the cabaret show.
Q: In the spin-off Bracca series, we'll have one.
A: Oh there'll be one. (inaudible) Three cameras, too. Well, maybe one camera. Anyway, he was didn't get killed off, he kept living and so he was an excellent politician to survive in that world. And he did. And he thrived and he was a, well, Captain in the end of the television series, but in my series he became an admiral.
Q: What was the most physically demanding thing to do?
A: I can tell you my most physically fun thing to do. A girl came on the show… No it was in the episode of
the show. It was made into two parts. The Bride – Princess Bride? (Everyone yells "Look at the Princess".)  And there's that fight with Crichton, right? And then Bracca jumps out of the spaceship and ends up in deep space. And you can't tell who it is but it's me. I was in a rig where they hook you up and you can spin (he moved his hands demonstrating a spin) and it was really fun.  (inaudible) Yeah there was some bashing up in the show, wasn't there? But I'm a real klutz.  I'm serious, I'm really really clumsy. If there's props to break, I can break it. If there's anything to break, I can break it.
Q: Were there ever any interesting stories about your audition process?
A: I just went in and talked to Prowse and it was just a chat.
Q: Just a basic question – where did you grow up and go to school?
A: I grew up in Armidale, between Sydney and Brisbane. I went to Armidale High School, a rather nice school. It was a nice place to grow up. University town so it was like in the middle of the country, but it had a university, so it was a pretty good mix.  I remember I did a television show when I was fifteen called Loss of Innocence. (An audience member yelled out that this was not the original title.) It was the original title.  I remember it was like a big deal, like, especially in Armidale. Local boy makes good.  I was fifteen years old and they came to interview my class, for a radio station. I was so embarrassed! I ran away. I'm serious, I'm still running. Did you see that show?
Q: Hi David. In all these years that we've all been together in these Farscape conventions, what are your thoughts about the convention?
A: It's fun! Great fun! I wouldn't be here if I didn't like it. I love it. It's great fun to catch up and I've realized that we actors are peripheral, too. You guys all catch up and we all go, "Look at me!" It's great fun, it's great fun to see everybody again and put on the cabaret show. Very fun, very fun, a lot of fun. I love it. I'm assuming it's the same for you, otherwise you wouldn't be here.
(No question, so David joked, "If I could ask myself anything, what would I ask?")
(Audience member yells out, "And you have to answer!")
A: I just did. Any newbie questions I can answer? I'd be happy to answer anything. Anything…within reason.
Q: What was your first convention like?
A: My first one was… I'll tell you the first time I met a fan and I was much more excited than they were. And she was a waitress in a coffee shop and she said, "Oh, you're in Farscape." And I just kept going on and on, and she said, "I have to get back to work."
Q: Did you have any funny stories to relate, from all these years that you've been coming here to these conventions, did you have anything funny happen?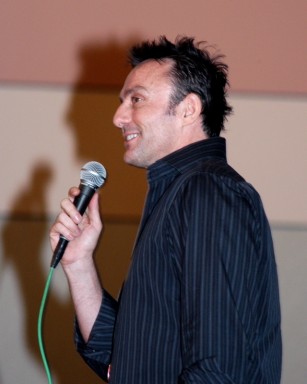 A: Nothing funny ever happens. Nothing interesting ever happens… It's fun! We have a great time! And it becomes a little social club. Nothing funny in particular, it is like we kind of have a history now. We all sort of know each other a bit. Hey, I can speak now. I had an operation two years ago to shorten my tongue. It was too tremendous. It's true. But then they damaged my nerve (shows by speaking in gibberish). So it took a couple of years to get my speech back to what it is now. Someone's phone's going off and it's not mine! Whose is it? (Someone yelled "It's over there!") Him! That's really irresponsible (laughs), really irresponsible. (Audience member yells that it's probably her daughter.) Oh she's trying to embarrass you. (He took the phone away.) You'll get this back after class. Don't worry, I'll embarrass you, anyway.
Q: You know, as far as fan base, you were big in Australia.
A: No I wasn't big in Australia.
Q: Farscape was a great show and I figured it was big there and then we got it.
A: No. It had financing from channel nine in Australia. The dollar exchange was very good in those days, so you got a lot of bang for your buck. You had great crews and very good casts. And we really had a tremendous input into the style of the show, which I think added hugely to its uniqueness because Australians have a very irreverent and slightly off-beat perception of things. But channel nine really wasn't interested in screening it because in Australia you have to apportion a certain percentage of your earnings if you have a network into Australian content and this qualified as Australian content, so that got their financial obligation out of the way but they didn't really care what they did with it. It was on during the Olympics and they put it on when the tennis was on. And then I saw my colleagues' props for sale in a second-hand store on Paramat (sp?) Road. Yeah, I should've bought them up. I'd be rich! Yeah they weren't going to bother anymore. Because they couldn't get a following – nobody knew about it. Yeah they have reunions in Australia…OzScape. Or you mean TaScape? I've been to TaScape in Maroubra Beach. But I've never been to Europe. I've been to Paradise, but I've never been to me. We'll be touching on that a little bit later in the cabaret.
(We're told the time is up for the panel. 🙂
A: I'm done? I'm done? I'm just getting warmed up! Well, who's coming to the cabaret tonight? (Cheers and applause.) Don't forget, there's a special surprise guest! And have a great convention everyone! So good to see you all again! Thank you so much everybody.
**Just as a side note, David's cabaret was actually really good. He did a lot of singing – including a great impression of Elvis. His story was about Bracca's life in the recession, as he marries Grayza and they try many get-rich-quick schemes, which inevitably fail miserably and hilariously. By the way, his "special guest" was a toaster.