Hi Stargate, Sanctuary and Ryan Robbins Fans,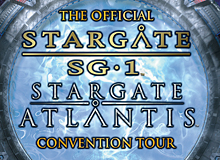 The first panel stage guest to kick off the Creation Entertainment Stargate convention on Friday November 06, 2009 was Ryan Robbins! Best known by Stargate Atlantis fans as Ladon Radim and more recently in Damian Kindler's / Amanda Tapping's hit series Sanctuary as the now famous Henry Foss, Ryan entered the stage quite literally to a roaring round of applause! My report on Ryan will focus exclusively on Mr. Robbin's panel stage appearance at the Marriot Hotel located only a few minutes away from the Los Angeles International Airport.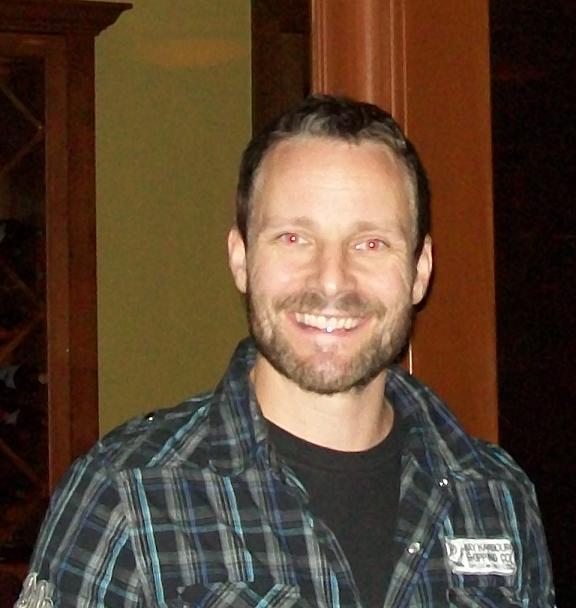 As with our previous reports about the outstanding talent Creation Entertainment lines up, we will quote Ryan as much as is possible. Items lost due to the crowd hoots, woots, and hollering make direct quoting virtually impossible in some instances. This report uses our standard paraphrased quote format news reporting.
Such will be utilized throughout. Fortunately the notes provided much stimulation to my memory regarding Ryan Robbins guest panel stage appearance and made writing this report a delight as my memory recalled the fun we all had that day with Ryan.
As we have previously reported, with all the other activities at WHR, we had a requirement to post Martin Gero's quest panel appearance first (out of appearance order to support Stargate Universe), we now resume panel order from the Los Angeles Stargate 2009 Convention from here on out.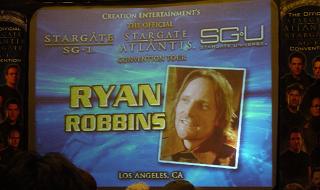 Subsequent to when the din from the crowd thankfully died down, Ryan immediately went into discussion of high jinx on the set of Sanctuary. As I have learned, this subject is a fan favorite. Fans love their stars, but convention goers are always interested in behind the scenes action of what makes up the "real life" when filming their shows.
As those whom are familiar with Hollywood productions, or should I Vancouver-Wood where so many television series and movies are actually shot these days, until a star is needed for his or her sequence, they have a fair amount of time to study lines and just hang out until they are called to the "set". The sharing of these experiences make these reports all the more delightful.
Billed as a Stargate Atlantis star at Creation's event, I have come to find out that Henry Foss of Sanctuary is far more beloved that Ladon Radim. And why not? Ryan's role in Atlantis was not that short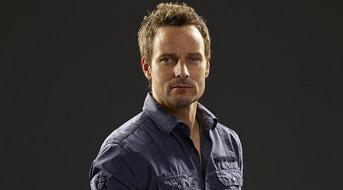 lived, but only lasted for a bit, while his Henry Foss role is featured virtually every episode of Sanctuary. Therefore the question and answers started with a particularly funny high-jinx played on Ryan Robbins on the Sanctuary back lot by Robin Dunne who portrays Will Zimmerman on Sanctuary.
First Fan Questioner: "Were there any jokes played on you during filming of Sanctuary?"
Ryan Robbins: "Yes. Robin Dunne had a new video camera for filming some Sanctuary behind the scenes clips. I saw him come running out of my trailer with his new camera. Robin had decided to use a jar of Nutilla peanut butter and smeared it all over the toilet!"
Crowd: Oh my god and oh no's. Many were laughing hysterically, including me despite the potty humor perpetrated by Robin Dunne on Ryan Robbins!
Ryan Robbins: "Your reaction is a lot nicer than mine was! Not very easy to clean up either! So I waited for about three weeks to get even. Then I went into Robin Dunne's trailer and hid all of his clothes!"
Crowd: Much laughter!
Ryan Robbins: "So imagine Robin Dunne walking all around in only his socks and boxer shorts when we heard him screaming 'has anyone seen my pants!?! '  So that was how I got back even with Robin Dunne".
Crowd: Much laughter.
Ryan Robbins continues: "So anyone who has wondered why my fingernails are painted black? My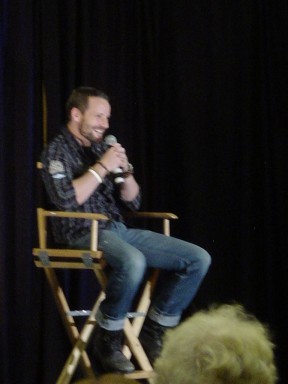 daughter wanted me to go with her on Halloween last week and I did not know what to be, but I did have vampire teeth from the TV series [… missed cannot remember the series name…] where I played a vampire. They had these teeth made for me that are insanely cool. But I did not want to be a vampire. Everybody is a vampire [on Halloween]. So I decided to be a pirate, a 'Vampirate'! That's how I got black nails and how I was a vampire and I do not even own nail polish. So I am just going to have to live with it or smash every finger I have!"
Crowd: Giggles and laughter.
After this the crowd was a bit overwhelmed by the frankness of Ryan Robbins. As we have previously reported by SciFiFanGirl616 this was Ryan's first convention appearance in two years and his first ever in the United States. As such Ryan was a bit of an unknown to the Los Angeles convention attendees and the interaction was at first clumsy as the regular attendees in Los Angeles needed to learn how to warm up to him and for Ryan to warm up to the crowd. Ryan sensed this and then asked:
Ryan Robbins continued: "So [does] anyone have any questions?"
Next Fan Questioner: "What kind of abnormal is Henry [on Sanctuary]?"
Ryan Robbins: "We call Henry a Protean. When Henry starts turning into an abnormal, the expression used is going [comment not captured]. I do not know why. Effectively Henry is a werewolf but like the Egyptian god Anubis. You know with the big sloped kind of head like in the mythology?"
WR_Systems shouts out: "We [Stargate fans] don't know anything about Anubis Ryan!"
Crowd: Breaks out in raucous laughter.
Ryan Robbins: "You know nothing about Anubis eh? [Chuckles] Well that was the original idea to have the elongated Anubis head for Henry. It happens when there is a full moon and so don't make me [Henry] angry! Did you guys see that episode?"
Crowd: Yelling and screaming in the affirmative.
Ryan Robbins: "You know it is supposed to be a closed set location outside. So there we are outside and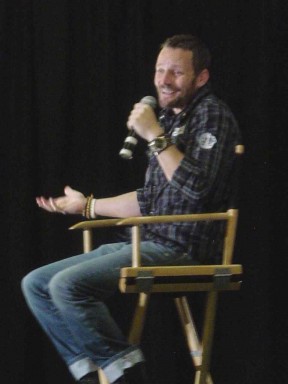 there is a microphone floating above for sound and I guess it was already warmed up and I said this is "F'd" up [censored] cause I was virtually naked when our lovely staff line producer had decided to arrange a set tour [at NorCo Studios location shoot] that day!  I said 'welcome to Canada as I was nearly naked!' It was awesome [tongue in cheek]. There I was on the grass bleeding with all these fans watching! Yeah well, that is how our show works."
Crowd: More raucous laughter and applause.
By this point the convention attendees and Ryan had broken the ice with each other. The fans in the audience where now much less shy about getting up to the microphones and asking Ryan questions.
Next Fan Questioner: "I love you on Sanctuary and I think you are adorable, honestly. I was wondering is there going to be any romance in Henry's future."
Ryan Robbins: "He really does doesn't he? Episode seven [Veritas] is a great Henry back story show. This episode alludes a bit to Henry's relationship issues. So there is something in that. There is this funny rule in television where you know where the hero's are never truly happy with their lot in life. Or so the writers keep telling the actors. 'Ryan pretending to be scriptwriter: We may let you be happy for an episode or two!' Henry is not really smooth with the ladies, but I got a smooch last season.
Crowd: More giggles.
Ryan Robbins: "So you know that is how it is and I am hoping Henry gets a little more action this season. I am in for it and thank you so much for the question. Anyone else with a question?"
Next Fan Questioner: "What do you find unique about working on Sanctuary?"
Ryan Robbins: "Thank you. I think on Sanctuary because it started as a web series, it really is a family
environment there. It may sound like a cliché' but it is true. Sanctuary became the little show that could [referring to the old children's tale about the 'little train engine that could']. It is about a bunch of people that got together for the sheer love of it. That is how it started as an independent film project so everybody put their heart and soul into it. The show does not have a lot of money, so we appreciate the fans that stayed with us from the web series. Lots of great fans. They enjoyed the power of new media on the web that has helped the show.  We worked to get a great network and now that has happened with [SyFy] we are in 80 countries now and it is really give me a sense of pride having been there from the beginning. I love it, it's the best I have ever had."
Next Fan Questioner: "You do a great job in both Stargate Atlantis episodes. I have a two part question on Sanctuary: 'First is a follow on about the question about the romance for Henry. Being that you have the werewolf half is that going to be good? Do you think they will work that into the story?"
Ryan Robbins: "Well about the whole 'Werewolfy-ness', episode seven alludes to that because it has a lot to do with Henry as an abnormal. It is a good episode, a Henry episode, so it was a lot of fun."
Same Fan Questioner: "My second question is about working with Amanda Tapping. Is it the same or is it different on Sanctuary, you know the family part?"
Ryan Robbins: "Well it's funny because I did not know Amanda and had never worked with her before the web series for Sanctuary. Our paths never directly crossed on [Stargate] Atlantis. But I knew Amanda socially. You meet a lot of people in the entertainment business that make a good presentation of themselves. But every so often you meet somebody like Amanda Tapping who is special, who are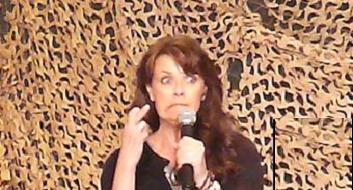 really genuine inside and out. Amanda is like that. When you show up at work, Amanda is so real. She is the star of the show and knows that all eyes are turned on her. Yet she still gives that crazy Amanda Tapping smile that sets a tone and everybody wants to do a good job. When she directed, man, we were under budget, under time required; we had like an eight hour day! That is unheard of in this business when normal days are 14 hours or longer.  That is a statement on how hard everyone wants to work for Amanda. That is how good she is. I could go on about Amanda forever!"
Same Fan Questioner: "Where did you meet her, what is her personal background?"
Ryan Robbins: "Well in England. She is from England you know. I met her there. I think she speaks part French. So many people speak more than one language, but not me. I do not even try to speak with her in French. All I speak is English and gibberish! Sorry."
Next Fan Questioner: "I here you are working on a new web series called 'Riese Series', can you tell us about that?
Ryan Robbins: "You mean that show?
I recall that Ryan was wearing a t-shirt with a logo emblem on it at which point he showed the new shows t-shirt proudly. Many in the crowd and all of us on Twitter know about this show and Ryan's announced role in it. The crowd once again broke out into hoots, whistles, yelling and screaming in support as he posed in several funny ways for the audience!
Ryan Robbins: "You mean that show? Yes, I was just signed on to work on it. It's awesome and is a webisode based series [much like Sanctuary was]. I know the people making the show and am in awe of what they are doing. The potential of the how and the way that it has been marketed and the writing is amazing. When I was asked to be part of it, my decision was a no-brainer. My role is outstanding not like any I have been playing lately. I do not know if you are aware of the series, but you can go to the web site (http://www.riesetheseries.com/ ) and check it out. I think it is going to be huge and I am happy to be part of it. I start shooting at the end of November this month and I think they just showed the first webisode or are going to.
WR_Systems: "It was just this week."
Ryan Robbins: "Oh thanks, that's right. I had watched it [before release] and it was awesome and cannot wait to see the next one so I am very excited to be part of it. It has an amazing cast with Ben Cotton, Christine [… last name of cast in low voice – could not capture …] Shannon Taylor and Patrick Gilmore [of Stargate Universe]. Hey does anyone watch Stargate Universe?"
Crowd: Many applaud and yell yes we do, but a one fan said no.
Ryan Robbins: "Does that make you uncomfortable [looking at a fan who said no]." Ryan then said that Patrick Gilmore was is the back of the room and gestured towards him. "Do you want to say hi?" Patrick said hi to a round of applause. "I just had to Patrick. He and I are going to hang out later tonight with the fans at Karaoke. He and Peter Kelamis are going to be my posse! They are way funnier than I am. So what else do we have?"
Next Fan Questioner: "Can you tell me a little about your work on Atlantis?"
Ryan Robbins: "Sure. I was supposed to die like in the second episode. But Martin Wood said 'Nawww, I like your character, so no you are not going to die. I liked that. So I got to hang around the series. Then in one episode I got like shot through the Stargate. And it is just a set, they is nothing on the other side, but it was cool. Then Robert Davi as Kolya was supposed to come on the show to take the place of the bad guy to replace the one that was to get killed [Colm Meaney] and I got the call and they said do you want to be the leader of your people [the Genii]?I said yes, YES!. I got the opportunity to sit with then for days; I mean their two resumes are just amazing. It went from there and they just kept bringing me back. They gave me a lot of freedom because Ladon started as a scientist, but now he is going to be the leader of the Genii.  So what do you do with that? We had a lot of fun playing with that type of leader and how that was going to work out. Can they trust this guy [meaning the folks on Atlantis], although Ladon is definitely doing the right thing for his people. So that was fun and was how I met Martin [Wood] for the Sanctuary show. But it was my first steady show and as for the Atlantis show the people were just having a lot of fun! A lot of those actors are still good friends of mine to this day. It was a great experience you know but was bittersweet mostly because I was not there anymore. So I was like …. "
Next Fan Questioner: "How are you going to be able to do both Sanctuary and Riese?"
Ryan Robbins: "It is crazy but Sanctuary is on Hiatus now and there is no conflict at the moment and I am also shooting for Caprica right now. When I finish Caprica it will be in time to do Riese so timing is perfect. Riese Series is a webisode so you can shoot many at a time so it makes it easier. But I am just going to be very busy going to work on Caprica, then shooting Riese
Next Fan Questioner: "Is your beard for one of them?"
Ryan Robbins: "Yes, they made me grow a beard for Caprica. It is very different from anything you have seen me do. It is nothing like you have seen me do before. I thought that would be a problem because it happens before the BattleStar Galactica story, and they were thinking of bringing in some BSG characters but they decided against that to do a fresh new story. Eric Stoltz who I am a big fan of requested that I appear in Caprica, but he had to put up a bit of a fight. He finally cleared it with them and that is how I got the part. The network was more concerned about Sanctuary than Caprica because the guy I am playing was just not Henry. He did not look like Henry or act like Henry, so I am playing a dangerous dude in Caprica. So now during Sanctuary hiatus I get to play a couple of very dangerous dudes. The character on Riese is a very bad guy, lots of fighting."
Crowd: More giggles and chuckles about Ryan playing the bad guy.
Ryan Robbins continues: "It is kind of like last year's Hiatus when I played the character Charles Manson in a film. What an interesting life I have to go from Henry to Charles Mason! I play Henry all year long and then on hiatus I go play bad dudes. I love my job!"
Next Fan Questioner: "Hi Ryan. Two things. First can you talk about your jewelry?
Ryan Robbins: "Wow, yes I errr. Wow, now I am going to be embarrassed. My jewelry, yeah let's talk about my jewelry. It has been the topic of conversation at a few places I have been. I have [body] piercings. I had my nipples done and pierced. It happened for a show I did called 'The Dark'. On Sanctuary the one show it was visible so I cannot tell you more that what you saw there."
This was a question known to fascinate the fans and the audience was very quiet during this period of the question and answer provided.
Same Fan Questioner: "Did it hurt?"
Ryan Robbins: "YES! It hurt a lot!"
Same Fan Questioner: "Well sorry that is not what I was talking about, I was simply asking about your wrist watch."
This fan had totally set Ryan up getting the answer to what she really wanted while appearing to be asking an 'innocent' question. The crowd erupted in total hysterics for over several minutes, perhaps
nearly five in total. Everyone in the convention hall simply roared with laughter at his predicament! I also clearly remember Ryan putting his head into his hands knowing he had been trapped by an agile fan. He took it quite well considering the fan had totally set him up for a fall. Ryan shook his head back and forth as well, looking behind himself on stage for a place to hide! However it was obvious Ryan was simply planning for a comeback to this sly fan of his! I was certain that he needed a little time and encouragement to launch his retort, saying in a very loud voice:
WR_Systems: "It is okay Ryan. You did great!"
While mustering his composure, I remember Ryan feigning like he was hiding behind the podium on stage looking down. The great performer that Ryan is, he was clearly having fun acting out this little play for us on stage. Then he stated:
Ryan Robbins: "Next question!"
Crowd: Laughing continued as Ryan played the laugh lines to the hilt!
Same Fan Questioner: "Are you still there? "I was only referring to the jewelry around your wrist!"
Ryan Robbins: [Resigned to his fate] "Yeah right, go on, but I'll get even with you too!"
Ryan returned to his directors chair on stage but put his head into his hands again as the   laughter grew to an even higher pitch! I heard several fans close by say "poor guy", and "I like where you went with it!" The laughter continued and then a revelation"
Ryan Robbins: [admitting] "We know each other!" [It had all been a total setup].
Ryan then went on to describe the watch and that he was having a necklace made by the same manufacturer. Although a complete setup to amuse the fans, the two [whom I was both to meet later] had played out the stage levity perfectly! It was a high-light of Ryan's appearance, a little more than 60% through his time on stage.
Ryan Robbins: [admitting further] "The watches and other jewelry I wear are blessed by Buddhist Monks and have been given to me by various people. They are very special to me. I wear them everywhere and are important to be, especially the Tibetan beads because I do not like to fly and they make me feel good. Ironically they are supposed to remind me to talk less and be silent which obviously did not work in this instance"
Same Fan Questioner: [now serious] "My other question is can you tell us a little more about 'Leslie, My Name is Evil' referring to the Charles Mason portrayal a year earlier."
Ryan Robbins: "Yes. In 'Leslie, My Name is Evil', I play Charles Manson. I am not sure when it is coming out. I heard perhaps spring of 2010. It is directed by an amazingly talented person [unintelligible – not captured]. It is loosely based on the Charles Manson trial and is also about Leslie van Haughton [co conspirator of the slaughter of actress Sharon Tate]. It is more of a statement film that a biography. It is an interesting idea because we sometimes do not learn from our history [as a society]. History repeats itself over and over again, so it is nice to look at history from a skewed perspective to help us learn from our mistakes. It draws some interesting parallels. People will learn to hate it [about what happened with Sharon Tate]. It was an intense movie and was satisfying to make."
Same Fan Questioner: "I saw it at the Vancouver film festival and thought it was an amazing movie. It displays your real raw talent. You are an amazing actor in whatever you do! It was just incredible."
Ryan Robbins: "Wow. Thank you very much."
Next Fan Questioner: "I really liked you in the "Guard". Is it done or will there be more episodes of it?"
Ryan Robbins: "Well thank you. Yes it is done. It is airing now. I think the last six or seven episodes. Not everyone here knows, but it is a show I did in Canada. It was a really fantastic show, but it is done. "
Same Fan Questioner: "Well I watched you in Sanctuary and Atlantis and enjoy you, but in 'The Guard' it brought out a different side of your acting. I really enjoyed that"
Ryan Robbins: "Thank you very much. Keep the questions coming…"
Next Fan Questioner: "Sanctuary question. Is Chris Heyerdahl as scary in real life as he is on Sanctuary and how tall is he?
Ryan Robbins: "No. But he can be very intimidating in person. Chris is about six foot four and of course that voice of his. He just has a great voice and he is a very good friend of mine. He was at my house the day my daughter took her very first steps. He is an amazing man and one of the most generous people I know. He is incredibly gifted and works very hard at what he does. He is awesome. He is one of those guys when you are talking to him he will just stare you down as if asking are you judging me? He just listens so much it is like he is not participating in the conversation. He is really nice but then stares you down again and then he finally responds. Just a couple of words usually." Making a parody of the topic, Ryan said: "I listened to you my whole life and I only get just four words?" Mocking Chris in a gentle way: 'I am sorry, did you want my life story?" Nawwww. "We were out one night […], I do not know if I should tell this story"
Ryan was obviously goading the audience into making him TELL the story.  His tactic worked perfectly because several in the crowd obliged Ryan by begging him to please tell the story!
Ryan Robbins: [Continuing] "Robin Dunne, Chris and I were out late one night at a bar after work. It was a Friday after a long day on the set. The server brought us our pints of Guinness and we began drinking them. Before long the bartender said 'last call' so we ordered another round. Then before we knew the bartender came by and said 'pound them down we are closing up'.  We were stunned because after all it was Guinness we were drinking [as all Guinness drinkers know, you sip it you do not 'pound' it!].  We looked at the bartender incredulous and I said "Great we will finish our drinks and then we will go. The bartender got belligerent for no reason because we were very courteous about the whole thing. I did not know why anyone would get upset with us for no reason. [Sarcastic] I mean Robin Dunne and I had only been playing the head butt game! And suddenly the bartender came out from behind the bar all mad, so he comes over. Then Chris slowly gets up from his chair [to reveal his towering frame] saying 'What do you think you are doing?'. The bartender scooted back behind bar so fast it was hilarious.
I hoped we had a picture of this because Ryan had been play acting out the entire sequence to the delight of the convention audience evidenced by their loud laughter. Unfortunately the one I took did not turn out well. 🙁

Ryan Robbins: [Continuing] "Chris just stood there glaring at the bartender like when your parents give you that look of being disappointed with you! You know what I mean, like the worst feeling in the world? The bartender looks scared out of his wits. I think he must have needed counseling after that because he [Chris] is just so powerful."
From the play acting done so well, we could really feel that is exactly how the bartender must have felt. Ryan's performance was smooth and enjoyably perfect!
Next Fan Questioner: "Did you plan to become an actor?"
Ryan Robbins: "I wanted to act since I was 12 years old. I became interested during orientation for an acting class school and this one person blew my mind. I then knew that acting is what I wanted to do. I wanted to be so many things when I was a kid, I realized that if I became an actor I could be anyone I wanted but I did not know how to do it. I went to theater and learned in school. I ended up being a circus performer because I had this acrobatic skill thing. I had a friend who was doing stunt work and he said I should come to Vancouver. I said I'll try that, so I did. Then I had an accident and hurt my spine which ended my stunt work. After that I joined a band that became popular. So I had a run for six or seven years as a musician."
At this point we all noticed that Ryan's attention shifted away from continuing his career path story. He was looking towards the back of the room. The crowd all yelled YAY! Ryan waved his hands motioning for someone to come up on stage.
Ryan Robbins said: "That is my wife and daughter back there! Gesturing do his family, do you want to come up and say hi?"
To the sounds of 'awwwwww' Ryan's daughter joined him on stage. Although he mentioned her name to the intimate crowd in the audience, we will omit said name out of respect for his family privacy, particularly for his daughter. The scene continued for about five minutes to the wonderment of the crowd. Protecting her from photos [which no one took of her face to the best of my knowledge] and with her back to the audience, Ryan gave her a big hug:
Ryan Robbins daughter said: "Hi!"
After his daughter left the stage to more 'awwwwww's' Ryan continued.
Ryan Robbins: "And? Oh yeah, about the story about the band and how I got into . A filmmaker was a friend of the band who cast me. I ended up with an agent and it all just went from there and here I am. It is funny how that worked out. From my dream at twelve years old it took until I was twenty-six to become an actor. I tried to make that a short story, but …. That was my daughter and that is that!"
Same Fan Questioner: "I just wanted to say I saw Chris in Twilight."
Ryan Robbins said: "Yeah, on that really long drive from the airport [10 minutes maximum] I saw a billboard with Chris' picture on it.
Next Fan Questioner: "I have a two part question. You are playing good guys and bad guys. Do you have a favorite between the two?" My second is of all the roles you have played which has been the toughest emotionally?"
Ryan Robbins: "The Mason role has been the most demanding. That took a lot out of me. That was a very difficult role for ne, especially coming out of it". As far as between the two, I like playing bad guys now.  At first I liked playing good guys, but now I am enjoying playing the bad guys again. A fun part is that bad guys do not think they are 'bad'.  There is a lot of depth in a bad guy. It's tough. But I really just like what I do acting good or bad.  When I play bad guys it's one thing. But when I play a good guy, I always try to give them a dark secret making it more interesting. Before I knew that Henry was going to be abnormal, I gave him a dark secret. With Ladon I had a dark secret that he was in love with someone from Atlantis just to make up a dark secret. Things like that. When you are a bad guy, they have dark secrets, It's natural cause we all have secrets."
At this point Ryan changed pace to make a point and gestured once again to Patrick Gilmore and Peter Kelamis from Stargate Universe at the back of the room.
Ryan Robbins: "Hey I do not want to put you on the spot, but those two guys are really funny. Like both can do stand-up comedy, but you get those two playing dark roles, and it is freakish how good they are! There is something about that if you can tap into being a really good guy you can also tap into being a really bad guy rather than being a neutral player if that makes sense."
Several in the crowd nodded in the affirmative before Ryan noticed something to his left. At this point only about five minutes remained as the handler gestured at her watch. I had thought that the stage appearances were an hour long, but in checking the schedule each was actually only scheduled for 45 minutes.  We cherished our last remaining minutes of Ryan Robbins stage appearance and the last question. Since there were no more people at the attendee microphones, the last question came out of 'thin air'.
Creation Entertainment Questioner from backstage hidden microphone: "Before you leave, could you tell us about the Green Screen process in Sanctuary?"
Ryan Robbins: "Yeah. For me it is a little different because most of my sets in the laboratory have a lot of props. Because I interact with so many props, I do not have to worry much about the Green Screen. But there is an awful lot of Green Screen in Sanctuary. The other practical set is Magnus' office except for outside the office windows, those are obviously Green Screen. We has to get used to something early one about the size of this room. It is just GREEN all around and it is NOT a pretty green! You can get a Green Screen headache! It's like when someone flashes a camera at you and you look away, there it is. When you work all day in Green Screen and walked into a different room, you tend to blink GREEN. It's a weird bizarre feeling. It would be like that if you had to stare at any one bright color.
"I have a really active imagination anyways, so it is not hard for me to image the 'worlds' that will be there. That is my job. The thing that blows my mind is that no matter how I imagine the 'world' I am playing in, when I see the finished product, I am amazed. Also the creatures we deal with all the time we are running around being chased by stuff we cannot see when filming. But they do show us pictures of the monsters. But when acting all it is just a punching bag wrapped in green! Or the last episode that air 'Hero' the guest star Chris Gautier was just hanging on the punching bag fighting it, it was so different because I saw it when everyone else saw it, I said that thing is crazy!
"That is how it is all the time. They try to tell you with stage markings, walk here, but do not walk here. I asked why and they said because you will fall eight stories to you death!" Sometime we miss the marks and we have to re-shoot… because you are working with Robin Dunne and I push him over the edge! Hahaha I killed you! So yeah it is interesting"
No new fan with only a minute or so left came up to the microphone, so I asked a question from my seat in a booming voice so that all could hear.
Last Fan Questioner – WR_Systems: "Sanctuary question. You and 'Big Guy' have developed a real nice on screen believable set of interactions. Like in the last episode aired, in the hallway, it just was genuine. Can you tell us about that?"
Ryan was laughing a bit with a smile on his face. He repeated the question from his microphone so that folks in the way back could appreciate his answer.
Ryan Robbins: "I am laughing because there are jokes on set about Henry and the 'Big Guy'. It is not 'that' way. It a father son relationship. As I said, Chris Heyerdahl and I are good friends, so we work well off of each other. Even early on with John Druitt scenes before Henry became a werewolf, when we work together it developed naturally into what you see today. The relationship came through with Henry trying to deal with being a werewolf and Big Guy understood that. The fact that Henry grew up in the Sanctuary with Helen as a mother figure, so Big Guy became a father figure. NOT that Helen and Big Guy are THAT way, not at all!
The crowd laughed at the reference that such a relationship could even be considered. They laughed even harder with what Ryan eluded to next!
Ryan Robbins: [continuing] "I am no dummy and know what 'shipping' is! At least I know now! Amen!
Someone in the back of the room shouted "You are not the only one with an active imagination [referring to fan fiction 'shipping"] The crowd burst into laughter once more!
Ryan Robbins: "Hey some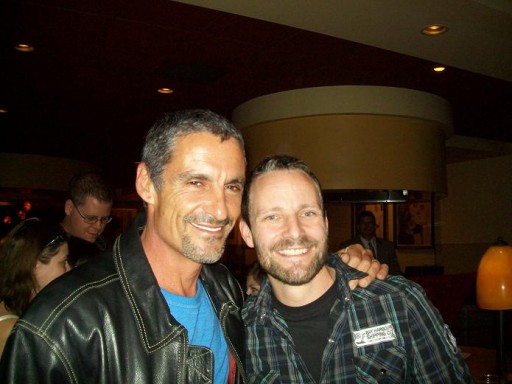 of the fans who write fiction are right on about what will happen and it amazes me. But sometimes the fan fiction is so far off, I say, wow that is way off, but is kind of cool! It is a whole different [another] show! I don't really look for it, but every so often someone on the show will send me some."
At this point the handler re-appeared with the proverbial axe across throat gesture
Last Fan Questioner – WR_Systems: "Last thing. Twitter. We know the real Amanda Tapping is on there, and we would love to see all of your Sanctuary team on Twitter, but did you know that someone is impersonating Henry Foss (you) on Twitter?"
Ryan Robbins: "[Sarcastically] "Oh thank you so much for for that! Wow! Som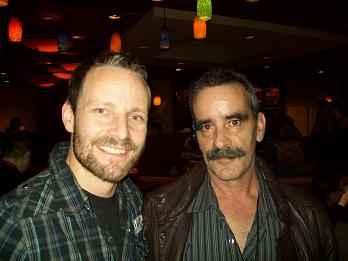 eone is being me on Twitter! I guess you know you have arrived when that happens! I have finally arrived! Thank you!"
And with that Ryan's panel stage appearance was over to a round of applause that lasted for at least a minute. It was a wonderful experience enjoyed by all.
As our team has previously reported, Ryan would invest much more personal time that evening with his fans at the Creation Entertainment Karaoke event where I had the opportunity to chat with him and Cliff Simon.
And speaking of Cliff Simon, we will resume our coverage of the Los Angeles Stargate 2009 Convention when we return from the Holidays!
Merry Christmas!
Best Regards,
WR_System (Kenn)