Hello Stargate and Sanctuary fans,
My name is SciFiFanGirl616 and I have just recently joined the great news reporting team at WormholeRiders. This is my first news report so bear with me a wee bit. Thank you.
During early November 2009 I attended the Stargate convention in Los Angeles California at the Marriot Hotel . The convention was the first one where I had the opportunity to see and actually meet Ryan Robbins in person. I have only personally seen Ryan in Stargate Atlantis and on Sanctuary as Henry Foss. At the Creation Entertainment Los Angeles Stargate 2009 Convention, I can honestly say he was very sweet. He was also quite entertaining during his Question and Answer session.
With regard to Ryan's Robins panel appearance on stage during the first day of the Creation Entertainment 2009 Stargate convention WR_Systems detailed report will be posting next.
In the meantime, I will report on how fortunate I was to become in that Ryan Robbins was very generous with his time in talking with me. With this in mind, my report herein will focus on my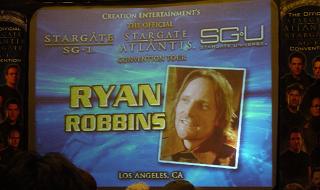 encounter with Ryan after his appearance at the Los Angeles Stargate 2009 Convention.
After his appearance on stage, a friend of mine indicated she would be willing to split the cost of the photo opportunity with Ryan! Photo Opportunities are expensive. They are also known by the fans as Photo Op's and I will hereinafter refer to them as such in my report.
After Ryan signed the stage Stargate Banners, my friend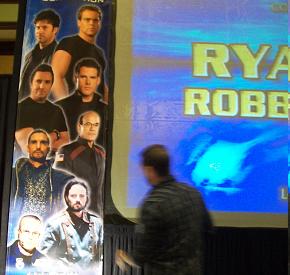 Jackie and both dashed on over to where we bought our Photo Op ticket. Unfortunately once we got to the Photo Op room there was no line and no Ryan Robbins. OMG! We were both nearly heartbroken! We asked one of the staff of Creation Entertainment if there was any way possible that we could still get our Photo Op with Ryan since we just bought our ticket only moments before. Much to our relief we were told only if Ryan says it was okay, it would still happen!
We waited for only about a minute or two before we got the thumbs up from the Creation Entertainment staff. Ryan graciously came back in to the Photo Op room and greeted us. He said he had just been eating nuts (of some kind). Ryan wanted us to check for him if there were any little pieces stuck in between his teeth. We were more than happy to oblige! Ryan didn't want us to have a picture without checking to make sure he looked good enough for us! And neither did we! But heck, Ryan Robbins always looks good, nuts or not!

After our Photo Op with Ryan, he was kind of enough to chat with us for a bit on time.  I asked if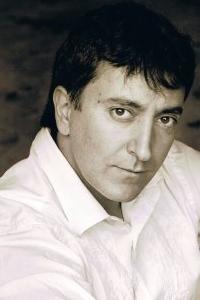 he would be attending the Creation Entertainment Karaoke event to be conducted t hat evening at the Marriot Hotel near the Los Angeles International Airport. Ryan said he would and that he planned on dragging along Patrick Gilmore (right) and Peter Kelamis (left) fr
om Stargate Universe. Ryan then thanked us and said he would be looking out for us that evening at the Karaoke.
The Creation Entertainment Karaoke event started off rather slow. My friend, Ginger and I arrived early to claim a table in the Karaoke bar so as to be as close to the action as we could. Unfortunately, some fans had the exact same idea. Little did we know the table we chose would become a magnet for the evening entertainment and special guest stars? We were later to have very large grins from ear to ear with what transpired.
Ryan Robbins was the v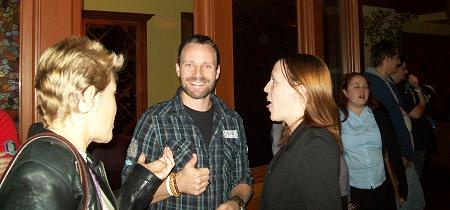 ery first to arrive at the Karaoke party! He graciously passed everyone and immediately walked right up to our table. Ryan must have recognized us being the very last individuals at the Photo Op with him. We nearly fainted! Ryan greeted everyone at our table and subsequently asked if any convention attendees were going to sing?
The party immediately picked up when Ryan arrived! Ryan obviously noticed that we were skimming through the karaoke song book looking for songs to sing. I told him I didn't want to scare anyone out of
the bar, so I mentioned that it m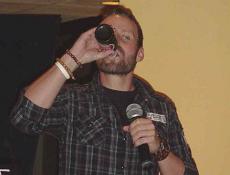 ight be better that I did not torture the convention attendees. Ryan chuckled. We all asked Ryan if he would be singing that evening. Ryan said he would, but that he was not sure what exactly what song he would sing just yet. Plus Ryan said he would most likely need another drink to help him loosen up.  We were nearly laughing from the inside out, but held our composure dying to see Ryan Robbins sing Karaoke!
We did not have to wait long. Within the hour Ryan was on stage singing "What's Up?" by the 4 Non Blondes. That was definitely not the song I imagined him singing at Karaoke. I have to say at this point that singing that song got everyone in the bar pretty hyped up! Before too long w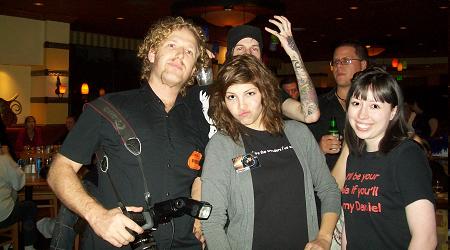 e were all singing the chorus along with him including myself. Ryan even jumped up on one of the seats half way through the song to much applause by his adoring fans. Ryan later got called back up on stage to sing a song with a group of female fans from WormholeRiders as I learned after the convention! The song title eludes m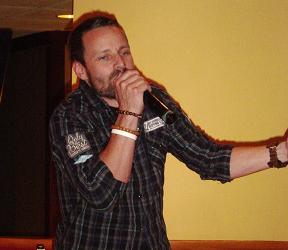 e at the moment, but I was too later find out that WormholeRiders had asked permission to video record the song. You will find the video of this section of the evenings Karaoke fun embedded below.
Ryan Robins was everything that I had ever imagined! He was warm, personable, very en
tertaining, and before too long the crowd was dancing and singing along like entertainment aficionados!
At this point the evening was coming to an end for me. I decided I wanted to say good night to Ryan since he was the only guest star left. I waited patiently as he chatted with some of his fans. I thanked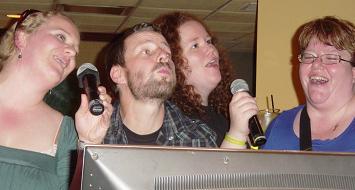 him again for coming to the convention and having fun with the fans that evening. Ryan wanted to know if I had fun. With a big smile and nod I said, "Most definitely!" At the end the night Ryan gave me a hug and even a kiss on the cheek. Oh wow, I was not expecting that! I can certainly say in all honesty that I went to bed with a huge smile on my face.
The next morning (Saturday) I was not expecting to see Ryan Robbins again. My friends and I went to grab a quick lunch after Ben Browder's stage appearance and Q&A session. I was to become very lucky as  I was lagging behind so I told them to go ahead and I would catch up. As I was making my way through the lobby I noticed Ryan sitting alone with his travel bags. I mustered my courage and decided to go up to him and say hello. Ryan recognized and greeted me! We talked about the Karaoke and Ryan mentioned that the WormholeRiders reporters had posted the video on YouTube and would be posting on the news blog. WR_Systems has included the karaoke video in this report for those who may not have viewed it yet. Thanks go to ValaBlack and MeaganSue for the great music video.

He said he was waiting for his ride from the hotel and stated "I wish I could have stayed longer for Paul McGillion's panel appearance on stage that day and especially for Paul's Q&A session". Unfortunately, I did not have my camera with me at that time, so no photos!

Ryan indicated that he really wanted to sit in the back rows and heckle Paul! I was laughing so hard inside he must have noticed. Ryan then told me he and Paul are good friends. I shared with him I would be sure to pass on his message when I saw Paul later in the day. Ryan laughed. He also told me he was planning on taking his daughter to Disneyland.
I told him it was a great time to go because it's not over crowded and waiting time for rides was 15 minutes at the most for this time of the year. On top of that Disneyland would be decorated for the holiday season, so his daughter would have that attraction as an added bonus.
I knew this because I visited Disneyland earlier in the week. Ryan thanked me for the heads up information. As I did not want to take up too much of his time, I thanked him once again for coming to the convention. He said he had a lot of fun and it had been two years since the last one he did. Ryan also mentioned this was his first convention in the United States. I told him he should come back again and not wait another two years! He smiled and said he would have to have to do exactly that.
Ryan Robbins made my convention much more personable by being as approachable as a star of his caliber could be. I hope that everyone else has the opportunity to meet this wonderful gentleman and talented actor.
Regards,
SciFiFanGirl616