Hello WormholeRiders!
With the Season 2 premiere of Sanctuary approaching on Friday we thought it would be nice to recap for you what went on during Season 1.
*** WARNING***
If you don't want any spoilers because you're watching the Sanctuary marathon that's airing on SyFy this Friday then don't read any further!
****************
Sanctuary- What We've Learned So Far
* People with unusual extraordinary characteristics are called "abnormals."
* The Sanctuary, a top secret "base," operates in Old City for the
purpose of helping abnormals and providing refuge for those unable to remain in society.
* The Sanctuary also serves to help people who are in trouble caused by an abnormal.
* The Sanctuary is run by Dr. Helen Magnus (Amanda Tapping), a 157 year old scientist whose father thought of the original concept for the Sanctuary.
* Dr. Magnus is assisted by her daughter Ashley (Emilie Ullerup),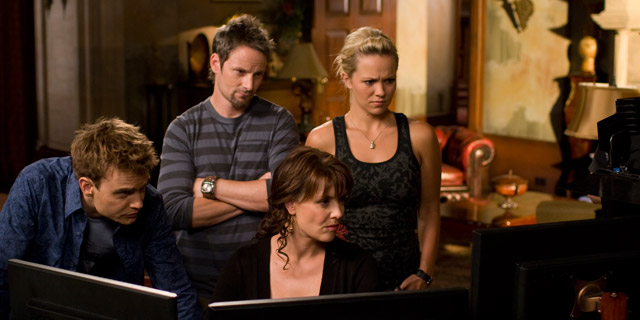 technical/weapons specialist Henry Foss (Ryan Robbins), and her butler Big Foot (Christopher Heyerdahl), also called "Big Guy."
* Dr. Will Zimmerman (Robin Dunne) is chosen by Helen as her protégé due to his uncanny skills as a profiler.
* We learn that as a child, Will was saved by Helen when an abnormal attacked and killed his mother.
* As a young scientist, Helen was a member of a group known as "The Five" which consisted of herself, Nikola Tesla (Jonathan Young), Dr. James Watson (Peter Wingfield), Nigel Griffin and John Druitt (Christopher Heyerdahl).
* The group discovered a vial of pure vampire blood ("source blood") and thought it would be a good idea to inject themselves with it…in the name of science.
* Each member of The Five was given unique powers as a result. Magnus' gift was longevity, Druitt's was teleportation, Watson's was increased intelligence, Griffin's was invisibility and for Tesla it activated dormant vampire genes making him part vampire.
* Druitt and Helen were once engaged before his power made him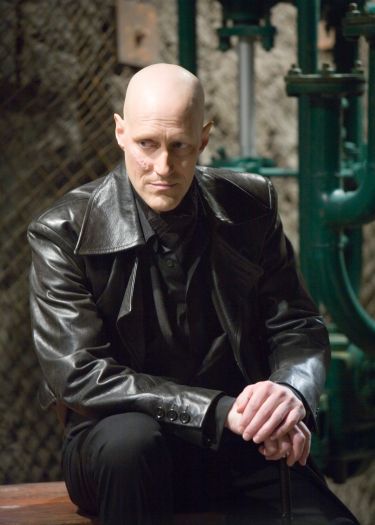 go mad and he became Jack the Ripper. (That's a deal breaker if I ever heard one).
* What Druitt didn't know was that Helen was pregnant with his child (Ashley). She had Watson help her freeze the embryo, which she reimplanted decades later when she could no longer stand being alone.
* Druitt finds Helen and demands she give him her blood to help him live. She injects him and he screams in pain, rezzing out, presumably dead.
* Through inadvertently stealing three women in Scotland, known to be the Morrigan, Helen and her team have pissed off a nemesis organization called The Cabal.
* Druitt returns after Helen "kills" him with a bang and tells Ashley he is her father.
* Cabal is also after Tesla for trying to bring back the vampires using his blood.
* Tesla kidnaps Helen as he's being chased by The Cabal through the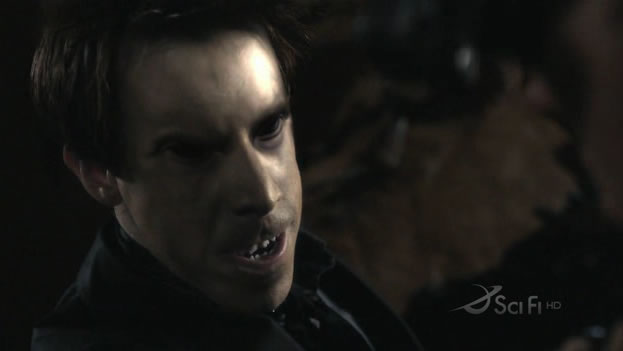 catacombs of Rome. He kills the Cabal gunmen and turns them into "zombie" vampires.
* Tesla asks Helen to help him figure out how to give his vampires some intelligence. Helen refuses and Tesla sends his vampire goons after her.
* Druitt (now sane, having been tortured by Tesla for refusing to help him), appears with Ashley and puts his hand through Tesla's torso; possibly killing him.
* Helen admits to Ashley that Druitt is her father.
* We learn that Helen is treating Henry for his transformations into a werewolf. She offers an operation to eliminate the transformation but may take away his personality. Henry refuses and Helen offers to help him control the transformations.
* The goal of the Cabal is tricky. It seems they want to rid the world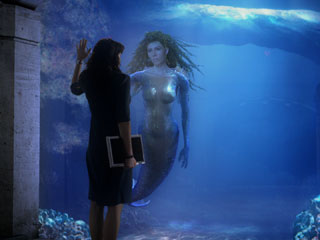 of abnormals, or at least control the abnormals in order to take control of the human population. Those they can't control, they eliminate.
* The Cabal experiments first with creating a race of abnormal super soldiers, then with creating a pathogen that causes psychosis among abnormals.
* The Cabal releases the pathogen (code name Lazarus) in the North West. The Sanctuary team must join up with the remaining members of The Five to find a cure.
* Big Foot is infected with the pathogen and must be put in confinement.
* Helen discovers that an antigen must reside in the remainder of the source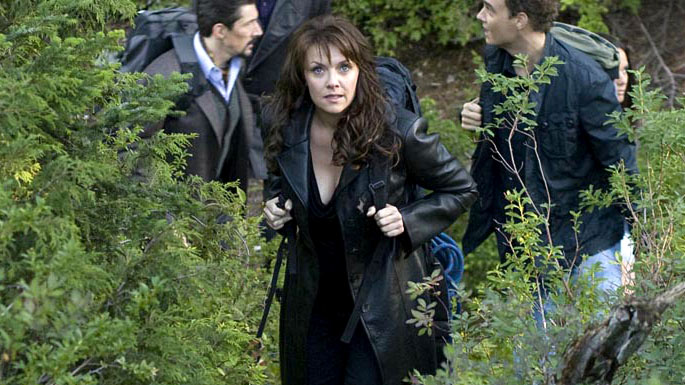 blood The Five used to transform. Her father hid the last portion of the blood in a vault beneath the lost city of Bhalasaam, an ancient vampire city, in India.
* The unique powers of each member of The Five are needed to retrieve the keys that must be used to retrieve the source blood.
* Nigel Griffin has since passed on but his gifts were given to his granddaughter Clara (Christine Chatelain) who reluctantly joins them.
* While Helen and Will join Watson, Clara and Druitt in search of the source blood, Henry and Ashley break into Cabal headquarters in search of information about Cabal's biological weapon.
* After retrieving his key, Watson's exoskeleton fails and he dies. He tells Will that there is still a missing piece that he must find.
* Ashley and Henry are captured. Ashley is drugged while Henry is tortured to bring out his werewolf side permanently.
* Henry and Ashley escape Cabal with the files for the weapon.
* When they all return to the Sanctuary, Ashley, having inherited the
ability to teleport, steals the vial of source blood and disappears.
* We soon learn that the files they retrieved were fake.
* We close with seeing Ashley on Easter Island handing over the source blood and being welcomed to The Cabal.
Just a reminder that Sanctuary Season 1 DVD set is now available in the U.S. and Australia (available in the UK October 19th) at Best Buy and Amazon.com. This set is chock full of special features including the complete original webisodes, three featurettes and bloopers!
Don't forget to tune in to SyFy this Friday, at 10/9 Central for the Season 2 premiere! The premiere will also be on Space at 9 ET/6 PT.  Check your local listings.
RadioStar