Renowned character actor Henry Gibson passed away Monday at the age of 73 after a short battle against cancer.
Stargate fans know Henry from his role as Marul in Stargate SG-1's season 5 episode, 'The Sentinel'. His acting in that episode was superb, no doubt helped by the fact that Henry had worked with Richard Dean Anderson before on two episodes of MacGyver.
Henry Gibson was born on 21 September 1935 in Germantown, Pennsylvnia, but after hearing him perform an Irish accent you would never guess. He was a child star on the stage during the 1940s and during the late 1950s and was an intelligence officer in the U.S. Air Force.
His screen debut came in 1963 when he was cast in the Jerry Lewis film The Nutty Professor (1963). He made two other small film appearances in Kiss Me, Stupid (1964) and The Outlaws Is Coming (1965), in which he played a rather hip Indian named Charlie Horse. In 1968 he was cast as a member of the regular cast of "Rowan & Martin's Laugh-In" (1967). He stayed with the show until 1971, when he left and continued his career as a character actor. His best known film role was probably his performance in Nashville (1975). He played Haven Hamilton, a smarmy Country and Western singer. For this role he was nominated for a Golden Globe Award and was awarded the National Film Critics Award for best supporting actor.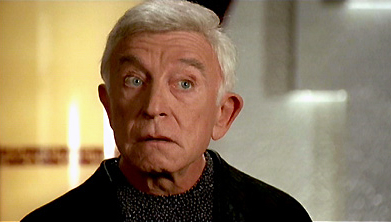 Gibson's career carried on through the 1980s and 1990s when he appeared in many films, such as The Incredible Shrinking Woman (1981) and The 'burbs (1989). He also provided voice-overs for many children's animated series like "Smurfs" (1981), "Wuzzles" (1985) and "Galaxy High School" (1986). His most recent appearance have been in the Paul Thomas Anderson drama Magnolia (1999) and the independent film The Year That Trembled (2002). I personally was very fond of Henry's role in the Disney Channel original, "The Luck of the Irish" (2001). He continued to follow his passion right up through this past year, taking a role on "Boston Legal" as Judge Clarence Brown, and voicing several episodes of the animated "King of the Hill" as newspaperman Bob Jenkins.
Henry Gibson's wife passed away two years ago. He is survived by three sons.
If you would like to learn more about Henry and the memorial that is reportedly pending, visit his website.
Stargate fans will not forget his contribution. Thank you, Henry, and farewell.