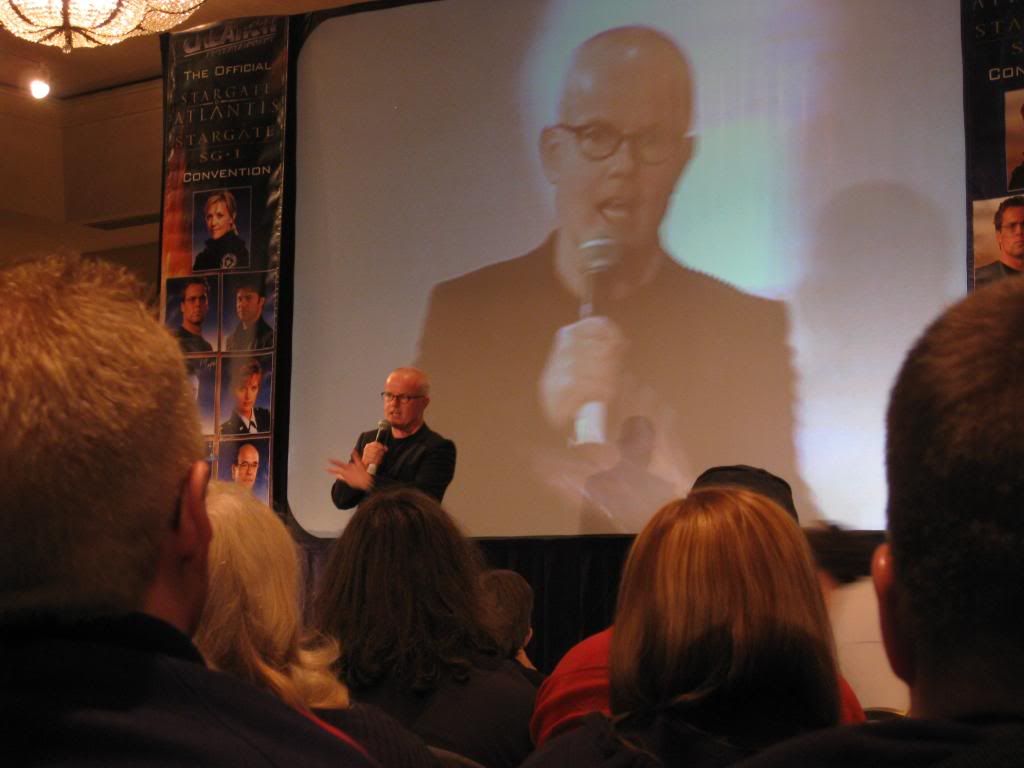 It's time for everyone's favorite Gate Technician!
I've wanted to see Gary Jones for years. He owes Chicago an appearance from a couple years back where he was set to come and then had to cancel. Everything I knew about Gary said he's a wonderful comedian, and I knew he would have some really great stories to tell. Boy was I ever right.
Please Note: Even though I have used quotations, this is not word for word what was said. Only as close as I could get writing down nearly everything, and then some. No audio or video recording is allowed at Creation conventions. So much of Gary's storytelling uses acting with both voice and gestures. I've done the best I can to recreate if for you. The good note-taking is a skill I learned in school. Who'd of thought it would be so handy? As I read what I'm typing, I'm laughing just as hard as I did while Gary was on stage!
Gary started off by poking a little fun at the expense of the Atlantis music video that was shown right before he came out: that well known song "Holding out for a Hero" edited – or vided if you prefer – by Shelby. Picking on the repetitive nature of the song, Gary comes out grating, "I need a hero!" We learned right off that Gary can't sing – or maybe he wasn't trying to? "I wasn't in anything. There's no shots of Walter. I need a hero! (Pretends to sit in a chair, typing at the controls, looking around dumbly)."
Ever humble, Gary thanked everyone for coming and for having him. "I'm very excited, but not as excited as you are to be here with me." Oh, and he's only just getting started. I'm just going to type up everything I have in the order that it came. Please don't blame the leapfrogging topics and the very long paragraphs on me, it's all Gary! I broke it up as reasonably as I could!
"I go home and I tell my wife people in the hallway go, 'it's Gary! It's Gary!' and she goes, 'They do not.' People ask 'what do your kids say, you're on Stargate!' I go 'they never watch the show'. 'What?! How is that possible?' It's just the way it is."
"It's one thing to be on Stargate SG-1 for ten years and then to do a bunch of episodes of ah . . . the other one . . . Stargate Atlanta [much good natured laughter from the fans]. I was in Australia and New Zealand in November, [a shout from the back draws Gary's attention] Yeah I went to see you, you weren't there. I looked around for you, then came home. My wife and I went to spend time with our son in a student exchange in Austria, so we went for a week. I swear to God, we land, we come in to Vancouver airport, and I'm in the parking lot looking for my car and my phone rings. It was like a ten hour flight. (Gary acts like his answering his phone, and then puts on this very odd cockney accent which he claims is Australian – "If you don't think it's Australian, then it's New Zealand.") 'Is this Gary Jones? Is there any way you could come to our convention?' 'Sure, when is it?' 'Well you've got to be on a plane tomorrow.' What?! So I tell my wife, 'I haven't found the car yet but I'm going to Australia tomorrow.'
"So the next day I was on a plane to Australia. The fans there were like 'are you going to be on Universe? And I'm like 'yeah, right' (rolls his eyes and shrugs). I'm getting further and further away. It's like Stargate SG-1 is over, Atlantis, I'm like hanging on to a couple of episodes of that (acts like he's hanging on something that's being pulled away from him). Just don't let go! 'Gary, you're wrapped.' 'Can I just hang out so I'm still technically on the show?' And the next thing I know I get a calling going, 'Are you available?' and I'm like, (put's on this shocked incredulous expression)'You're kidding me! No way! Oh my God! I'm going to be a Trivial Pursuit answer!' [Lots of audience laughter]
"So sure enough, I got to be on Stargate Universe. It was a really odd experience because I have a brand new costume. It's not the flight suit that has no pockets in it. Nobody can lounge around in the Air Force. There's zippers here, here, here (shows us where the crazy zippers are) but no pockets. So now I'm in a camouflage outfit. I don't know why, I'm in an office. I don't get that. It's like 'if you're ever under attack just stand near the filing cabinet!' (pretends to blend in to the imaginary filing cabinet) I'm actually standing out. I'm not camouflaged, it's like 'shoot the guy right there in the camouflage. Cuz we can see him really well!' 'Look at the guy hiding there in camouflage! (uses his hand like a gun to shoot) Doo doo doo!'
"So I've got camouflage and a clip board, which is always good. And I got to work with Richard Dean Anderson. The two of us were like, 'Can you believe this?' Less so for him. Really what I was saying was, 'Can you believe I'm back?' He's like, 'Yeah, whatever. Get me a coffee.' No, he was great. He's now a three star General. [Surprised shouts from the fans] Oh, did I leak that out? Oh my God. This is the first time I've ever gotten a call from the publicity department going, 'Don't say anything!' 'Can I tell them I'm on the show?' 'Yes but don't say anything else!' 'Do they know the name of the show?' 'Yes but don't say anything else!'
"I don't know anything. I just walked in and I had my clipboard, and I'm checking one of those see-through maps. Oh my God. If you actually got a close-up look at those maps, people actually spend the time and the effort. They've got the numbers and the planets. You never see it, the camera just goes like this, (pans his hand quickly across the "map"). But I'm standing there looking at this going, 'Wow, who the hell spent all this time writing all these?'
"So they completely redressed everything. So the old control room . . . man . . . I'm not sitting at the desk anymore, (pretends to sit and work the controls again). I was walking around, my @$$ felt so weird that it wasn't attached to a chair . . . being pushed aside by Amanda Tapping . . . How many times did you see that in SG-1? I'm like the Stargate expert! 'Walter, what's happening?' 'I don't know, sir, I'm doing my best!' She comes in, 'Yeah, move over!' 'Yeah, I'm just checking my e-mails'. And then she does her concerned face, and I have my concerned face, but her concerned face trumps mine. 'Sir, there seems to be some kind of power shift to the convulsive generator . . .' OK! You got me! I couldn't have come up with that!
"There was so many times on Stargate where I had no idea what I was saying. I try to make it look like I know exactly what I'm saying but a number of times I'm like, 'what . . . what did I just say? I don't know what I just said.' And after the scenes over I can't remember it. And once in a while I've actually said stuff phonetically. Like you're teaching a chimp. Just one step above teaching a chimp sign language, where I talk the technical, I just get my mouth around it and then move on.
"Amanda Tapping is amazing. She shot herself in the foot though way early on. She's like, 'I'm going to prove it to these guys that I can handle all this technical stuff.' And she just does reams of it and they go, 'hey, she's great at this!' and she's like, 'Nooooooo!' They keep handing her this stuff and she goes, ' I can't – Why am I – ' and they go, 'you said it before, say it again!'
"So I get the script for Stargate Universe and it's like this thick (measures almost 2 inches with his hand). And I'm just flipping through it. I'm like, 'Oh my God, I'm in it with Richard Dean Anderson! What's my scene gonna be? What are we doing? Here I am! . . . 'Sir.'' [Ouch, but we still laughed!] Naw, it gets better. There's a bit more. 'Sir, Doctor Rush would like to talk to you' (walks out of the scene)'. And you can really spot me because I'm in the camouflage. Trying my best to fade into the background but I can't. But it was great. I did a day or so on it, and it was fun, and Richard Dean was in a great mood and he was happy to be back on the show, so it's going to be pretty cool. It's the show that, my God, it won't die, will it? It's The Show That Won't Die! I even said to Rob Cooper on set, 'you've actually managed to find a Stargate show that now you've put it in space, so now technically it never ends.' And he said, 'Yeah, I think we hit the nail on the head with this one.'"
After noticing a couple of people struggling to take a good picture of him, Gary posed, and then told us this story. "I've actually had people come up to me on the street and go, 'were you on Stargate?' and I go, 'yeah I was.' 'What character did you play?' and I go, 'Does this look familiar?' (Puts on his "concerned face" and types) 'Oh, yeah! You're the guy that opens the gate!'
"It's like Walter's whole thing is everything's fine until all of a sudden he's like, 'Wait a second. Getting a weird reading, and somebody's not on the radio and what the hell, where's the Stargate gone!' Remember that episode? That was fun. We turn around with our coffees and the Stargate is gone (puts on the same shocked look he did Endgame). Here's a little insider thing, you guys love this stuff. The final cut that you saw was not the cut that they shot. Peter DeLuise, who's a pretty funny guy, he made it like an Abbot and Castello thing, which I was like, 'What are you doing, dude?' He had the tall guy that was with me, Scott Owen – Peter lowered down the computer monitors that hang from the ceiling so that Scott would walk into one. Seriously, he lowered them enough that the guy hit them with his head , so we're going for coffee and Bang! And the computers are going like this (demonstrates the swinging monitors with his hand). And he had to reach up and stop them (Shows us how Scott tried to stop them without being obvious, since he didn't know it was a set up!)
"And the other funny thing he did, it looked hilarious! We're working the night shift together, and I see out of the corner of me eye, Peter's got Scott standing behind one of those see-through maps, and he's going like, (makes sounds like fighter fire from Star Wars, using his fingers like a ship) and he goes like derk! and he flicks a little planet, and it flies off! So (Gary acts out the whole scene for us, right up to the flick!) and then he ducks out of frame, looking for this little sticker, and then he pops back up and just goes like this (blindly sticks it back on the map and walks away, playing innocent). And that the producers were like, "What was that?' Peter says that when they do stuff like that that they have to account for, they have to describe why they did it, it's called going to the "How Come Room", cuz all the producers go, 'how come you did that?'. It's like the dreaded room because you made all your directing decisions so you don't want to have to justify them. So you've really got to stay away from the "How Come Room". All the directors know that, you can ask them. [A fan pipes up, "what about the "What the Hell Were You Thinking Room"?] The "What the Hell Were You Thinking Room". (Laughing) Yeah, that's a good room."
Finally, Gary started taking some questions:
This question was very strangely put, but I can't think of a better way to put it! What do you have to say about Don S. Davis? "Well, he's sadly missed. I mean, it was a big shock. Nobody could believe it. When you first hear the news you're like, 'What?!' When I first met Don, he didn't change from the day that I met him. We were on set together the first day, and I said, 'Hi Don, I'm Gary Jones. Nice to meet you,' and he goes, (imitates Don's voice and accent, which he's known for doing quite well) 'I'm Don S. Davis. I'm 235 pounds of rompin' stompin' Missouri bulls***.' That was Don's only gambit. It's like how do I compete with that? And you know, he was just such a sweetheart. I'd go on these conventions with him, and he used to kill me. He'd come up to the podium and read poetry or he'd tell these jokes, but they would go on forever and it's like, (looking at his watch) 'Don, what are you doing?!' And he'd tell a story like, (imitates Don's slow Southern drawl again, very exaggeratedly) 'I remember a time down in Arkansas, this old dog. . . .' I used to hack on him like crazy and he'd be just backstage laughing his @$$ off. He'd come off and I'd go, 'What the hell were you doing taking so long? Shut up with the Southern drawl, get on with it!' I loved Don, he was a great guy. He'll be sadly missed."
How did you change your clothes so fast in the 2ooth episode? "They did what they call a camera lock off. In other words, they had it on a tripod, and they just locked it so it didn't move, and literally, I had to run and change as fast as I could. I thought they would just turn the camera off and let me take my time. Not the case. I had my regular green stuff on, but underneath that I had my black ops outfit, and I didn't have any shoes on, and everything was sort of like unzippered and loose. But you can just see the top part of me up in the control room. Then when I ran, the wardrobe department people were just waiting for me, just like tearing stuff off, and I'm stepping into boots and putting a flak jacket on, and then I run into the gateroom."
Will you be known forever as Walter and will it harm your future career? "Surprisingly enough, I got hired on another television movie that I'm going to shoot next week, and the character's name is Walter. I swear to God. Part of me was going, 'oh no. No!' It's a TV movie called Held Hostage, and you know, I'm . . . held hostage. And when I was in the audition, I had to do one of those things, it's like hostage acting. Did anyone see Snakehead Terror? [A few people piped up] Yeah, they were aiming for an audience of six. They've exceeded their expectations. 'Alright, we got eight! Eight people watched it!' Going into an audition for Snakehead Terror, you've got to do like Snakehead . . . terror . . . being eaten alive my fish acting. What do you draw from in your real life? 'Well I was bitten by a pike once on my thumb. Not torn to pieces by carnivorous fish . . . whatever.' So I had to do screams and stuff, so embarrassing. Auditioning is like the worst. That's what made Stargate so great. 'Hey, you available?' 'Yeah!' No auditioning is the best feeling. But when you go to an audition, it's like 'you're freaked out, it's a hostage situation'. I go in and it's like, (shouting dramatically) 'Don't forget! She's the one who robbed the bank, and the kid could die!' And the lady [on the auditioning panel] is like, '(Hmm's , not satisfied) Can you pull it back a bit? Be a bit more intense, but just bring it back.' 'Ok . . . (in a harsh whisper) She's the one who robbed the bank! The kid could die!' I looked up and she's laughing. She's laughing at me and I'm doing my intense bank hostage thing. So I go, 'Is this a comedy?' You guys know Amy Winehouse, with hair, the circle like a bun? This woman was like that except blonde. She was just sitting in the corner of this room with a laptop, and she's like (does this really obnoxious, really annoying laugh) and she says, (in a voice that immediately reminds me of Gilbert Gottfried) 'No, I love you, I love you!' I don't even know if she was the director or producer, or some lady who wondered in, just checking her Facebook."
Gary was also kind enough to treat us to the full length version of his Stargate SG-1 audition story. I've heard about this, but it was so much better to hear it straight from Gary! "My agent was like, (yelling) 'Don't screw up! It could be recurring! Don't screw it up!' 'Ok ok, fine, whatever!' So I go in and it just so happens that the guy directing [the Pilot] was this huge Maltese guy named Mario Azzopardi. He's this huge, massive guy with a beard. And he'd directed me a couple months previous in an episode of Outer Limits. And he liked me. I just went in, did my scene, and it was great. And when I walked through the door and he sees me he goes, (yelling excitedly in a deep voice with an accent) 'Oh! It's YOU! Oh my God! You're PERFECT!' The kind of words you want to hear as an actor. As opposed to, (yelling again) 'You suck! Don't take another step forward! I hate you! You ruined that episode of Outer Limits!' No, it was great!
"For those who haven't heard this story before, it's the audition sides – they give you a little chunk of the script to see what you do with it. So these sides I had were literally 'chevron one encoded,' bunch of action, 'chevron two encoded,' more action, 'chevron three encoded', are you with me? You get the picture here? It's headed over to chevron seven locked. I don't know what they hell they're talking about, I have no idea. But I'm thinking, 'I've got to set myself apart from the other actors, I've got to do something different. So of course my natural instinct, I think I'll make it kinda funny, I'll goof around with it. Not realizing that the scene is like dead serious. So the first one is like, (pretty normal, official sounding) 'chevron one encoded', action, blah blah blah, machine guns, whatever, (more casual) 'chevron two encoded, (getting more goofy with this funny smirk on his face) chevron three encoded, (in a higher pitch), chevron four encoded, (higher and more nasal) chevron five encoded, (higher still!) chevron six encoded,' and by the time I get to seven it's, (higher still, loud, annoying, and again reminding me of Gilbert Gottfried) 'chevron seven locked!' I literally did Jerry Lewis. It was like, 'Gary Jones is The Nutty Technician!' I was like, 'I don't know! Whatever! I'm just trying to give you guys something!' I look over, and Brad Wright's head is on the table, just like this (with his hands) just pounding the table, he's laughing SO hard. Michael Greenberg, they're all like clutching themselves, can you believe what this guy is doing? This is like this dead serious sci-fi action, (in that freaky voice again) yeah! Oh my God, we're having a game! Wheee!
" And when I was leaving that audition, Mario goes, (imitating Mario again) 'Oh chief, that was great! But you know, psh, not that big.' I go, Oh my God, I wrecked it! Barnum and Baileys is in town. And, I get a call back. And this time I come in, and I find out that I was the only one called back, another fantastic sign. You're not competing with anybody, they just want to see you. So I'm thinking, 'If they want to see me, and there's only me, and they want to see me again, why wouldn't I do what I did before?' You would assume. So I walk into the room, but this time there's a totally different feeling in that room. And Mario is at the end of the room sitting next to en executive producer who wasn't there the first time, Jonathan Glassner. And Jonathan Glassner . . . It's like auditioning on Easter Island (Makes this really intimidating, frowning, hard lipped face). Just a big stone head, just looking at me (Does it again). Nothing. So I'm thinking, 'at least Mario is here. This guys loves me.' So I go, 'Hey Mario! How're you doing?' and he goes (mutters in Mario's voice, waving and looking down quickly) 'Hey, hey how're . . .' Totally ditches me! He's like, (shakes head, does the off-with-the-head gesture, and then an ok sign). Like you could tell where the power shifts suddenly. I'm like, 'OH' (puts on this dumbstruck face, still with his mouth holding the o shap. SO funny!) I hate to audition. You've got to like read the room, I'm like, 'who's got the power? Who do I talk to?' My brain is like (puts his hand on his head and makes a sound like a power drill). Just the rolodex of options. So Jonathan Glassner goes (puts on the stony expression), 'Yeah, just read it.' 'Sure, ok.' 'Don't do anything.' (Gives a critical, calculating, narrow-eyed glare.) 'Ok'. Mario's like (repeats the gestures from before and then covers his face like he can't stand to watch). I'm like 'ok, forget about Mario, he's cut me adrift'. So I start. 'Chevron one encoded. Chevron two encoded. Chevron three encoded.' I get to chevron 4 and I'm like, 'I can't do this', I put a little sigh in there. (Sighs as if it's tedious work) Chevron four – ' he goes, 'Don't sigh! What's with the sigh? Stop sighing.' Ok ok, oh God, God I'm scared! So I'm like, 'Chevron five encoded. Chevron six encoded. Chevron 7 locked.' It was like I'm just reading a grocery list here. 'Ok, you want anything different?' 'No, it's fine.' I'm like, 'Okay . . .' like, don't want to leave the room, hanging out. You want to go, 'Guys, are you hiring me?' You want to know in the room, but no you've got to go through the hell of like a day and a half waiting to see if they call. So I'm like, 'yeah, that felt good. Yeah. Yeah, I like that, that's good. . . . (gets no response from Glassner) Well see ya Mario!' (Imitates Mario's intelligible goodbye, waving without looking up.) And then I just went home and phoned my agent every 20 minutes. 'Did they call?' It's like a bad date! 'Did they call? They're not calling! They said they'd call! They didn't call!' Anyway they called. It was good. I was very happy to be on the show."
A fan asked Gary to rehash a particular favorite story. "Apparently I'm known for rehashing stories. (Shrugs) Apparently not a problem with me! Shall I? [Applause and shouts from the fans] Basically it was the first day on set with Beau Bridges. Movie star, the guy is world famous, I'm like 'ok, I'm working with Beau Bridges. It's going to be SO cool'. Forgetting of course that I was going to be directed by Peter DeLouise, who the previous couple of years had started making me redo every scene that I did as Captain Kirk. No matter what it was. He'd just keep the cameras rolling. It's like a billion dollars a minute. He goes, 'Yeah run it again. Do it as Kirk.' What am I, your chimp? Are you the puppet master? Ok. (Launches into it, perfectly. The voice, the dramatic pauses, the hand gestures, the whole nine yards of William Shattner. I could have died) 'Sir. I'm not receiving SG-1's IDC. I seem to have lost . . . communication.' So those are my lines! They're all Stargate lines delivered by a StarTrek character. Ok, fine, whatever, you got to do what you got to do just to keep the gig. 'How was that Peter? Good? Can we move on? Hmmm?'
"So I'm doing a scene with Beau Bridges. It's like our first scene together, and he's just standing behind me, just being the General, kinda looking out through the glass, and I've got a couple of lines, I don't know what they were, but it was the same stuff. 'Sir, we've lost communication with SG-1, tried sending the MALP through,' you know, whatever. And Peter comes and says, 'Yeah what was great,' and then he comes and says, (Whispers, is if Peter is whispering it in Gary's ear so Beau doesn't hear) 'K, do it as Kirk. Don't tell Beau'. So now, my first experience with this internationally acclaimed movie star, television star, is me doing my impersonation of James T Kirk. I go, (quietly so Beau won't hear) 'Peter, Peter, please, for the love of God, don't make me do this.' We're like whispering to each other, like we're going over the scene! 'Yeah your character, this and that – ' no, it's like, (whispering) 'Do it as Kirk.' 'Don't make me do this.' 'If I tell you to do it as Kirk, do it as Kirk!' 'I don't want to do it as Kirk! Beau Bridges is right behind me!' 'Shut the hell up! Do it as Kirk!' So we do the scene again. So it's like, (does Kirk! But we were laughing so much Gary was cracking up!) Oh my God, Sir, we've lost communications with SG-1, and oh blah blah blah,' and Peter just goes, (triumphantly) 'And Cut!' (laughs as Peter) and I look up and Beau is like this (complete deadpan face!). And I'm looking ad Beau and it's like we both know. I remember getting up and it was like this world weary (sighs dramatically as he gets up off of an imaginary chair) and I look at him and go, 'Beau . . . just . . . just go with it (Shakes his head as he walks away)'."
At this point Gary had only 2 minutes left, so he decided to tell us about this. "If ever I was in any action sequences, I would always do the Kirk run without telling Peter." Gary demonstrated. It's like taking a big skipping step before starting to run. If you've ever seen an original StarTrek episode and Shattner has done any running, you know what this is about! "It's like for some reason this leg has to go up, like you're in a chorus line. It's like, (yelling) 'Oh my God, Get outta here!' (takes off using the Kirk run) It's like it takes this leg to get you going. If you're ever in an action scene you'll do it and you'll go, 'he was right! I just naturally go like this (does it again)!' And that's how you end your run too, no matter what. You're being shot at by Wraiths. You get around the corner and you go like this, (runs and then stops, relaxing as if he's completely safe) 'Oh whoa. Wow, that was (sees the Wraith coming) Whoa! Here they come! (Does the Kirk run again)
Before being dragged off the stage, Gary did a little publicity. "Dean Haglund [of X-Files Lone Gunman fame] is here. He and I are going to be doing our show, Starhole SG-1.5, tonight. Dean and I have a performing history of 20 or so years. I played Kirk and he played Spock in Vancouver in a show called StarTrek the Musical. I played Kirk, I took my shirt off, and I fought in a girdle! You won't see that tonight. But Dean is an awesome, funny guy. It's going to be a real fun show, so I hope you come!"
With that, Gary took his leave. Soon afterword many fans filed through the autograph line. As I heard someone comment, Gary is a ham on the stage, but a clam off of it! I don't think I heard the man speak at all while I was in line, let alone hardly smile! However, I got a better reaction out of him much later. As I left the hotel to go home the following Monday, my arms full of stuff and my parents in the elevator with me, who gets on at the first floor as we get off? Gary! I was so surprised to see him considering I hadn't seen him at all since the previous Thursday night, that I'm amazed that I managed to say, "Bye Gary!" He looked at me with some surprise and said, "bye!" as I got out of his path. Well Gary, people may not shout, "It's Gary! It's Gary!" when they see you, but you can tell your wife that we do recognize and appreciate you!
*Play It Grand wipes the sweat from her brow* Phew! Do I still have fingers?
Next up, Creation's surprise guest, stepping in for Christopher Heyerdahl who had to cancel suddenly, is Andee Frizzell. At about 6'1" and very pretty, Andee can be very intimidating when covered in prosthetic skin. You guessed it! Andee played every Wraith Queen the Stargate Atlantis expedition has the misfortune of meeting, except for the last. I'll let Andee tell that story herself! Stay tuned!